The wet season has finally kicked in for large parts of Central and Northern Queensland during the past week! Significant rainfall between 200mm and 400mm has been recorded at 40 locations with widespread totals of 100mm to 200mm during the past 4 days. Sarina topped the totals with 424mm while Mackay Airport has seen 329mm fall. Areas of converging rain along with thunderstorms have produced locally heavy falls and flash flooding which if forecast to continue for the next 7 days! Above image via BOM.
Currently on Friday afternoon there is a low pressure system located just offshore near Townsville which is producing rain areas with moderate to locally heavy falls across the Herbert and Lower Burdekin district. Scattered showers and some rain areas are also occurring along the Central Coast and inland due to a strong South East onshore flow. The heaviest rainfall is expected between Cairns and Mackay especially nearer to the low around Townsville. 24hr totals may exceed 100mm and produce flash flooding this afternoon and tonight.
During the weekend very little is forecast to change in the current weather pattern with the surface low remaining just off the coast near Townsville. Further rain areas and storms with moderate to heavy falls likely along the Central and North Queensland coasts including the adjacent inland. A focus for activity will remain between Mackay and Cairns where daily totals may exceed 100mm causing flash flooding. Strong South to South East winds will also occur along the coast due to the lows position offshore.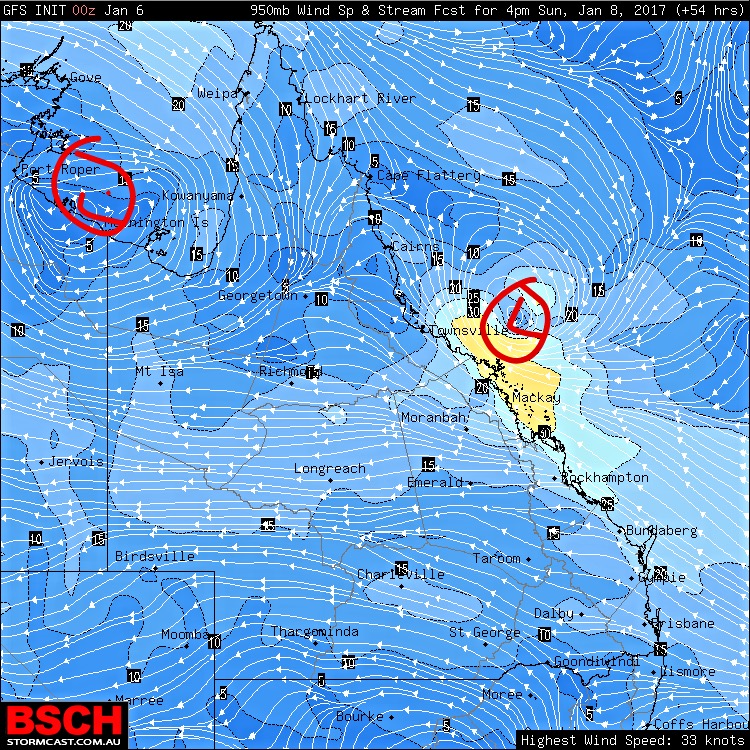 Above image showing the strong surface low just off the Central coast on Sunday
On Monday and Tuesday widespread instability continues combined with very high moisture levels to produce scattered showers, storms and rain areas across most Northern and Central Eastern districts. A risk of moderate to heavy falls producing flash flooding will continue to be a threat in these regions.
Further widespread accumulation totals of 100mm to 150mm are likely with possible locally higher totals to 300mm are forecast for the next 7 days. The heavy rainfall is also likely to produce some flooding across the Northern half of the state.