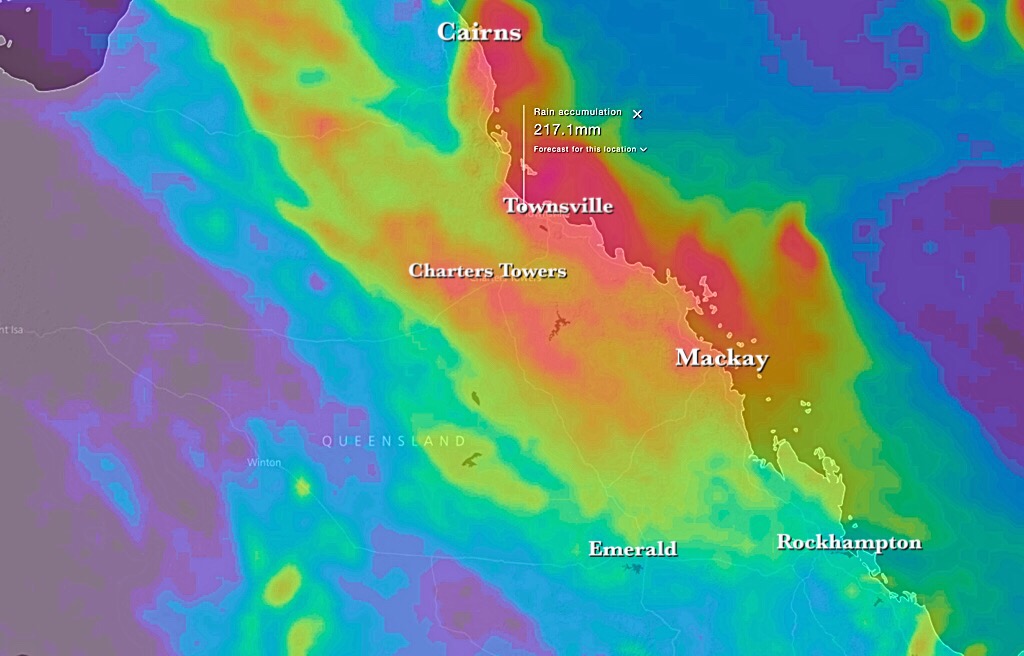 16 May

Heavy Rain & Storms For Central & North QLD

[wp_ad_camp_2]

Latest live update for CQLD / NQLD at 11am Thursday can be found here!

FORECAST FOR CQLD / NQLD UPDATED 17/5/17 click here for details!

Is this the long awaited heavy rain that Townsville missed out on from TC Debbie? Looks like it with between 100 and 200mm forecast to fall across large parts of Central and North Tropical Queensland this week! Above image via WindyTV. Subscribe here for HSC forecasts and maps!

While Mackay the Central Coast and Whitsundays probably don't need it, Townsville and Northern inland areas are desperate for rain after yet another failed wet season.

Large areas from the South East Gulf through Northern inland and Central inland South to Emerald and Rockhampton will also get good rain with between 25 to 50mm forecast.

The system will begin late on Wednesday as a surface trough moves West from the Coral Sea towards the Central and North Coasts. Scattered showers will develop along the coast late between Mackay and Cairns and are likely to turn into rain areas overnight.

[wp_ad_camp_4]

On Thursday the surface trough and deep tropical feed intensifies between Rockhampton and Cairns as it crosses the coast heading further inland. Rain areas with moderate to locally heavy falls are likely along the coast, also inland along and West of the ranges. Afternoon storms will also fire up through the Northern inland and Central inland districts with some of them possibly SEVERE. The dry line at this stage for storms to develop is from the Southern Gulf through Richmond down to just West of Longreach.

Not a whole lot changes on Friday with continued moderate to locally heavy rain and possible storms through the inland districts. On Saturday the system pushes towards the East and take the heavy rain offshore with mostly scattered showers expected.

Strong gusty South East winds are forecast to develop along the coast between Mackay and Townsville early Thursday and last through Friday. Maximum temperatures will take a dive on both days to between 21c and 24c under the rain and cloud.

Some flash flooding in the known trouble spots will likely become the main issue along with added stress to those who still have damaged houses and property after TC Debbie.
[wp_ad_camp_2]
Detailed daily rainfall and storm forecast maps have been issued to subscribers covering this system right across QLD.