Heavy rain has been falling across large parts of North Tropical and Central Queensland during the past 12 hrs with up to 100mm recorded. Another 100mm is likely and up to 200mm possible during the rest of Thursday and through Friday. Strong winds have also been felt across the Whitsundays with an 82km hr gust recorded at Hamilton Island. Above image: Radar and Satellite via Weatherzone.
HSC detailed forecast blog for NQLD / CQLD can be found here!
Almost exactly to the forecast hour rain began to fall at Townsville late on Wednesday! Locations right across the city have picked up a welcome 50mm to 11am on Thursday with another 100mm possible from the system.
Further South along the coast has seen some good falls so far with Ayr recording 52mm, Bowen 126mm, Hamilton Island 92mm and Mackay 50mm. Through the inland notable falls have occurred with Collinsville 57mm, Charters Towers 55mm and Georgetown 42mm. Below image: rainfall totals to 9am Thursday via BOM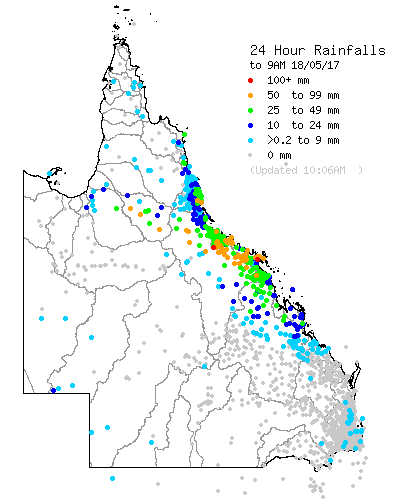 Hamilton Island has also seen some very strong wind gusts to 82km hr. These winds are set to continue during Thursday and Friday and may reach damaging strengths of 100km hr.
Widespread rain areas and isolated storms are continuing Thursday morning between Ingham and Rockhampton inland to Moranbah. The trough along the Central Coast is likely to intensify further late Thursday and early Friday. Widespread rain areas with heavy falls and isolated storms will continue across the region. There is the potential for another widespread 100mm with falls as high as 300mm along the Central Coast and Whitsundays between Mackay and Townsville. Below image: 3 day rainfall forecast via WindyTV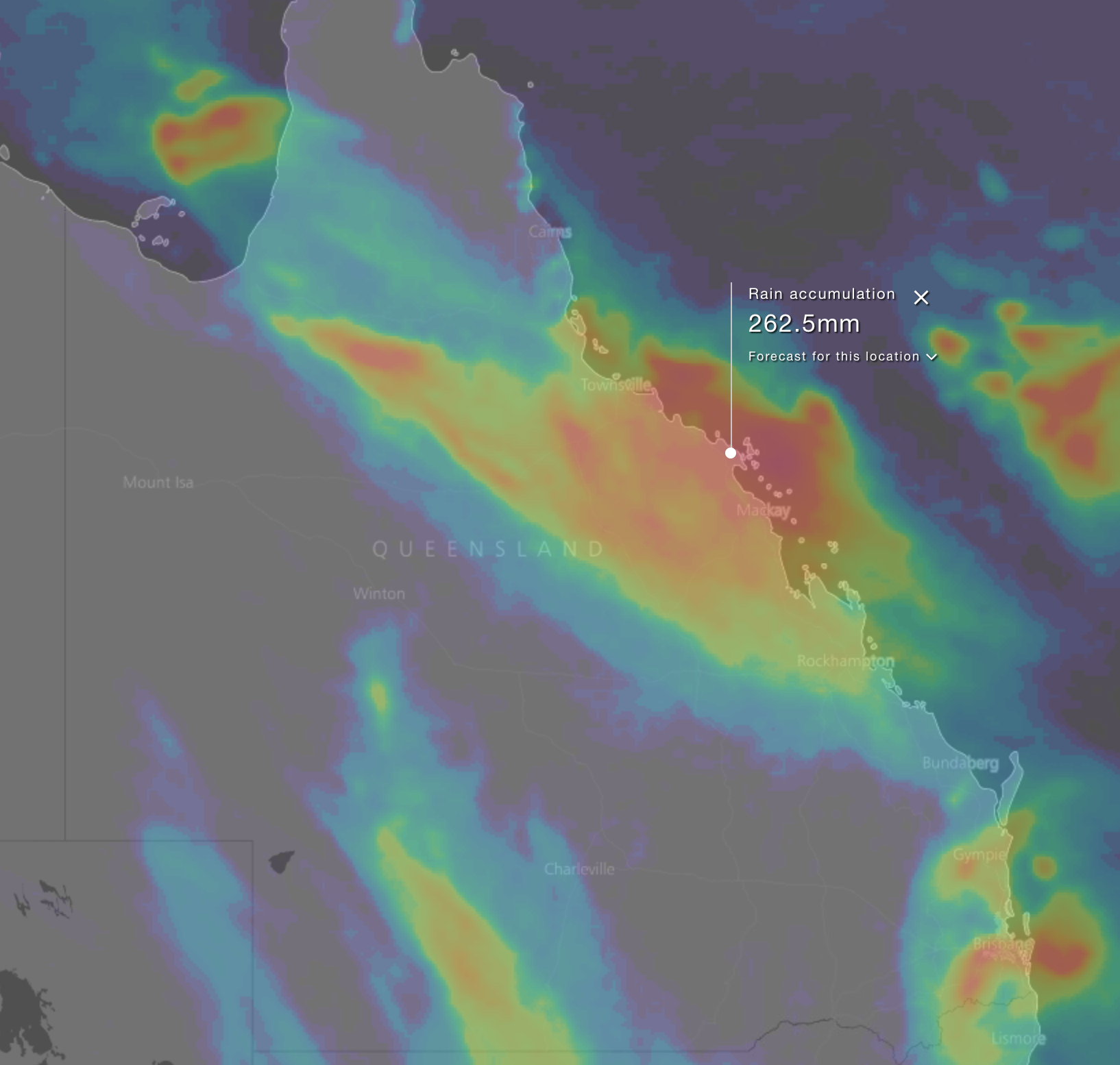 Townsville and Northern inland areas will welcome any drop they can get after missing out from TC Debbie. For the Central Coast and Whitsundays its not want they wanted after the severe flooding and destruction caused by TC Debbie just 7weeks ago. Many homes and business still have only temporary repairs ( tarps ) on their roofs. Heavy rain here is likely to cause further issues especially with flash flooding.
Below image: HSC subscribers state rainfall forecast for Wednesday to 9am Thursday showing the accuracy of our forecasts issued 3 days ahead. Become a HSC subscriber here to gain access to detailed rainfall and storm forecast across the state!