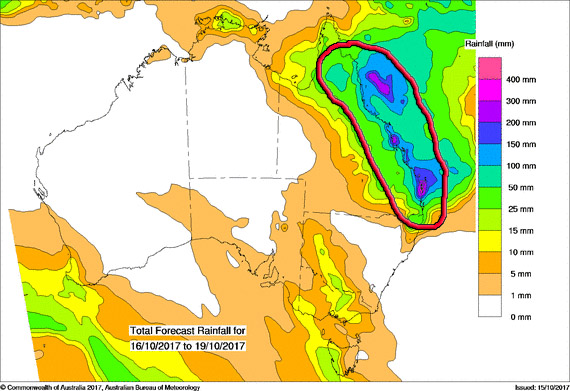 16 Oct

Heavy Rainfall coming for CQLD & NQLD
Issued 1pm Monday, October 16th 2017. Many residents from Central and Northern Tropical QLD have been wondering where their rain is, and if its still coming after the potential was raised last week for some quite impressive rainfall along the entire QLD Coastline. Well, don't worry anymore – its coming over the next 24-72hrs! Above image via BOM.
[wp_ad_camp_1]
Most places between Hervey Bay and Cooktown, East of the Ranges, are expected to see falls of 50mm+ between Tuesday and Thursday, with isolated to possibly scattered falls of 100-200mm+ likely over the Capricornia, Central Coast & Whitsundays, and even the Innisfail region. Its worth noting too that conditions will be favourable each day for slow moving rain areas / storms to produce very localised high rainfall totals.
[wp_ad_camp_3]

The breakdown:
During Tuesday, heavy rain areas are likely to be focused over the Wide Bay, Capricornia and possibly extend into the Central Coast and Whitsundays region overnight into Wednesday. These areas are likely to see falls of 50-100mm with isolated higher falls expected, particularly around Rockhampton and the Eungella Ranges West of Mackay. Good falls are expected to continue up the Coast to Cairns.
During Wednesday, models are expecting heavy rain to initiate in the morning across the Central Coast and Whitsundays with the potential for moderate to heavy falls up and down the entire QLD Coast from Bundaberg to Cooktown. Most areas should see falls of 30-70mm, however isolated falls of 100mm+ are still expected – again focused around the Ranges West of Mackay and across the Capricornia.
During Thursday, the trough generating the bulk of the rain is expected to become situated over the Northern Tropics from Townsville to Cooktown, and while the upper levels support should weaken, some further reasonable falls of 25-50mm are expected with isolated higher falls likely.
[wp_ad_camp_1]