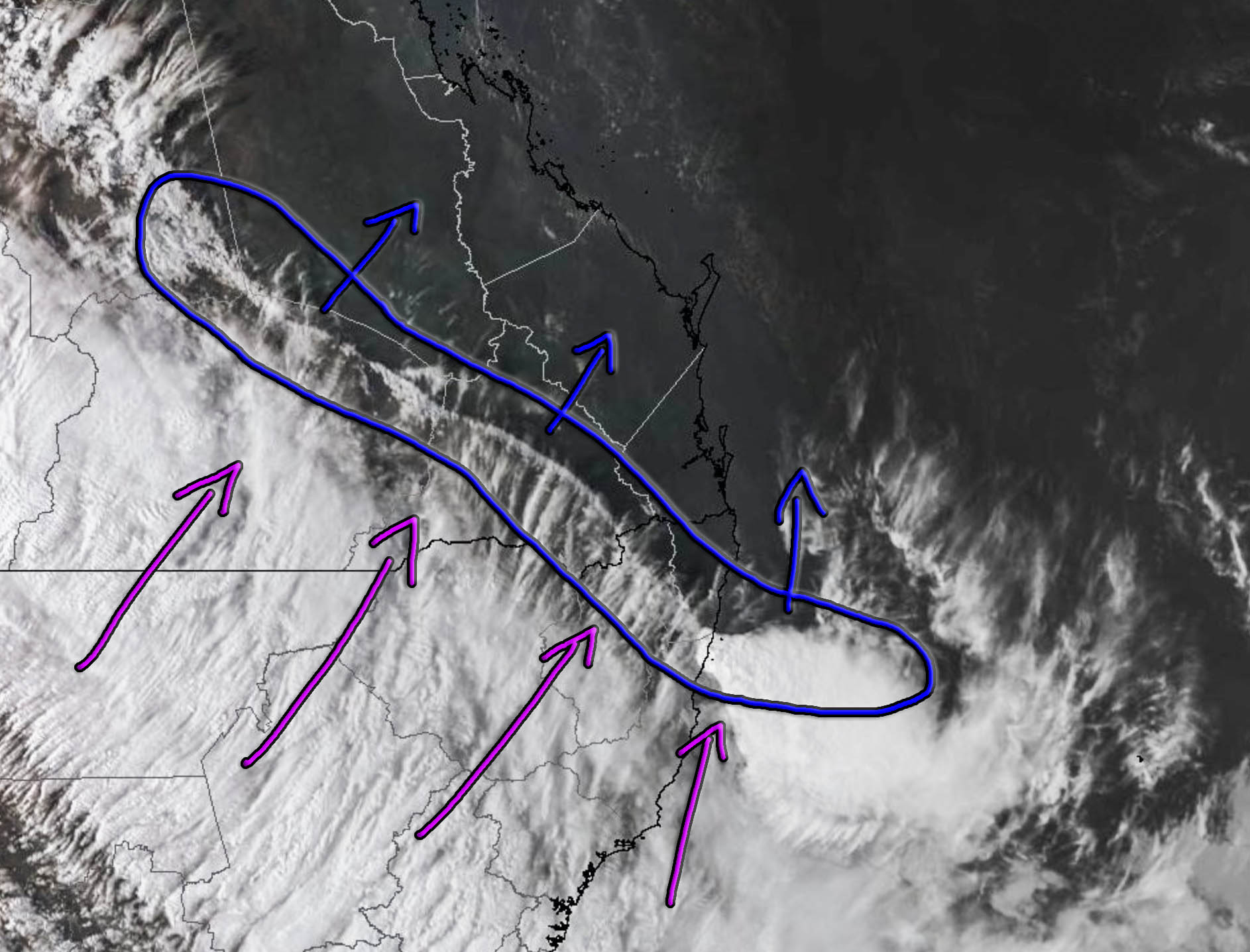 07 Nov

Here comes the cool change!
After 5 days of relentless well above average heat, the strongest heatwave for November in over 2 decades for SEQLD, the cool change is FINALLY on its way! Above image showing the change circled in blue, with the cooler South and South West winds marked in purple via BSCH.
[wp_ad_camp_1]
Since Saturday until today (Wednesday), large parts of Inland QLD and the South East corner of the State have been under a relentless heatwave. A heatwave that has seen several locations break 20+ year old streaks for November standards along with some November records being challenged and broken. While the Coastal strip in SEQLD wasn't so bad, it had the added influence of high humidity… making the days just as uncomfortable as those areas further Inland that saw the very high temperatures.
[wp_ad_camp_2]
Some of the streaks and records that were achieved include.
*Gatton recorded 3 straight days above 39ºc and 4 straight days above 37ºc+, the first time for both in November since 1996 (22 years)
*Toowoomba recorded back to back 35ºc+ days for the first time in November since 1996 (22 years)
*Ipswich recorded 4 straight 36ºc+ days for the first time in November since 1996 (22 years)
*Warwick recorded 4 straight 35ºc+ days for the first time in November since 2009 (9 years)
*Miles, Stanthorpe, Dalby, Oakey, Kingaroy, Gympie, all recorded their hottest November streaks since 2014 (4 years)
*Ballera recorded 5 straight days above 41ºc for the first time in November since 2012 (6 years)
From a records point of view,
*Ipswich recorded its hottest November night on record with 23.8ºc (records dating back to 1941)
*Charleville 29.4ºc & St George 28.6ºc had their warmest nights since 1965 for November, the second warmest night ever for Charleville in November (0.2ºc short of the 1965 record)
*Windorah recorded a very warm 31.7ºc night
*Birdsville recorded a 31.1ºc night
*Several towns recorded 28ºc+ nights across Southern Inland, Central Inland, North West, South West and Western QLD at some stage, with any other nights during the heat period being 25ºc+
The change is already being seen through South West QLD where today Birdsville maxed at just 22.1ºc and Ballera 22.4ºc – a massive 19ºc colder than yesterday! The current temperature in Ballera is a mere 15.7ºc, thats 22ºc colder than this time yesterday as well.
[wp_ad_camp_4]
While temperatures will remain near average tomorrow (Thursday) across South East QLD, the humidity will be taken way out of the equation so it will feel very comfortable. Tonight will remain fairly warm due to cloud coverage trapping some of the heat in, but the cool change should still move through and bring with it much drier South to South Westerly winds which will cut the humidity out of the air and make it actually feel quite pleasant. Across Inland areas it should be much cooler tonight, with temperatures dropping into the low teens. This should transition into a much colder day tomorrow (something similar to what SW QLD saw today) (see image above).