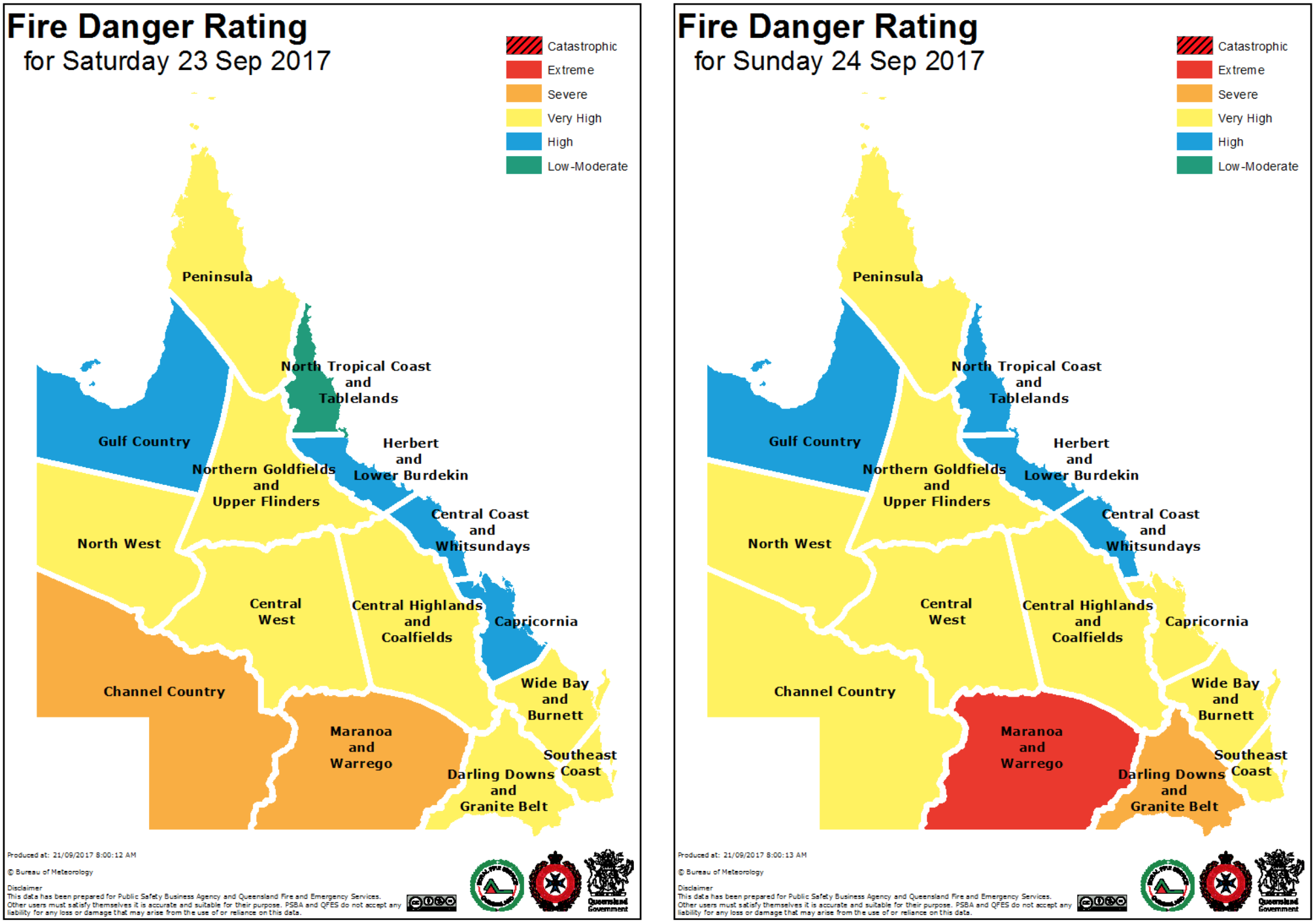 21 Sep

VERY HIGH to EXTREME Fire Threat this weekend for QLD!
Issued 9am, Thursday September 21st 2017.

Southern QLD is expected to be under the pump from one of the most dangerous fire setups in years this weekend amidst a potentially record breaking September heatwave. Above image: Saturday & Sunday fire danger ratings via Rural Fire Service QLD
[wp_ad_camp_1]

A trough is expected to enter South-Western and parts of Southern Inland QLD during Saturday, producing strong and very dry North-Westerly winds along it. These winds are expected to gust between 60 and 80km/h, whilst combining with temperatures in the high 30's and low 40's along with extremely dry soil content to produce "extremely favourable" conditions for fires to develop. This has lead to the Rural Fire Service in QLD issuing "SEVERE" fire danger ratings for Southern and South-Western QLD. Whilst large parts the State are expected to be under a "VERY HIGH" fire danger.
[wp_ad_camp_3]
On Sunday, the trough is expected to strengthen and become very well defined. This will likely lead to an increase in winds across Southern QLD during the day where gusts of 60-80km/h are likely and localised gusts in excess of 90km/h are possible. These winds will once again combine with high temperatures of 37-42ºc to produce an "EXTREME" fire threat across the Warrego and Maranoa, "SEVERE" fire threat for the Darling Downs and "VERY HIGH" for much of the remainder of the State.
[wp_ad_camp_1]
With many fires already ongoing, there is the risk that these fires and any new fires could become very fast moving and become out of control quickly due to the strong winds over the weekend. A total fire ban hasn't officially been issued yet by the Rural Fire Service but it is a strong possibility of happening. So please adhere to the rules of a total fire ban (which will be posted if issued), so that you can ensure your safety as well as everyone else's safety around you during what could be a very dangerous weekend for fires.