Over the past month our highly valued and skilled employee Thomas Hinterdorfer from Higgins Storm Chasing has been very working hard behind the scenes to produce our new significantly improved in-house high resolution weather forecast maps for QLD and SEQLD.
The 4 new maps have taken many many hours to develop starting right back at the base layer where we have left no stone unturned. During the next week we will be releasing these new QLD & SEQLD maps for the 0-5 day daily rainfall and thunderstorm forecasts to existing premium members on our website at no extra charge. This upgrade will be closely followed by the new 7 day rainfall and temperature forecast maps, 1 month and 3 month rainfall and temperature outlook maps.
We believe our new map products will lead the way in weather forecasting for high detail, fantastic clarity and very good accuracy to all users for many years to come. Everyday of the year, each Higgins forecast and map is human produced by either Jeff Higgins or Thomas Hinterdorfer using vast amounts of raw global model data. Our forecasts do not come from BOM or one data source nor are they computer generated like a majority of other weather forecasts that are currently available.
Our NSW, ACT and VIC state maps as well as the North Eastern NSW zoomed forecast maps will also receive the same full upgrades within the next few months.

An upgraded Tropical Cyclone and Tropical Low forecast track map will also be developed by November ready for this cyclone season.
If you want to know the weather is doing everyday and be able to be fully prepared for the storm and cyclone season ahead, consider becoming a Higgins Premium Member HERE!
Thunderstorm forecast risk maps (above image and below image) have been redeveloped from the base layer up. Upgraded 4 tier thunderstorm forecast risk legend with a new layout and new wording for what each colour shade represents. Increased colour opacity. Additional town locations with improved text.
Rainfall forecast maps (below images) have been redeveloped from the base layer up. Upgraded rainfall legend with a completely new colour spectrum to display lower to higher rainfall amounts that are more discernible from each other. We have also introduced new rainfall forecast tiers of 200-300mm, 300mm+, 0-5mm and 5-10mm. This will account for the monsoon season or any tropical cyclone or low pressure developments where excessive rainfall often occurs in a 24 hour period. It will also help with determining whether or not a few drops of rain or 10mm is possible as the old scale was 0-10mm and we deemed this to be too large of a gap. Additional town locations with improved text.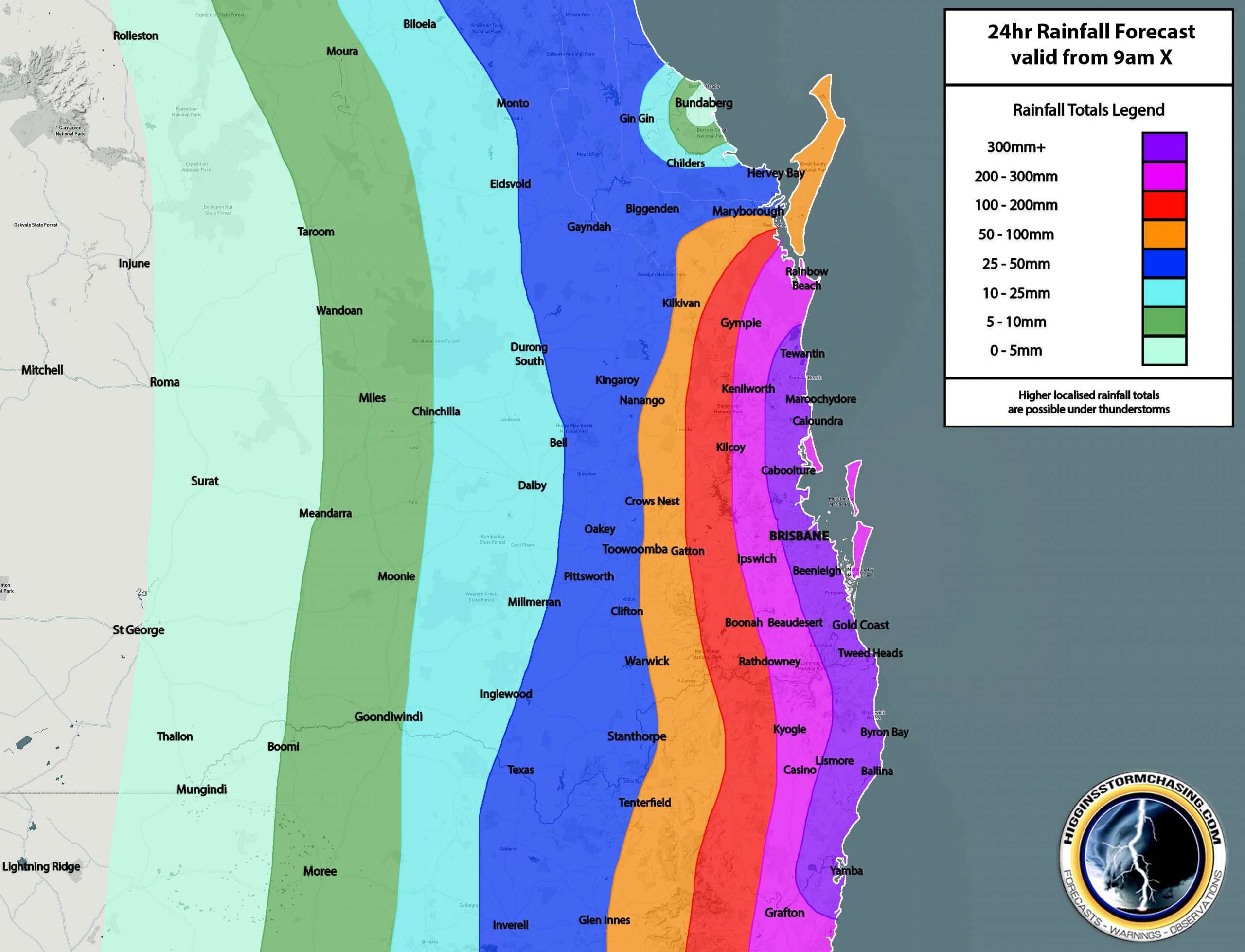 Upgrades to all 4 thunderstorm and rainfall maps – Expansion of both the QLD thunderstorm and rainfall map coverage are to include more of the Northern Territory and more of New South Wales. Similar expansion into North East NSW on the South East QLD zoomed map. These changes are for the benefit of covering forecast grey areas which are close to the respective regional borders as well as a new merging feature that we are implementing where all maps used across the website will be of the same size.
Additional town locations with a feature to allow us to add more names where we see fit and also control the size and spread of the names. There are currently between 58 and 63 town names on the state map & 73 town names on the South East QLD map. Reduced the number of town names over South Eastern QLD on the QLD state map to reduce the name clutter in the area. While this is a reduction on the state map, MORE town locations have been introduced on the South East QLD zoom map to counter this. Altered the settings on map layers so that the town names are now on top instead of being masked behind the colour shading. This allows us to use deeper colours without hindering the visibility of locations.
Added the naming of the Gulf of Carpentaria and Coral Sea for geographical purposes on the state map. Reduced the overall size of the maps which will allow us more room for using them in emails and will also allow us to post them on the website at a higher quality. Removal of all weather trend icons (sun, shower, rain, storm, snow) on the new maps. Originally we had no change for this but after further discussions behind the scenes we believe the maps and much clearer without the icons and they were redundant.
Changed the South East QLD detailed map box to exactly the same size as the South East QLD zoom forecast maps. Removal of all old weather icons (sun, shower, rain, storm, snow) on maps. Originally we had no change for this but after further discussions behind the scenes we believe the icons were becoming redundant due to written text forecasts.
Access to these maps including comprehensive forecast text can be obtained by clicking on our logo below!