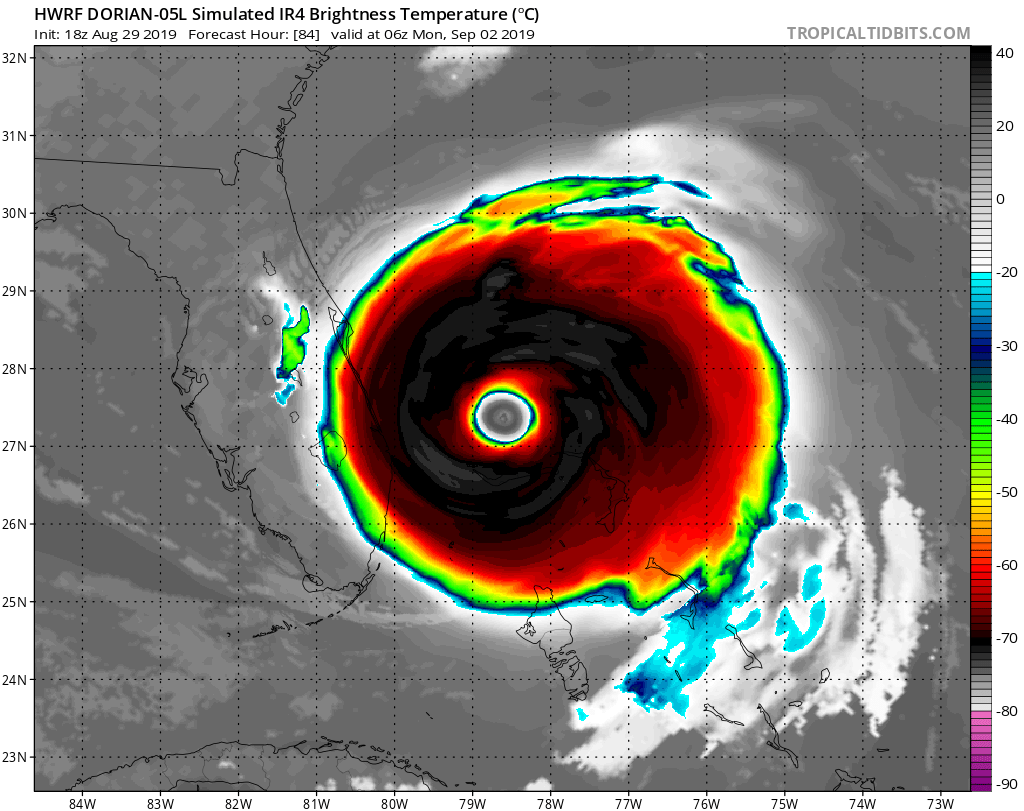 30 Aug

Hurricane Dorian Poses A Big Threat To Florida!
Hurricane Dorian is expected to undergo strong to rapid intensification over then ext 48 hours or so as it moves towards the Florida Coast where a landfall seems highly likely now on Monday. Above image – simulated satellite imagery via the HWRF model (tropicaltidbits) prior to landfall showing near perfect hurricane characteristics.
[wp_ad_camp_1]
Its been one of the slowest starts to the hurricane season in the United States and Atlantic basin for over 30 years. As the saying goes though, even the slowest of years need to be respected… it only takes 1 to cause havoc. Normally by this stage of the season we would be looking at I, J or K on the alphabet for the next name. D is much earlier than that. So far, Andrea, Chantal and Erin have all failed to reach hurricane strength, Barry was a Category 1 for about 3 hours. Dorian has already surpassed that and heading for major (Category 3+ strength).
Dorian began in the Atlantic Ocean where he drifted West to North Westwards. Original modelling had it posing a threat as a possible hurricane for the Dominican Republic. This outlook changed and it became a 50/50 hurricane chance for Puerto Rico which is still cleaning up following Maria 2 years ago. The system missed Puerto Rico to the East whilst maintaining Category 1 hurricane strength. This shift to the East was influenced by a ridging pattern to the West over the Gulf of Mexico which strengthened.
[wp_ad_camp_4]
The system is now moving in a North Westerly direction towards the Bahamas. As it interacts with a ridge to the West which is forecast to weaken and a strengthening high pressure region over North East America, its expected that Dorian will veer towards the West and place a direct impact on the Bahamas before strengthening further into a Category 4 system (or a low chance of becoming a Category 5 system) before crossing the Florida Coast on Monday (US time).
[wp_ad_camp_1]
Models are very confident on the system being a Category 4 on landfall. The European Model and HMON support this with sustained winds of around 220km/h (this has been mimicked by the National Hurricane Center). The HWRF model is being far more aggressive with winds of up to 350km/h making the system a full blown Category 5 – while this is a strong outlier, it still needs some level of respect given its level of accuracy in years gone by. Conditions also cant rule out such aggressive intensification either as low wind shear and strong sea surface temperatures allow for this. Anywhere from Melbourne to Miami is under threat for a landfall with all models showing slight differences in the final positioning. While most models place Miami out of the threat, it still needs to be monitored given the high population living and holidaying there during the long weekend.

The system is expected to remain quite small in overall size, this will help contain the most destructive core. Very destructive winds capable of major structural failure and destruction is expected in the inner most core. Damaging winds should expand quite a distance from the system but they will drop off quite quickly. Heavy flooding rain is expected as well with falls of 500mm+ being possible. The overall flooding should be fairly limited though as the region in question is built to withstand monsoonal impacts.