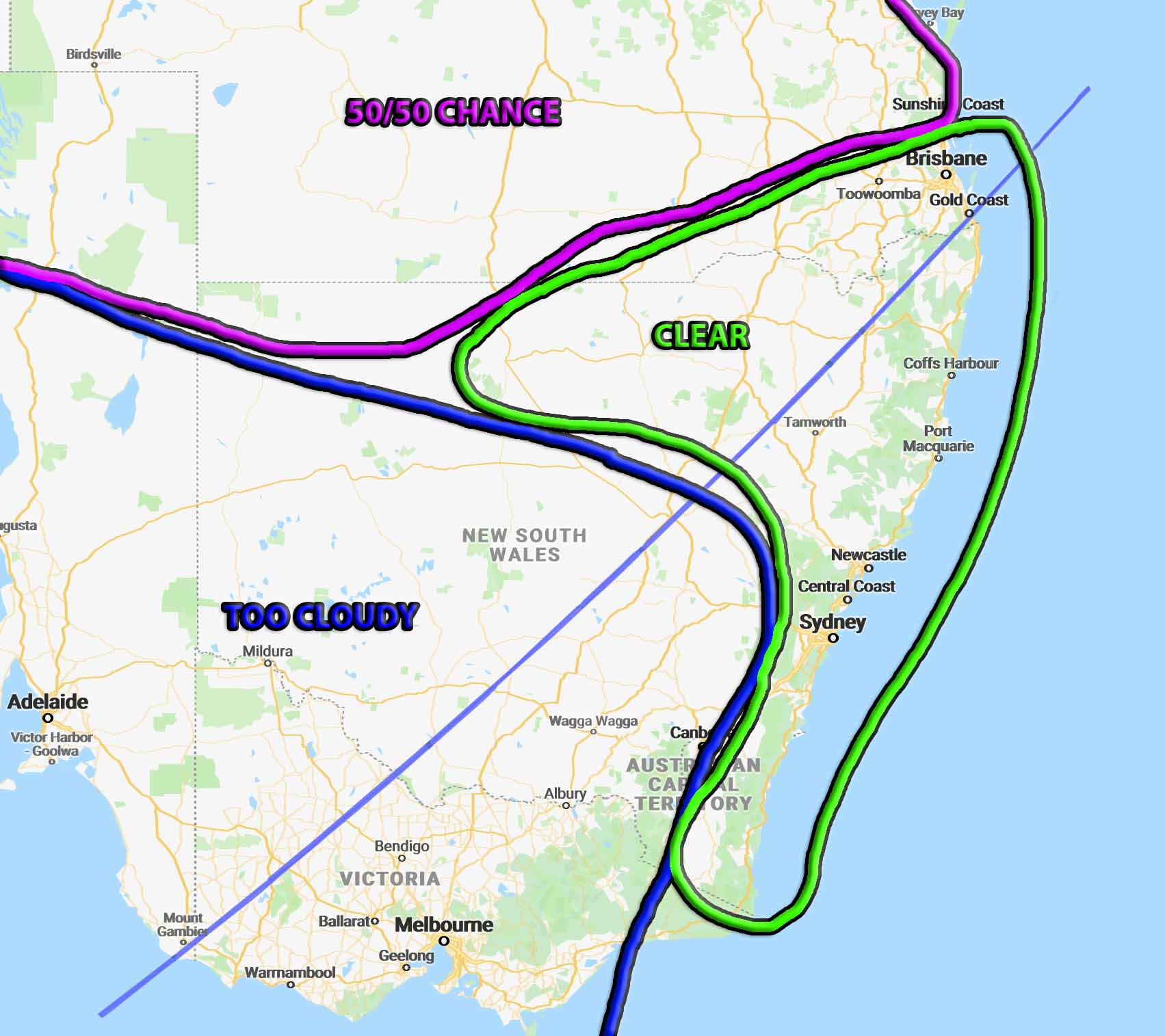 12 Jul

International Space Station Forecast To Track In front Of The Moon
The International Space Station is forecast to move over Eastern Australia tonight (July 12th), giving SOME people the chance to observe it. For others though, it will be unfortunately too cloud, thanks to the snow system across the South East of the Country. This passover will also allow a rare opportunity for the space station to fly directly in front of the moon – giving a great opportunity for those who don't blink, a chance to witness the phenomenon. The blue line on the cover image (base image via ISS Transit Finder) shows the exact track the ISS is currently expected to take, it will vary slightly, but the ISS is visible from great distances.
[wp_ad_camp_3]
The ISS is expected to move directly over Western and North West VIC at 6:25pm, directly over Southern & Central Inland NSW at 6:26pm, Northern & North East NSW at 6:27pm and South East QLD at 6:28pm. If you are in one of the following towns then there is a chance that the ISS will pass directly in front of the moon from your viewing point – (QLD) Gold Coast / Gold Coast Hinterland (NSW) Bonalbo, Deepwater, Glen Innes, Upper Manilla, Gunnedah, Dunedoo, Dubbo, Peak Hill, NW of West Wyalong, Darlington Point, Griffith (VIC) Kerang, Charlton. It would be advised that you are outside at least 5 to 10 minutes prior to the forecast times, just in case there are any very slight changes.
[wp_ad_camp_4]
Unfortunately, thick cloud coverage is expected across the majority of VIC, large parts of Southern, Central and Western NSW thanks to an upper trough and associated cloud mass moving across the region. Clearer skies are expected over Eastern NSW (East of the Ranges), Northern NSW, Southern Inland and South East QLD which will make for great viewing… however there is a slight chance that some cloud further North in QLD may make viewing hit and miss (as indicated by the cover image).
[wp_ad_camp_1]
Don't worry – if you miss tonight's viewing, there is a chance tomorrow again as the ISS passes overhead once more, with cloud conditions expected to greatly change.
Some ISS Facts:
• It travels at 27,600km/h or 276 x faster than a car going along the highway!


•

It orbits around the earth 15.5 times a day, or once every 92 minutes!


•

It weighs 419 tons or equivalent to 279 family cars!


•

The ISS is bigger than a football field – 108 meters wide x 72 meters long!


•

It has orbited the world over 100,000 times!


•

It flies between 330km & 435km above the earth and falls closer to the earth by 2km every month!