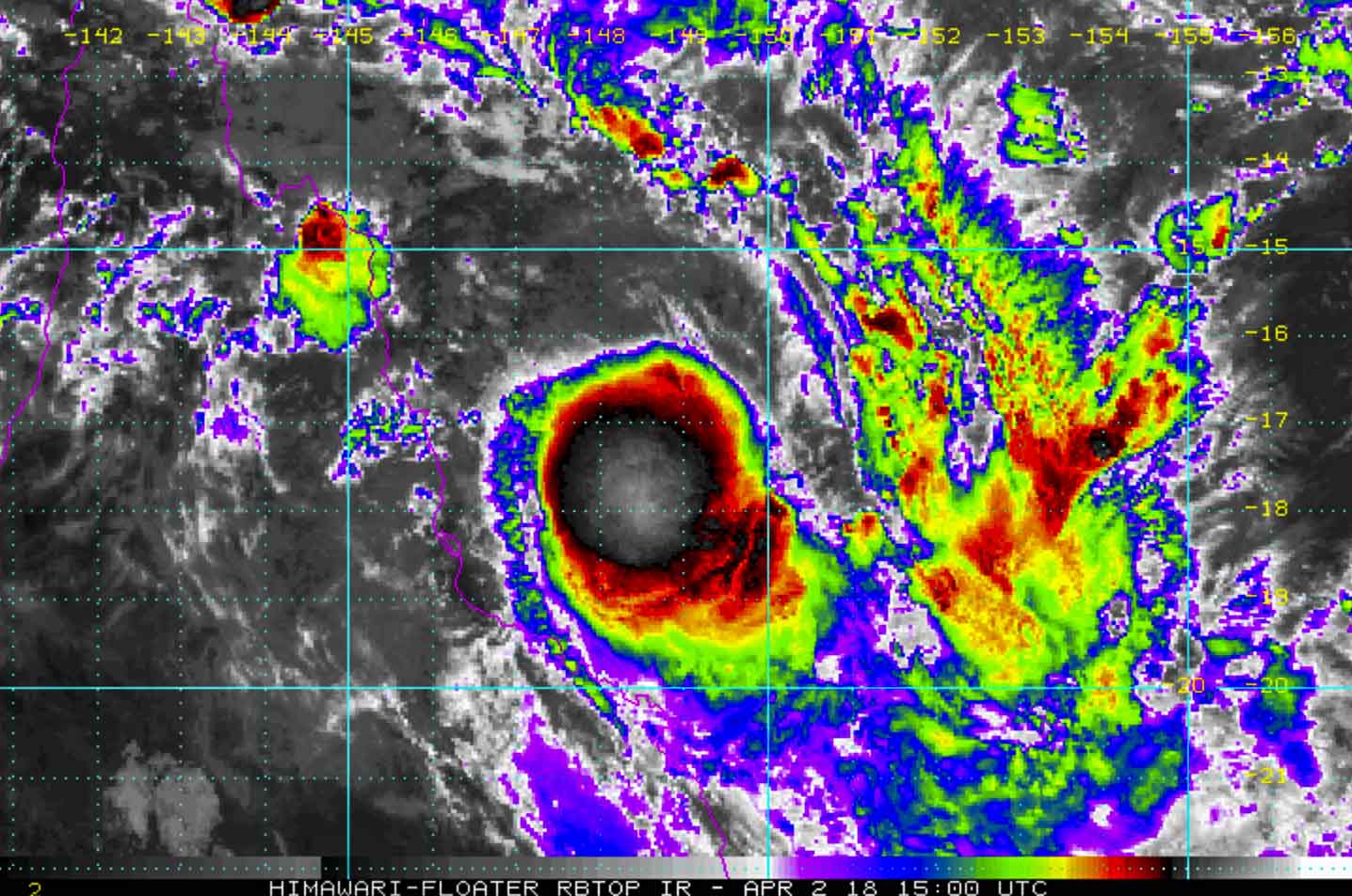 03 Apr

Iris has 2 scenarios to play out her death
Iris has been a constant pain over the last week or so as she circumnavigates around the Coral Sea from New Caledonia to Queensland.. however her tale has 1 more twist before it comes to an end, and it can go 1 of 2 ways. Above image via NOAA
So we are going to propose both scenarios, please be sure to read both carefully and don't jump to conclusions. Neither are overly dramatic, but hopefully they can answer some questions and queries.
[wp_ad_camp_1]
Scenario 1: Some models are hinting at what has been expected the entire time. Iris is currently a Category 1 tropical cyclone. Over the next 24 to 72hrs, she is expected to track South East parallel with the Central QLD Coast due to a ridging pattern over Inland QLD which is pushing East. Her broad wind field is expected to allow for some damaging gusts across mainland areas between about Bowen and Sarina, as well as the Northern Capricornia Coast which is exposed to the South East wind channel (i.e Yeppoon). There is also the potential for some locally destructive winds of 125km/h+ over the Whitsundays. As the system drifts away from the Coast later in the week, it should interact with increased vertical wind shear and begin to die a somewhat slow death and become a distant memory. Despite the system being close to the Coast during Wednesday and Thursday, minimal rainfall is expected due to some dry air aloft (kind of like what happened with Linda over South East QLD).
[wp_ad_camp_3]
Scenario 2: Some models (including heavyweight models) are now on the prospects of Iris making landfall over the Central QLD Coast, but there is a twist to that. The above mentioned ridge in this scenario is expected to track East as expected… however its expected to cause Iris to stall as it blocks her South East, South and Westerly movements. Once the ridge overruns Iris, she will become sheared off and become nothing but a low level circulation off the Whitsundays. Once this occurs, she will no longer be steered by the ridging pattern, but by the South East flow which is dominating the QLD Coast.. this will allow her to make landfall as a weak tropical low over the Central Coast & Whitsundays… the catch, apart from some strong to damaging winds over the Whitsundays and exposed Coastal areas between Yeppoon and Bowen, it will seem like a normal day. Dry air aloft from about 12,000ft and above will suppress any potential rainfall across the region, so that will lead to mostly fine and blowy conditions.
[wp_ad_camp_1]
As you can see, the overall prospects either way aren't too dramatic. They can make tracking the system a little bit harder (especially when you have accurate heavyweight models butting heads with each other), but the overall consensus is generally minimal rainfall, strong to damaging winds likely with possible brief destructive gusts and a marginally increased swell. She poses no threat to the North QLD Coast or the South East Coast (for those who think she will impact the Commonwealth Games).
***Note: Copyright material NOT for media use, broadcast or republishing without express permission from Higgins Storm Chasing***