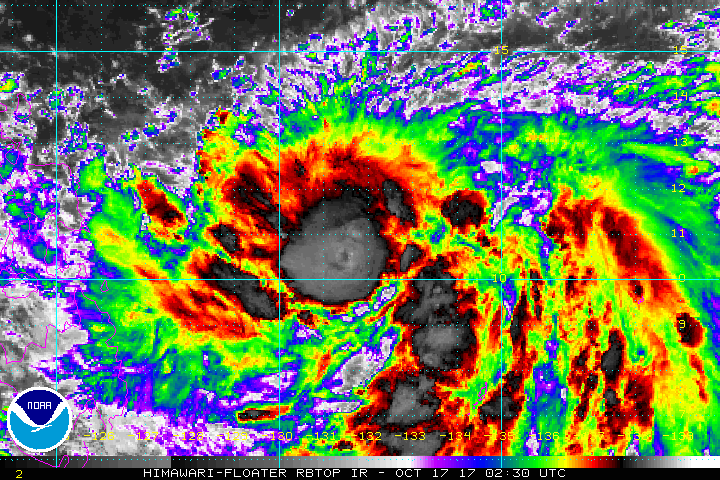 17 Oct

Lan could be the Strongest Typhoon in 2017
Issued 4pm AEST, Tuesday October 17th 2017.

Severe Tropical Storm Lan is forecast to become the strongest Typhoon of 2017 as it tracks towards Eastern Japan over the next week! Above image current satellite imagery via NOAA
[wp_ad_camp_1]
Severe Topical Storm Lan is still rated weaker than a Typhoon as it sits East of the Philippines over the Southern Philippine Sea. Lan developed near the Island of Yap, and over the past few days has drifted slowly towards the West gradually strengthening. Over the next week 24hrs however, Lan is expected to veer more towards the North as it encounters a high pressure ridge over South-East Asia.
This veer towards the North is expected to push Lan into an extremely favourable environment according to all global modelling, which will allow for rapid intensification over open waters. Lan at this stage is likely to continue on a general Northerly path where it may near the Islands between Japan and Taiwan. During this track, Lan is likely to not only reach Typhoon strength, but Super Typhoon strength with the Joint Typhoon Warning Center forecasting a maximum sustained winds of 130kts (240km/h) and maximum wind gusts of 160kts (nearly 300km/h). Lan's pressure may also drop into the low 900's. This will comfortably make Lan the strongest Typhoon for Season 2017 in the Western Pacific!
[wp_ad_camp_3]
Lan's final track and potential landfall is unknown due to many variables and large margin's of error, however global modelling is in agreement that the Northerly track will place Lan in the general vicinity of Japan on around Sunday (October 22) or Monday (October 23). Thankfully it appears at this stage that some slightly unfavourable conditions surrounding Japan may quickly weaken the system back to a lower graded Typhoon, however Lan is also expected to be a very large system with a huge range from the centre for its damaging wind gusts – this will mean the system may not need to make landfall for its effects to be felt.
Its important to know that the above text and forecast is based off current data and is subject to changes and alterations. We will continue to monitor this system as it develops over the next few days and issue any updates if required.
[wp_ad_camp_4]