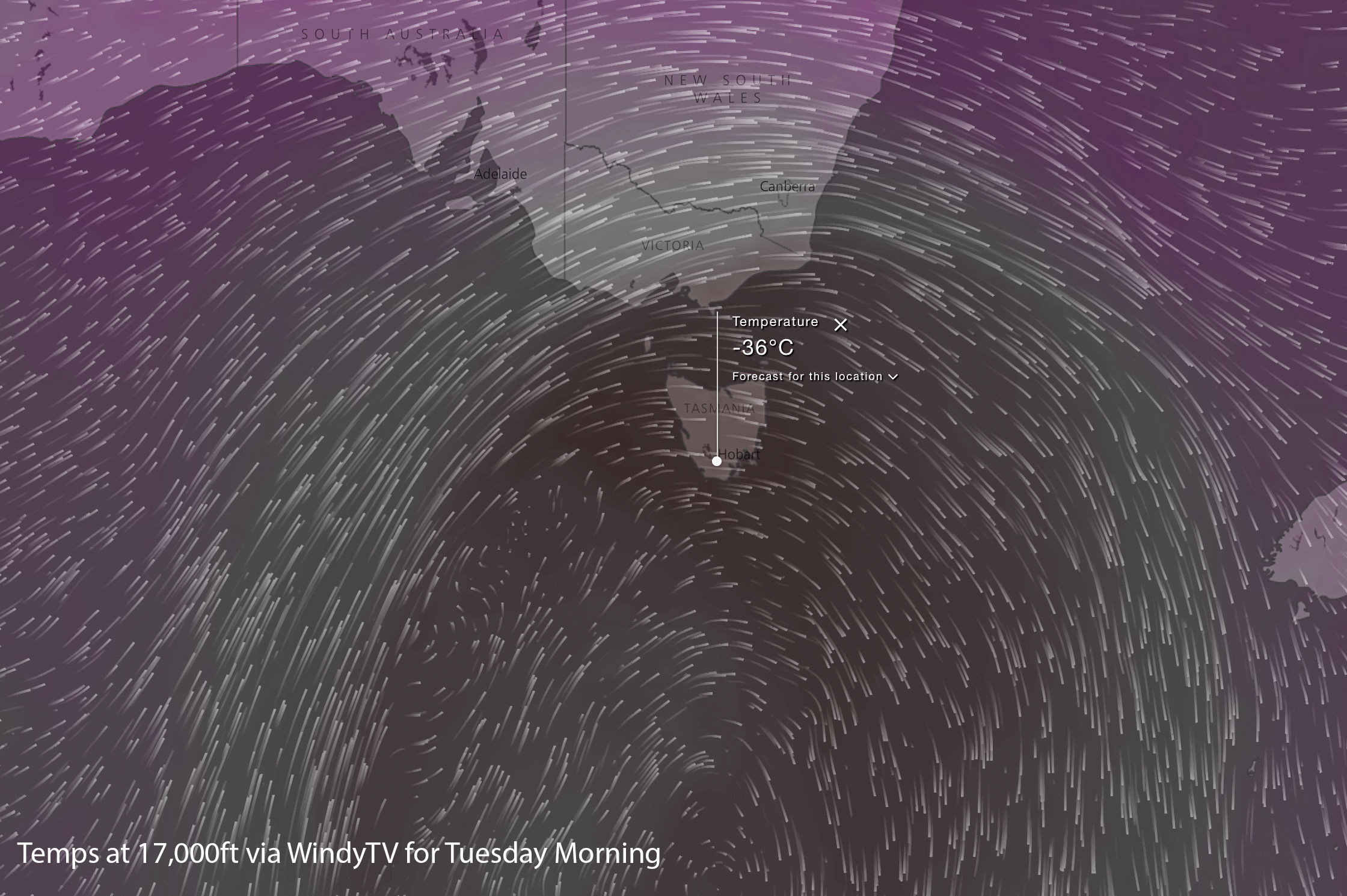 02 Sep

Late Season Snow coming for TAS
Issued Saturday evening, September 2nd 2017. Tasmania is expected to see a late heavy snow dump with low level snow liking over the next several days! Above image via WindyTV showing temperatures at 17,000ft very early on Tuesday morning.
[wp_ad_camp_1]

During Sunday night, a cold front is expected to move through Tasmania bringing widespread strong winds, with damaging winds of 90km/h or greater likely over elevated areas and over open waters (particularly Maatsuyker Island and Mt Wellington). Some isolated thunderstorms are possible with this front as it moves through, along with a band of scattered light to moderate showers – particularly in the West. Its the cold air behind the system that is expected to produce a good late season snow dump!
[wp_ad_camp_3]

A large pool of frigid Antarctic air is expected to track over Tasmania from very late Sunday and remain over the region until late on Wednesday with the coldest air moving over the region late on Monday and early Tuesday. Temperatures as cold as -37ºc at 17,000ft and as low as -6ºc at 1500m ASL are expected to produce snow to 300m on Monday night and 200m on Tuesday morning with unsettled snow possible to below 100m on the West Coast on Tuesday also. The constant moisture flow will allow for more than 60cm to fall over the Cradle Valley between Sunday and Thursday with heavier totals possible. Widespread falls of 25cm+ are expected over the entire Western half of the State, and snow is also possible in the suburbs of Hobart. Blizzard conditions are also expected over Mt Wellington.
This is quite late in the season to have such a low and heavy snow event and its possible that another event may follow later in the week adding to what has been quite a snowy Winter in 2017.
[wp_ad_camp_1]