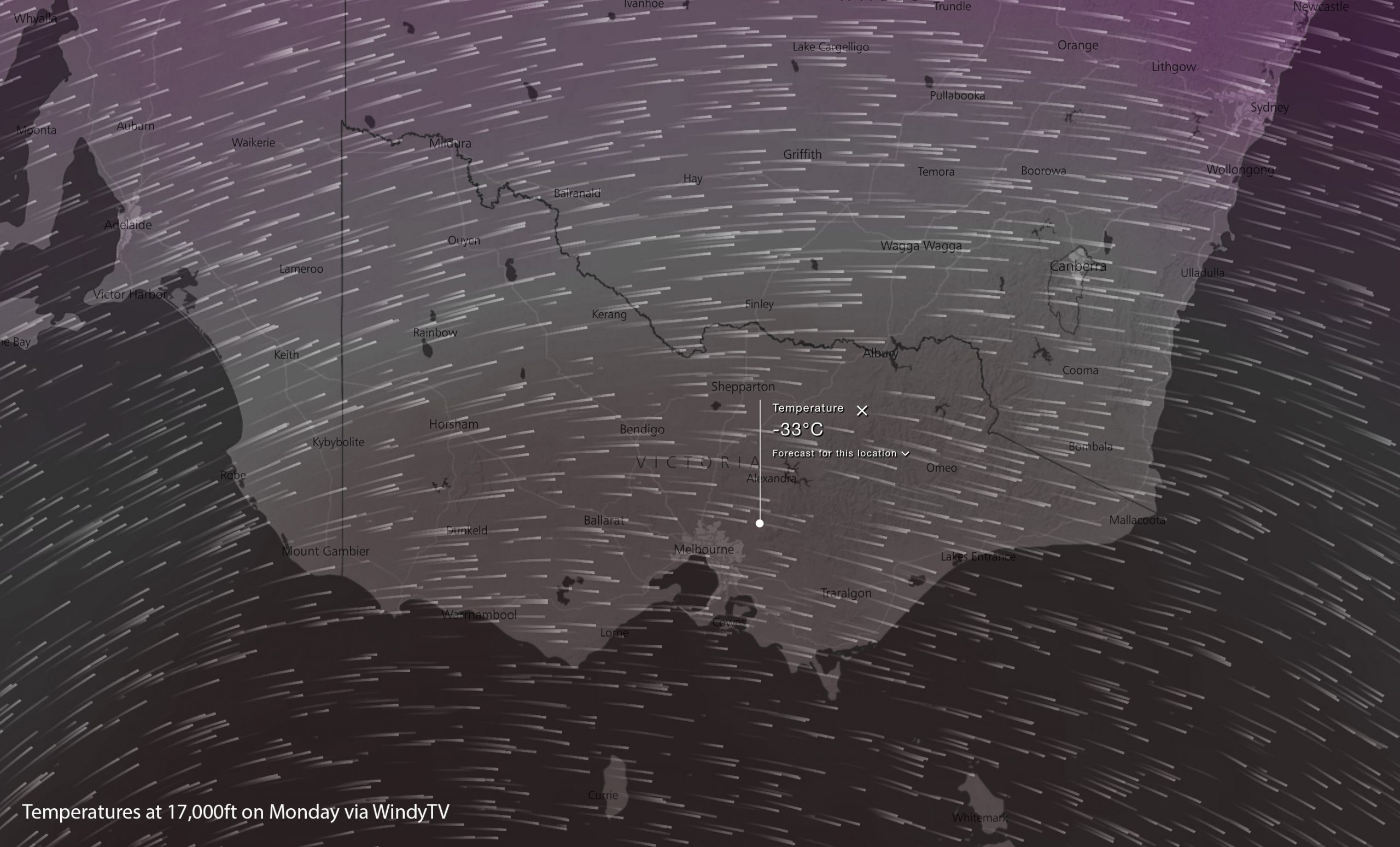 03 Sep

Late Season Snow Storm for VIC
Issued Sunday, September 3rd 2017.

Victoria could see its best snow dump for the season to date over the next 4 days as a cold front drags Antarctic air over the region leading to heavy snow in the Alps and low level snow elsewhere. Above image temperatures at 17,000ft via WindyTV on Monday afternoon
[wp_ad_camp_1]

A cold front is expected to push through later this morning (Sunday) resulting in widespread strong wind gusts across Victoria with damaging winds likely over Bass Strait and the Snowy Mountains / elevated parts of the State. Onshore Westerly winds are expected to trail in behind the cold front producing scattered to widespread showers which may contain small hail as they interact with cold air. Snow is likely to begin falling down to around 800m over VIC but its the frigid air lagging behind that will excite snow-goers.
[wp_ad_camp_3]

A frigid cold pool being dragged up from Antarctica is expected to move over Victoria later on Monday resulting in snow dropping from 800m down to 400m with lower unsettled snow possible. Snow is then may fall down to as low as 300m early on Tuesday when the coldest air moves overhead. Snow will then gradually rise to 500m later on Tuesday, 800m on Wednesday and 1000m by Wednesday evening as the cold air moves East. These kinds of levels are likely to match, if not better the lowest snow for the season so far in Victoria and with good moisture being fed in, some healthy totals are expected.
Falls of 50-75cm are likely over the Victorian Alps between Sunday night and Thursday morning along with some blizzards, falls of up to 100cm cant be ruled out. Snow is also likely over the Otway Ranges, Dandenong Ranges, Ballarat and Grampians.