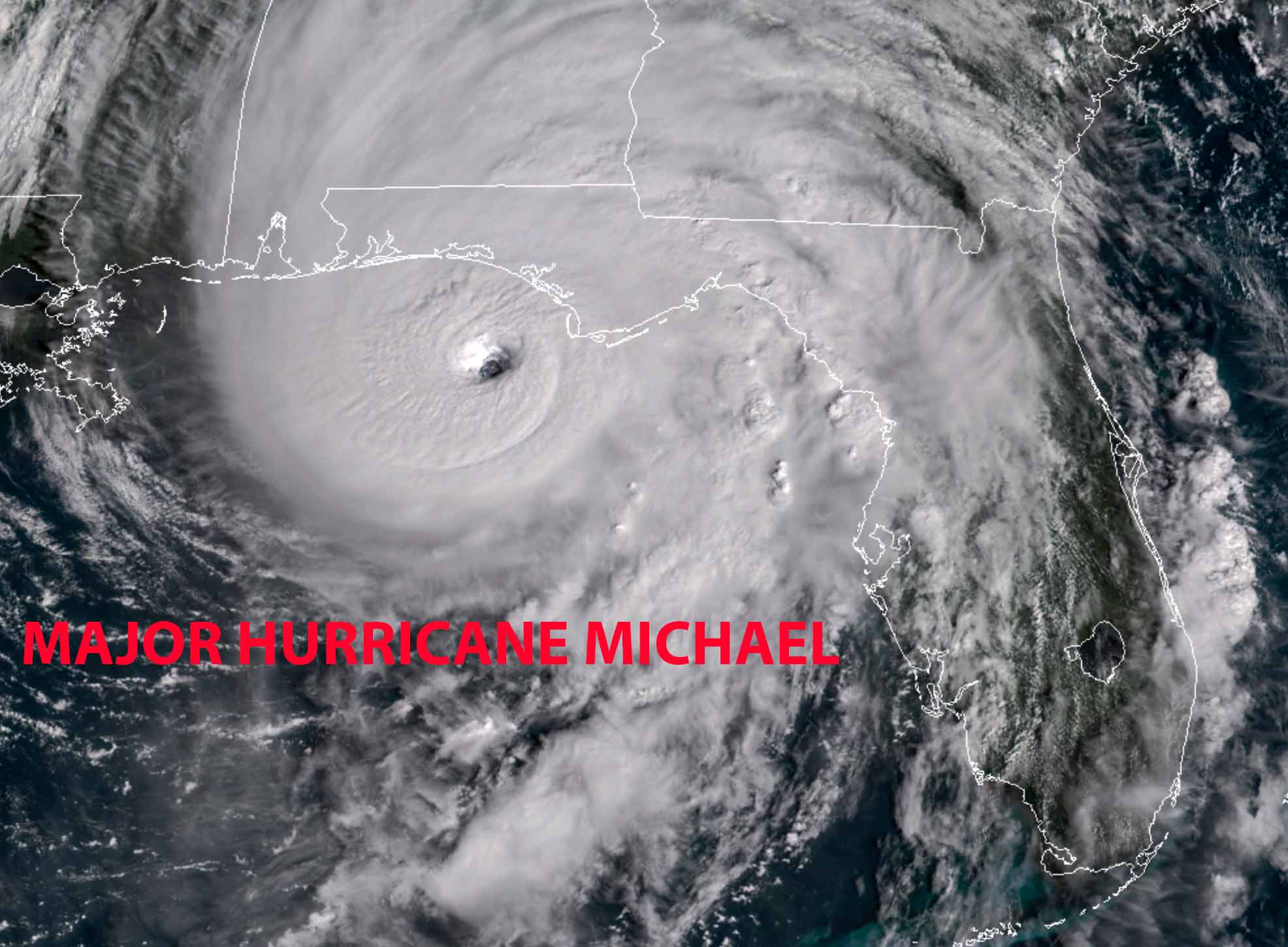 11 Oct

Life Threatening Hurricane Michael nearing landfall!
Major Hurricane Michael is nearing its expected landfall area of the Florida Panhandle, near Panama City as a life threatening, high end Category 4, almost Category 5 system! Above image via RAMMB / CIRA.
[wp_ad_camp_1]
Hurricane Michael developed several days ago near the Yucatan Peninsula and global models have forecast the track of the system very well, with early indications showing the system was expected to make a quick landfall over the Florida Panhandle before being overcome by a ridge to the West and North and then shooting North East across the Eastern U.S. Those forecasts held and held, and now have come true, with the system only a few hours away at the most from making a landfall near Panama City, Florida.
[wp_ad_camp_4]
There have been some monster hurricanes during October in history, including the strongest ever Atlantic system, Hurricane Wilma, back in 2007. So to see such a strong system in what is definitely the latter part of the season and certainly out of the peak, isn't unheard of. However, this shouldn't deter from the fact that Michael is a very high end Category 4 system and may even reach Category 5 strength just moments prior to landfall (which may not be indicated on official observations due to the timing between updates from the National Hurricane Center, but it may be reflected by chasers who intercept the eye).
[wp_ad_camp_3]
While there is certainly some complacency surrounding what happened with Florence, Michael is a much different story. Michael is an intensifying system which will reach its peak intensity ON landfall, not a day or more prior. This may also enhance the damage near the centre of the system (as seen in previous systems such as Hurricane Harvey last year). The system is likely to bring a life threatening wind threat to not only areas immediately surrounding the landfall region, but extending well inland as it takes the system up to 24hrs to drop back below very destructive wind criteria. Winds of up to 260km/h sustained are possible with this system and 230km/h+ are likely, along with much stronger gusts. There is also the threat of a catastrophic and life threatening storm surge of up to 14ft along the Northern Florida Coast and North East Gulf of Mexico. This storm surge will also extend well inland and completely inundate houses along the Coast which have very little protection from break walls or sand bars. The combination of these two threats will not only pose a significant risk to human life and lead to an obvious state of emergency, but it will also bring down powerlines, completely destroy any buildings near the eye landfall and significantly damage buildings an extensive distance away from the eye, but also bring down trees, lead to excessive flooding and impact communications which could lead to some areas being isolated and stranded for several days.
Thankfully the one "good" threat is that the system is fast moving and will likely produce torrential rain, but not excessive rainfall like Florence or Harvey. Heavy rainfall of 100-200m is likely surrounding the core of the system which will extend through Georgia and the Carolina's, and of course lead to flash flooding and some river and creek flooding, especially through the Carolina's who have only recently (in the last week or two) seen flood waters ease from Florence.