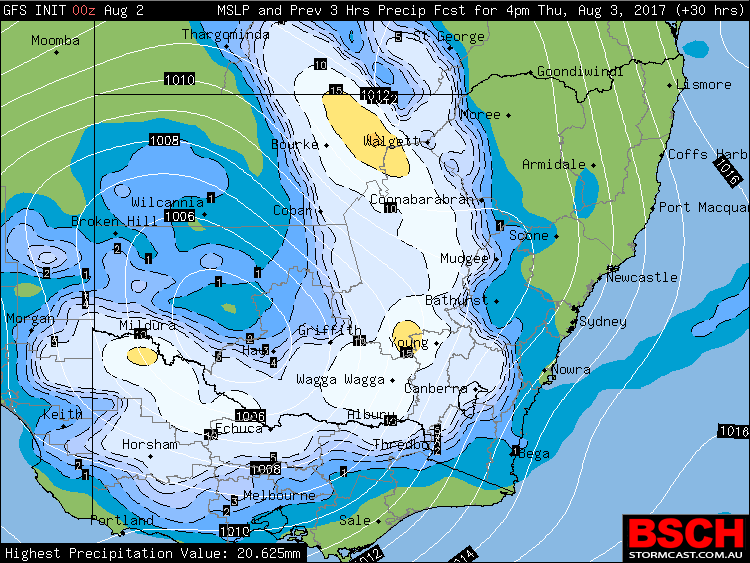 02 Aug

Low and Trough to sweep VIC & NSW bringing widespread Severe Weather
Issued Wednesday, August 2nd 2017 – A trough and low pressure system over South Australia are expected to sweep through VIC and NSW over the next 36hrs producing widespread severe weather including heavy rain, strong to damaging winds, thunderstorms / hailstorms and snowfall. Above image via BSCH – 4pm pressure chart on Thursday with rainfall overlay.
LATE WEDNESDAY:

Western parts of NSW and Far North-Western VIC should begin to feel the effects of the system as isolated to scattered showers and possible thunderstorms impact the region. Overall conditions should remain fairly tame, with small hail under storms the only main threat.
[wp_ad_camp_1]

THURSDAY: Thursday is expected to see the worst of the weather with widespread rain areas associated with the low spreading across all of Victoria and the entire Southern half of NSW including the ACT. The low is expected to be linked to an upper level low also which will increase instability through the region leading to an increased threat of hail showers across all areas South of Broken Hill to Sydney, but especially over Southern Inland NSW, along with an increased risk of thunderstorms where isolated to scattered storms are likely across Southern Inland NSW and just a chance elsewhere. Any storms that do form have the potential to produce strong to damaging winds, heavy rain and small hail, with a chance of large hail not ruled out. Snow is also expected to be a factor with falls of up to 25cm likely across the Snowy Mountains and higher totals possible during Thursday alone, damaging winds are also expected across the Snowy Mountains as the low pressure system nears the region. Falls of 20-40mm are expected along the Ranges and across Southern parts of the State (isolated higher totals are possible), with widespread falls of 10-25mm occurring through the majority of VIC and NSW.
Across Northern Inland NSW, the trough is expected to move through producing a band of rain and isolated to possibly scattered thunderstorms. Any storms that do form are likely to contain small hail along with localised heavier rainfall. Good falls of 15-30mm are expected over Northern Inland parts of the State and along the Ranges.
[wp_ad_camp_1]

FRIDAY: The trough should move through Coastal areas North of Newcastle overnight Thursday into Friday with light showers expected to be associated with it. Further South during Friday morning, the low should move offshore from the NSW South Coast with showers and rain areas still surrounding it. The better falls are likely to occur over Victoria during Friday as South to South-West winds move over the State behind the low. Strong winds are also likely to remain active over the Snowy Mountains and NSW Central / Southern Coasts throughout the day, but conditions should improve as the day progresses. Snow is expected to fall down to around 1000m during Friday over the Alps with up to 5cm likely.