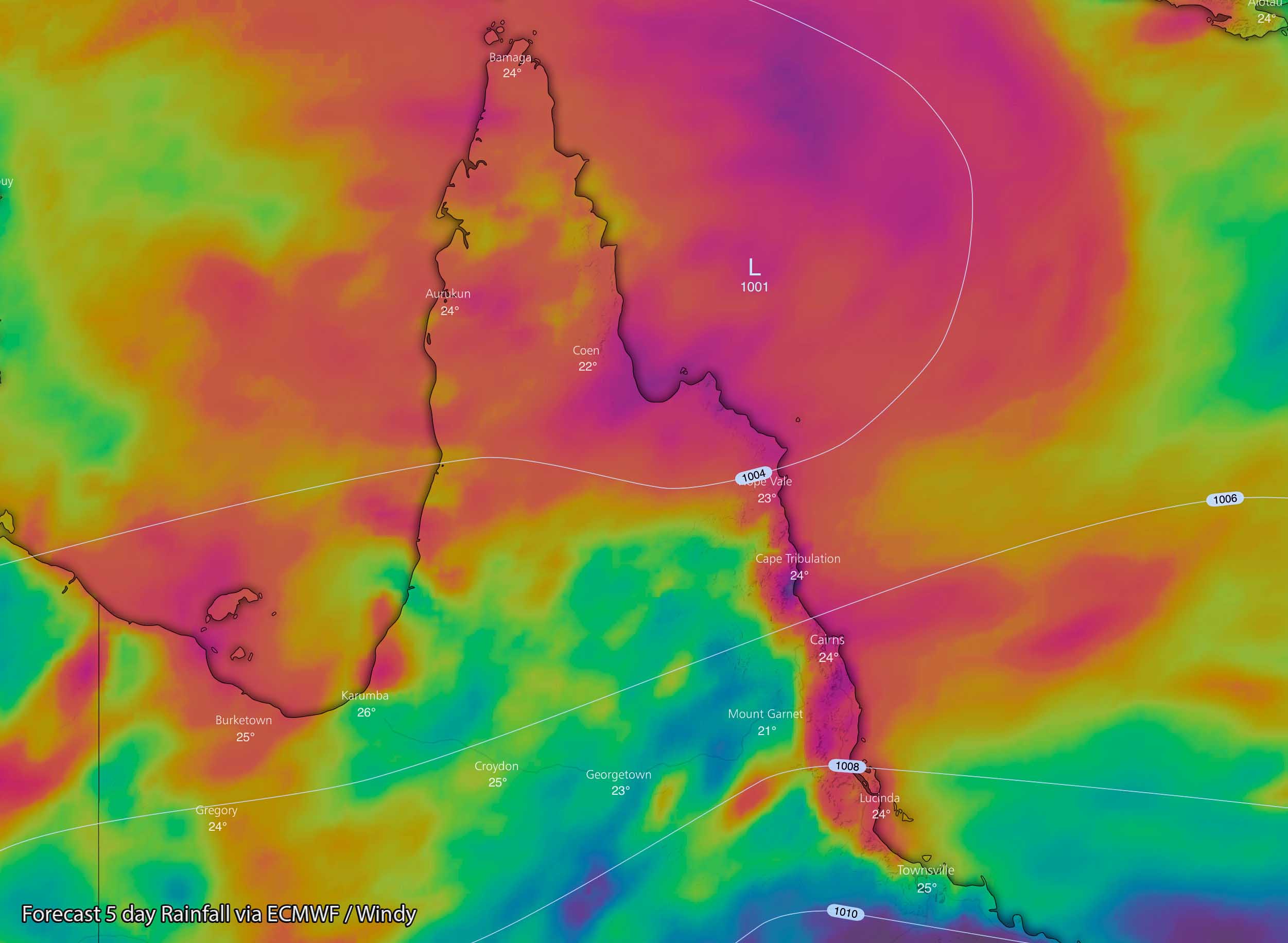 06 Mar

Monsoon Burst & Tropical Low puts NQLD on Flood Watch
A monsoon burst and the potential development of a tropical low are expected to lead to very heavy rainfall across Tropical North QLD over the next few days, leading to likely flash flooding and river / creek rises. Above image via Windy (orange >100mm, pink / purple >250mm).
[wp_ad_camp_1]

A monsoon trough has loosely developed over Northern Australia over the past 24 hours and is set to strengthen over the next 24-48 hours leading to a noticeable increase in rain areas and thunderstorms across both the Queensland and Northern Territory tropics. This is set to have the biggest impact on the Tropical North QLD Coast to begin with, as areas from Townsville to Cooktown are likely to see daily falls of 100-200mm over the next 2-3 days with isolated higher falls likely also. While Townsville itself is out of the highest falls, any shift in rain areas further South could see Townsville get enough rain to help the Dam reach 100%! As a result of this, coastal catchments between Cooktown and Ingham have been placed on a flood watch for minor to possibly isolated moderate flooding.
[wp_ad_camp_3]
During the end of the week (around Friday), global models are in full agreement that a tropical low is set to develop off the East Coast of the Peninsula. This will subsequently increase rainfall totals through areas North of Cairns on Friday and Saturday as the low strengthens and moves West into the Gulf of Carpentaria where it has about a 50% chance of becoming a tropical cyclone. There is some model discrepancy between the exact movements of the low and its intensity, but for now… it looks likely that one will develop East of the Peninsula and intensify as it moves West into the Gulf.
Note: This is NOT the system that the media is currently talking about, this is an entirely seperate system.
[wp_ad_camp_1]