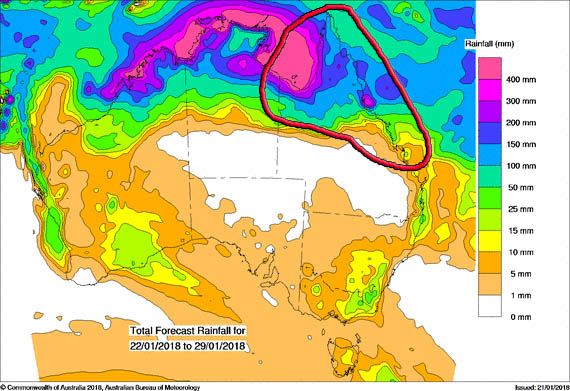 22 Jan

Monsoon Rain to drench NQLD as Tropical Low develops!
Over the past week, parts of Tropical North QLD have seen more than 500mm… over the next week the Tropics could see more than that, with Coastal parts of QLD seeing a return of the wet weather as the monsoon trough intensifies! Above image via BOM (8 day rainfall)
[wp_ad_camp_1]
The monsoon trough is expected to remain stubborn and firmly positioned over Tropical North QLD, slowly intensifying as the week progresses. This trough is expected to very slowly move towards the South and "could" reach as far South as Townsville or Bowen later in the week. That all depends on a few factors though.
The first factor is a tropical low which is currently situated over the North East NT. This low is expected to meander over the region and help produce enhanced rainfall due to onshore Northerly flow over the Gulf Coast. Falls of 200-400mm are likely with isolated falls of more than 700mm possible over the Gulf Coast (this may end up being over water and not land, but the totals are being put out there). The heaviest falls are likely between Monday and Thursday.
[wp_ad_camp_1]
Along the Tropical North QLD Coast, further scattered showers, rain areas and thunderstorms are likely over the course of the week resulting in rainfall totals gradually accumulating. Isolated falls of 100mm+ are possible on some days, however the overall weekly outlook for areas North of Townsville is for falls of 100-200mm and isolated higher falls possible. Further South, areas from Townsville to Rockhampton may be influenced by the development of a tropical low. All models have this low developing, however its track is unknown yet. Its not expected to develop into a tropical cyclone… but that won't stop it producing scattered showers along the Central QLD Coast and further enhanced falls through areas North of Bowen where 25-50mm is likely and isolated falls to 100mm are possible.
Over the course of the upcoming weekend, SEQLD should see a return to the wet stuff with falls of 15-30mm possible.
[wp_ad_camp_1]