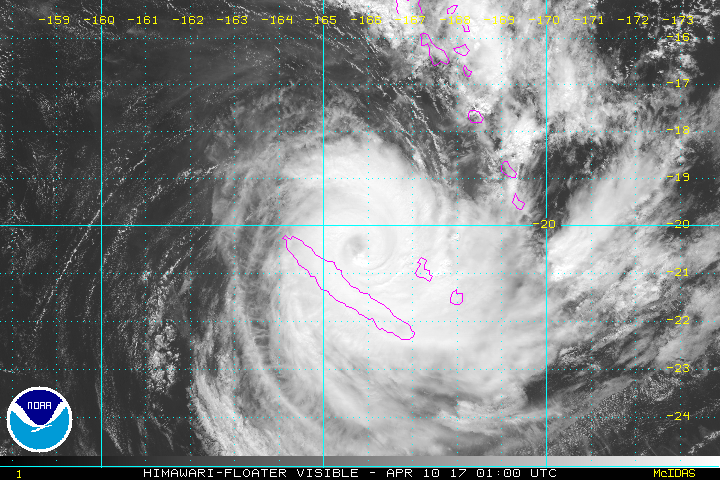 10 Apr

New Caledonia bracing for Severe Cyclone Cook!
New Caledonia is on the brink of a direct hit from Severe, Category 3, Cyclone Cook this afternoon as the system continues to intensify! Above image via NOAA
The Vanuatu Islands, apart from some gusty winds and heavy rain, escaped relatively unharmed from Cyclone Cook, however the threat now IMMEDIATELY shifts to New Caledonia who are bracing for a direct hit straight down the core from now a Severe Tropical Cyclone, with winds to 200km/h! Very destructive winds near the core of the system are likely to produce widespread damage with trees downed, power lines and power generators damaged and infrastructure damage. Due to the track of the system, its reasonable to think the entire island may lose power and could be without power for an extensive period of time. As of 2013, the region was home to more than 250,000 people with the capital Noumea (home to 100,000 people) on the dangerous South-East side of the system.
[wp_ad_camp_4]
Other threats for the region include heavy to torrential rain which would have started last night but is expected to significantly ramp up over the next several hours as the system continues to near and cross the island. Heavy falls of more than 50-80mm/hr are possible with grand totals in excess of 300mm likely, causing flash flooding, river and creek rises and town inundation for any low lying areas. Severe storm surges are also expected, mainly on the Northern shoreline as the system approaches which may cause coastal inundation with dangerous seas also likely.



[wp_ad_camp_3]
Our thoughts go out to those on New Caledonia as they prepare for one dangerous system. Our thoughts also go out to those in New Zealand who continue to clean up from Ex-Tropical Cyclone Debbie and who are likely to be in the path of the what will likely be Ex-Tropical Cyclone Cook by the end of the week. Dangerous conditions are once again expected with this system in the form of heavy rain and strong to damaging winds – further details will be issued once the system comes closer to landfall.
[wp_ad_camp_2]