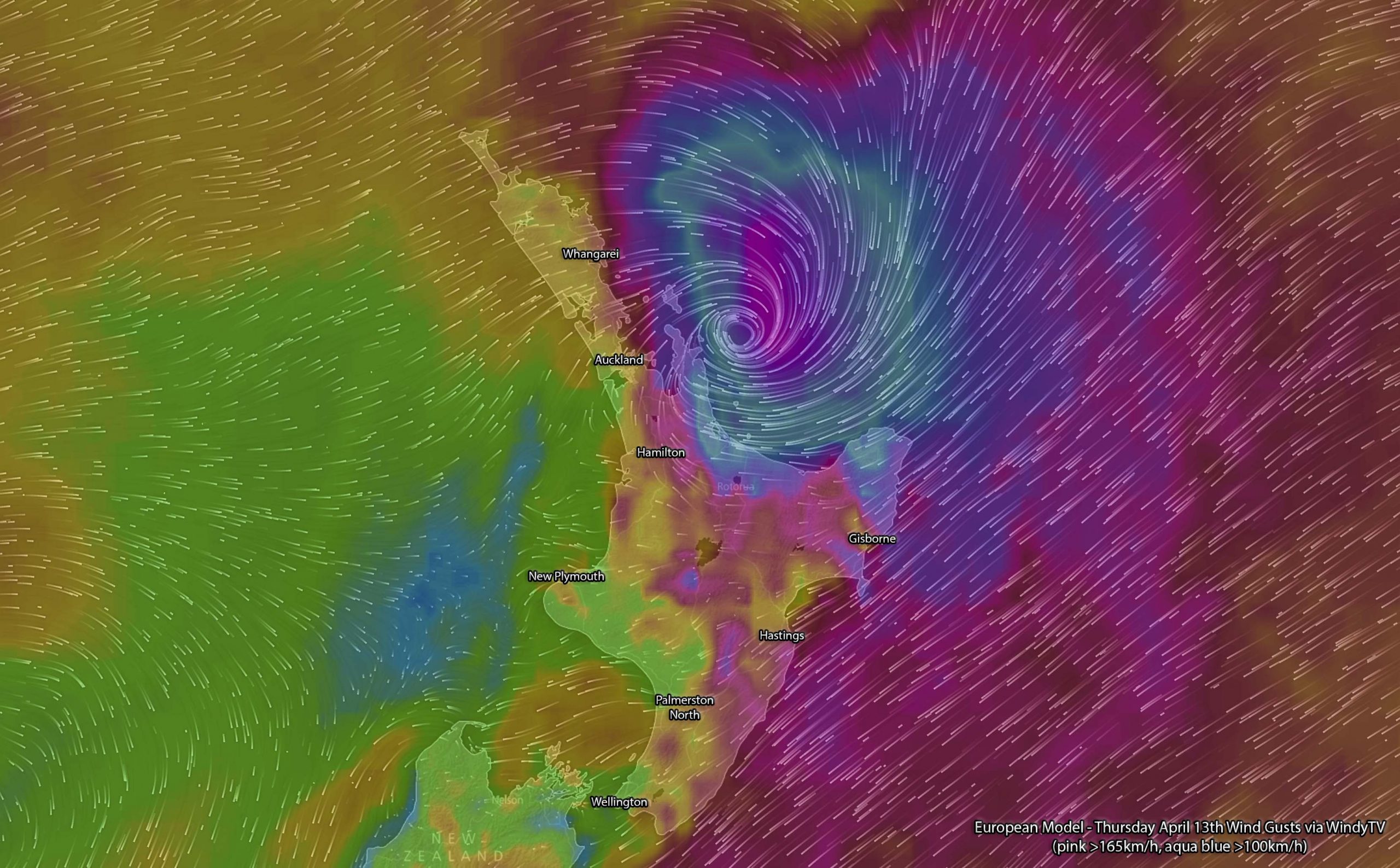 11 Apr

New Zealand braces for Cook – 2nd system in a week!
After being severely impacted by Ex-TC Debbie, New Zealanders and once again those on the North Island are being urged to prepare again as Cook or the remnants of Cook look set to directly impact New Zealand over the next several days. Above image via WindyTV (Euro Model wind gusts for 6pm Thursday – aqua blue >100km/h)
Tropical Cyclone Cook developed over the Vanuatu Islands during Sunday, before heading straight for New Caledonia where the system was upgraded to a Severe Tropical Cyclone prior to landfall. Now the system has continued on its Southerly track and according to global models, its likely to make a direct impact or "landfall" over the North Island as either a Sub-Tropical Cyclone (cyclone that maintains cyclone strength over sub-tropical waters) or an Ex-Tropical Cyclone with severe characteristics. Its not just the cyclone New Zealanders need to prepare for….
[wp_ad_camp_1]
WEDNESDAY:
A low pressure trough associated wit a strong tropical low is forecast to directly impact the entire Country during Wednesday. The low itself is expected to linger offshore for a little longer, but the trough is likely to sweep the country during the day bringing widespread heavy rain and thunderstorms. Thunderstorms are likely to be accompanied by heavy rain and potentially damaging winds, however widespread rain areas could result in flooding throughout the day with widespread falls of 50-100mm likely and isolated to scattered falls of 100-150mm+ possible.
THURSDAY / FRIDAY:
Then comes Cook for a double hit.. Cook / Ex-Cook according to global models is expected to make landfall across the Northern Coastline of the North Island during Thursday evening / night with all heavyweight models that cover the area in agreement for this. The system on GFS and EC models is packing a huge punch with widespread swaths of damaging winds, and destructive to very destructive winds of up to 150-170km/h expected near the "eye". These kinds of gusts are likely to bring down powerlines cutting power for several days, potentially blow roofs off houses and bring down trees. Further widespread heavy rain is expected across the North Island as the system tracks straight through the heart of NZ towards Wellington and along the NZ South Island Eastern Coastline. Damaging to destructive winds accompanying it the whole time. Falls of 50-100mm are likely once again with isolated falls of up to 200mm possible. Dangerous seas and potential storm surges along the entire Northern and Eastern Coastline of NZ is expected.
Flooding is a huge risk with this system, not only due to widespread 3-day totals of 100-200mm likely and scattered falls of up to 300mm but due to the ground being saturated from last weeks deluge. Some flooded areas may have not fully recovered yet and could flood at the first sign of rain. People are urged to prepare now if they haven't already and brace for a very chaotic few days to end the week.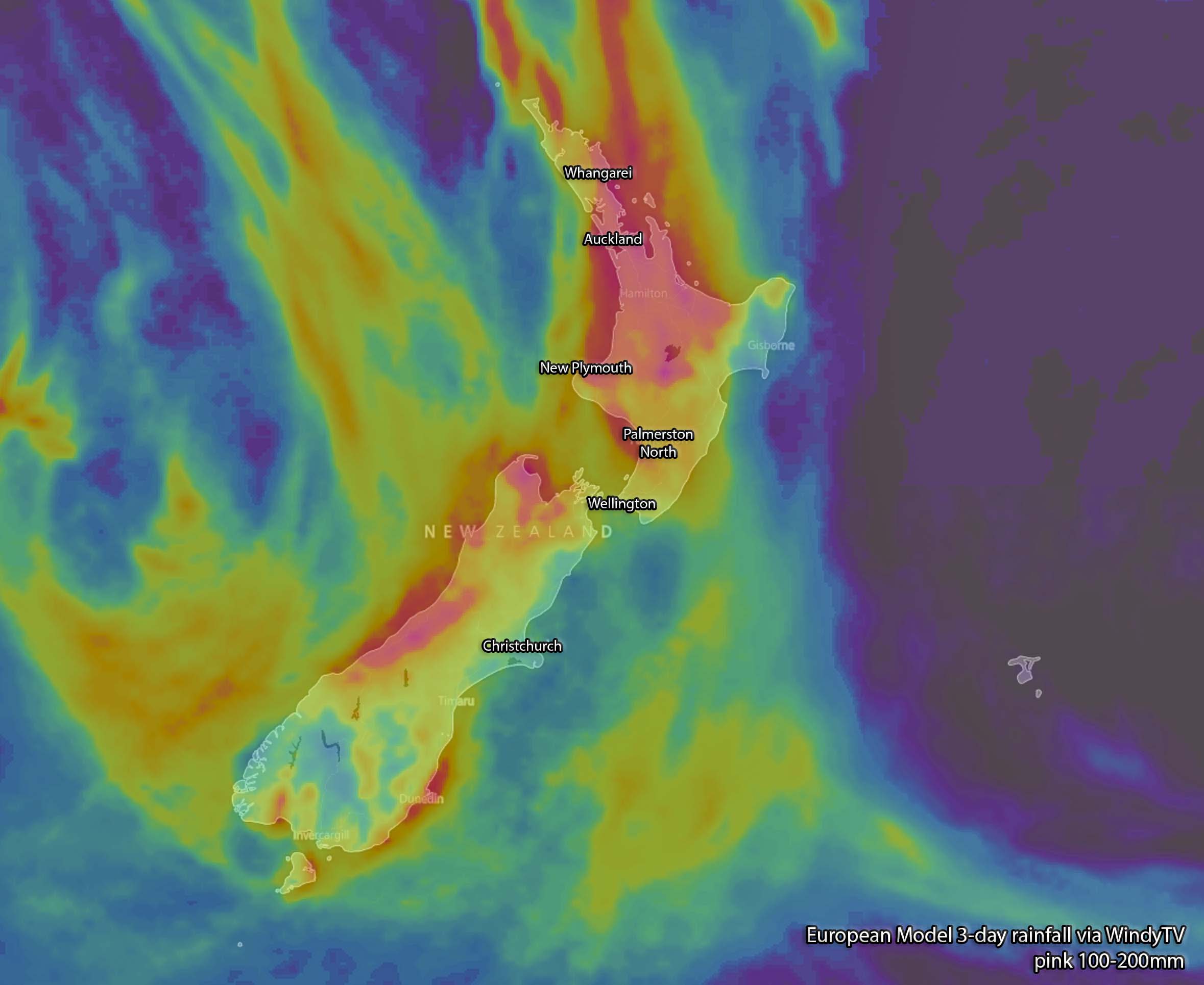 [wp_ad_camp_3]