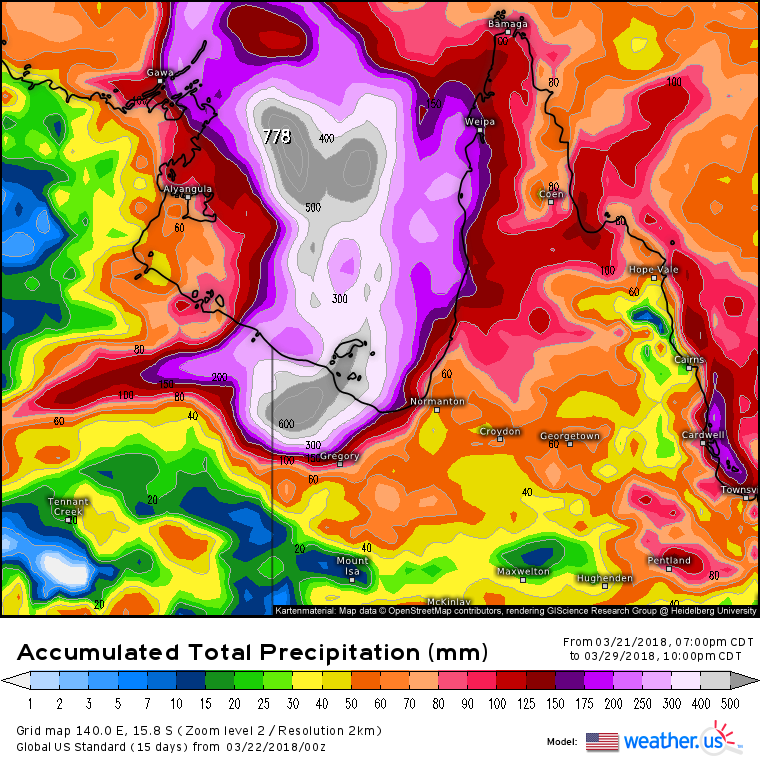 22 Mar

Nora forecast to produce a deluge of Rain!
Severe Tropical Cyclone Nora is expected to produce a deluge of rain with more than 500mm forecast across the Gulf and further heavy falls over Peninsula over the next week as the system impacts and crosses the Coast. Above image via weather.us
[wp_ad_camp_1]


Models are in full agreement that where ever Nora crosses the Coast, extremely heavy rainfall totals (even for Tropical standards) is expected to impact that area. "That area" is being defined as where ever Nora crosses, as there is some model disagreement on the EXACT location… but that disagreement could be the difference between 50mm and 500mm. At this stage, the heaviest falls are highly likely to be over Mornington and Sweers Islands with 400-600mm likely. Falls of 400-600mm are also likely within about 100km of where ever Nora crosses the Coast, with widespread 50mm+ expected for the remainder of the Gulf region. This kind of rainfall, especially in a short period of time has the potential to produce major flooding. The area is still cut off in parts due to recent heavy rain and flooding, and any additional falls (especially in the vicinity of 400mm+) is likely to only worsen the situation.

Across the Peninsula, a combination of rain areas, storms and monsoon activity caused by Nora and the monsoon trough is likely to produce widespread falls of 100-200mm with isolated falls of 300mm+ over the Western Peninsula.

[wp_ad_camp_3]
So what does that mean for everyone else? Well a deep onshore flow is expected to impact the Northern and Central Tropics from Mackay to Cooktown over the next week. This with the addition of possible isolated storms is likely to produce scattered falls of 50-150mm (the heavier falls are likely to be under either storms or more consistent showers) with higher totals of 200mm+ forecast around the Townsville to Cairns region. This kind of rainfall has the potential to produce further flash flooding across the region given how saturated the surface is.
[wp_ad_camp_1]

***Note: If you havent been mentioned in the post (i.e. you live South of Mackay, or South of the Gulf District across Inland QLD) then Nora poses no threat to you. Models are currently not showing any heavy rainfall CAUSED by Nora for those regions.***
***Note: Copyright material NOT for media use, broadcast or republishing without express permission from Higgins Storm Chasing***