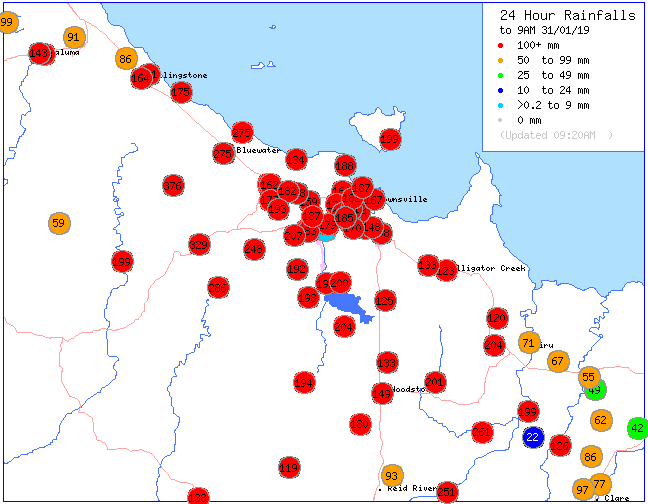 31 Jan

Over 1000mm recorded in 4 days after heavy 24hr totals recorded in NQLD!
We've seen some insane rainfall rates and totals over the past 24hrs, and that has lead to yet another day of widespread 100mm+ totals being observed across the North QLD Coast including Greater Townsville. It also lead to Sandy Plateau becoming the first location of this event to reach the 1000mm rainfall mark, with 1074mm being recorded at the location in the past 4 days. This was also the 4th straight day somewhere over NQLD had recorded almost 400mm in a single 24hr period.
Top 24hr totals:
• Upper Bluewater 376mm
• Upper Black River 329mm
• Woolshed 286mm
• Bluewater 275mm
• Toolakea 275mm
• Major Creek Alert 261mm
• Mt Piccaninny 251mm
• Mt Margaret 248mm
• Sandy Plateau 226mm
• Major Creek 217mm
• Little Bohle River Alert 207mm
• Reeds Beds 204mm
• Woodlands 204mm

• Keelbottom 199mm
Over the past 4 days, Upper Bluewater, Paluma, Rollingstone and Forbes Road have all recorded 4 straight days of 100mm+. Several other areas including Stafford Crossing and Sandy Plateau have recorded 3 straight days of 100mm+ as well. This has lead to some massive 3-4 day totals across the region
• Sandy Plateau 1074mm (989mm in 3 days)
• Paluma 903mm
• Upper Bluewater 858mm
• Paluma Alert 830mm
• Forbes Road 790mm
• Stafford Crossing 773mm
• Woolshed 699mm

For interest sake, Townsville has officially recorded 393mm in the past 4 days, Hamilton Island 466mm (449mm across 3 days), Proserpine 355mm (3 day total).