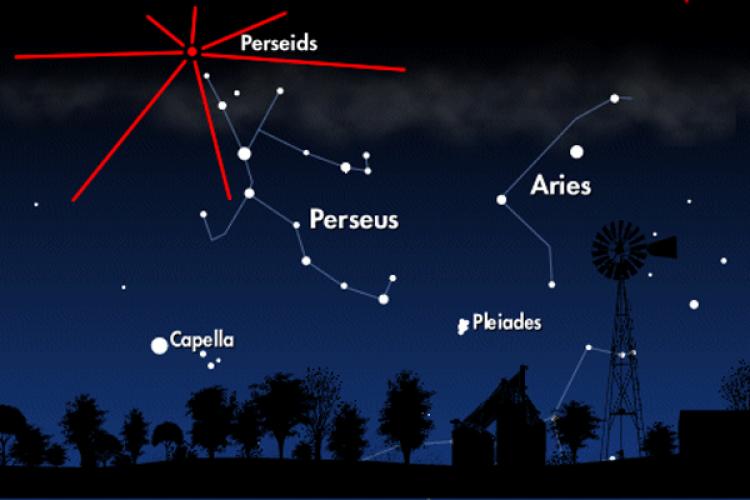 12 Aug

Perseids Meteor Shower to fill the Night Sky Tonight!
The Perseids Meteor Shower is expected to peak tonight and should put on a good display across the night sky for those who are willing to get out of bed and brave the cold in the morning!
[wp_ad_camp_1]
The Perseids Meteor Shower is an annual event that runs roughly between mid July and late August, with the peak or highest frequency of meteors occurring around August 9th to 13th generally which means tonight is the night to get viewing.
The best time to view it is just before sunrise, so roughly between 3am and 5am, although they should be going for most if not all of the night. You'll need to look towards the general North to North-East for viewing as this is where the Perseids constellation will be situated during these times, as well as trying to get a clear view of the horizon as the higher frequency of meteors occurs generally within 5 degrees of the horizon. While not everyone can avoid light pollution, the darker it is the better it is with the potential for 60 to 100 meteors an hour (or more than 1 per minute) during the peak.
[wp_ad_camp_3]
For those of us across the Southern half of QLD, skies should be clear around 4am on Sunday morning. Much of Inland Australia should also be clear which will be ideal due to less light pollution. With a cold front crossing the South-West WA Coast, heavy cloud cover should be active there as well as over South-Eastern AUS. It looks like outside of Southern QLD, Adelaide may be the only other viable viewing area.
This meteor event is one of the most sought after by astrophotographers, astronomers and stargazers as it offers one of the high frequencies in meteor activity, along with some of the better colour displays as the light refracts off the meteors for that split second. The meteor event occurs due to tiny space debris from a comet called the Swift-Tuttle and happens to occur annually as the debris rotates around the Earth's gravitational pull. The event is called the Perseids Meteor Shower due to the high frequency, better viewing and general direction of the meteors occurring near the constellation Perseus which is in the North-Eastern part of the skies.
[wp_ad_camp_1]