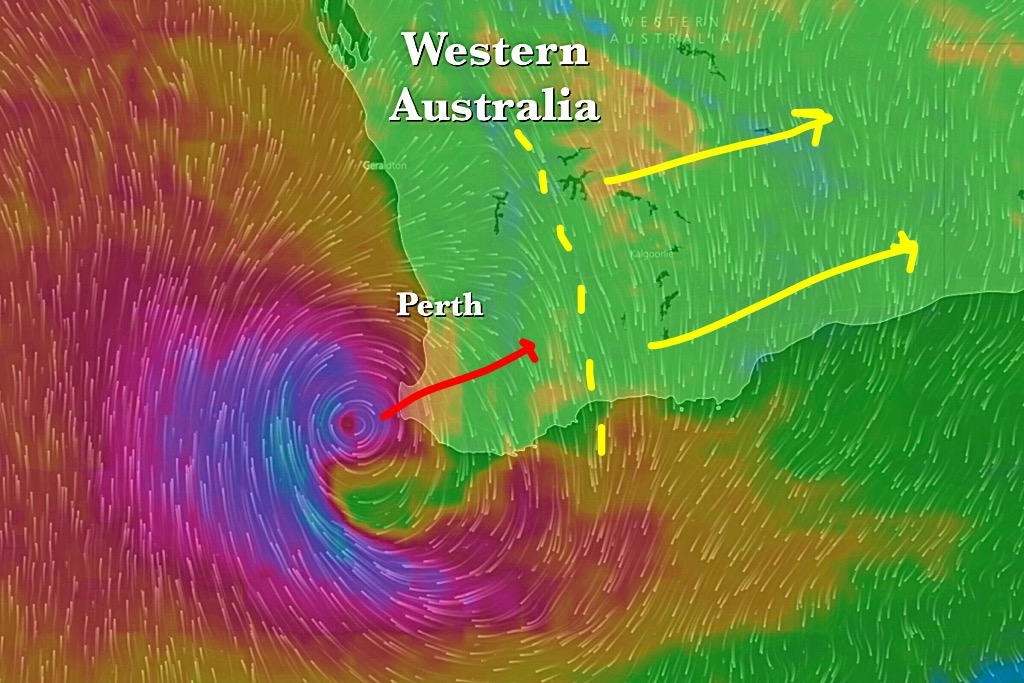 20 Jun

Perth & Southern WA – Rain, Strong Winds, & Storms

[wp_ad_camp_2]
Issued 20th June 2017.
Perth and parts of Southern Western Australia will see showers, rain areas, isolated storms and strong winds this week as a low pressure system develops and crosses the coast! This low will also push a surface trough towards the East across the Southern inland generating a band of scattered showers, storms and rain areas. Over the past 3 months the entire South West quarter of the state has recorded very much below average rainfall. While this system brings some promise falls will still be patchy through inland areas with the better totals forecast along the coast. Above image the low and trough forecast positions and movements on Wednesday via Windy.
CURRENT SITUATION: At 11am Tuesday a low pressure system is developing about 200km West of Perth. Rain has already begun overnight along the Southern Coast with Cape Leeuwin, Black Cat Flat and Tamar all picking up 45mm.

Above image: 4 day rainfall forecast via BOM. 15 to 25mm along the West Coast, 25 to 50mm in the South West, 10 to 15mm through the Southern interior and Coast with lighter falls through the remaining inland.
[wp_ad_camp_4]
FORECAST TUESDAY: The low is expected to remain slow moving offshore while a weak surface trough crosses the Lower West Coast & Perth this evening. Scattered showers, rain areas and isolated storms from about Bunbury to Albany. Moderate falls up to 50mm possible along the far South West Coast. Isolated showers and storms possibly developing from Bunbury north to Jurien Bay.
FORECAST WEDNESDAY: The low pressure system is forecast to intensify during the day before crossing the South West Coast during the evening. A surface trough will move East through South West inland parts of the state. Scattered showers, rain areas, isolated storms and strong winds from Perth south to Augusta. Isolated showers possible West of Hopetoun to Denaham Bay.
FORECAST THURSDAY: The low continues to move slowly East through the South West inland while a surface trough amplifies through the interior. Scattered showers, rain areas and strong winds West from Hopetoun to Dunham Bay with moderate falls possible near the lows center through the South West inland. A band of scattered showers, rain and isolated storms from Meekatharra, Kalgoorlie to Israelite Bay with some moderate falls possible.
FORECAST FRIDAY: The low weakens over the South West inland as onshore winds increase from the South East along the South Coast. The inland trough continues to move slowly East. Scattered showers west of a line from Denham Bay to Esperance. A band of scattered showers and rain areas moving East across the Southern Interior and Eucla District.
A mostly fine weekend is forecast due to a high pressure system building to the South. [wp_ad_camp_4]