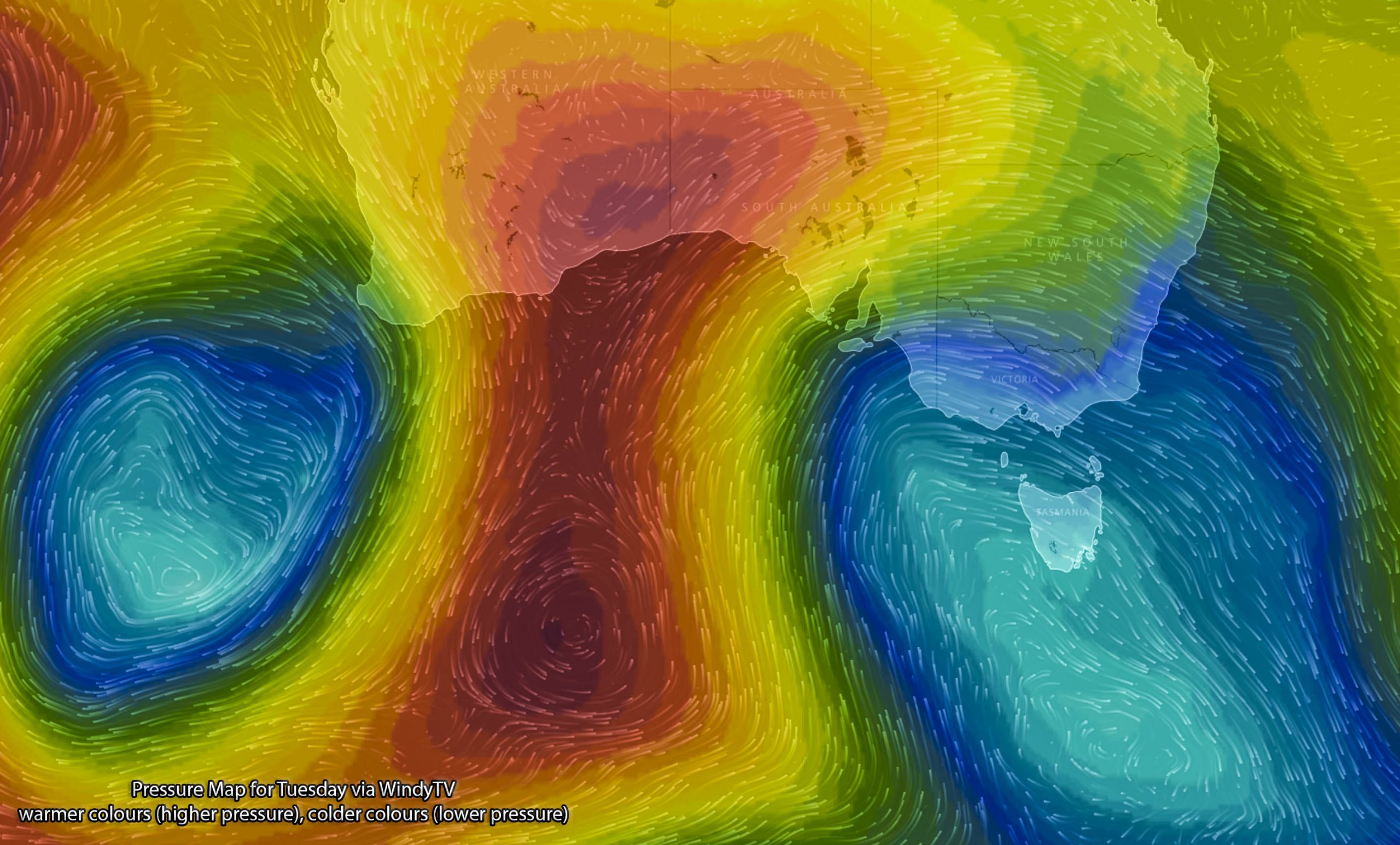 16 Jul

Prolonged Snow Threat for TAS, VIC, NSW
Tasmania, the VIC Highlands and NSW Ranges including the Central Tablelands & Barrington Tops are all under a snow threat from a large low pressure which is expected to hit this week. Above image Pressure Map via WindyTV for Tuesday showing the low over Tasmania and high in the Bight.
A extensive cold front is expected to sweep across South-Eastern Australia (Tasmania, Victoria and Southern / Central NSW) on Tuesday and early Wednesday. This cold front is expected to produce some isolated thunderstorms as it moves through along with damaging winds of up 90-110km/h for the open islands off Tasmania, elevated parts of VIC and TAS and the NSW Ranges along with the Snowy Mountains. Good rainfall is also expected with the system where falls of up to 100mm are expected over Northern TAS (majority falling on Monday), 25-50mm possibly up to 75mm for the Snowy Mountains and Western / Central TAS, and 10-20mm across much of VIC, remainder of TAS and Far Southern NSW.
[wp_ad_camp_3]
The Snowy Mountains are expected to see the first of the cold air on Monday leading to some light flurries over the peaks of the Alps. The real activity however is expected on Tuesday when South-West winds feed cold air into the cold pool located over TAS, VIC and Southern NSW. This increased moisture and cold air should help produce falls of 25cm+ over the Snowy Mountains and 10cm+ over the TAS Highlands. On Wednesday, snow is expected to continue with falls of 10-20cm likely over the Snowy Mountains and another 10cm over the TAS Highlands. Despite the constant snow, snow levels are expected to remain elevated above 1000m. Its on Thursday when the coldest air hits, but is limited by moisture, this is when levels may drop down to around 700m in TAS, 800m over the Snowy Mountains and 1200m over the Central Tablelands / Barrington Tops but only a dusting is expected all round as the snow potential is limited by moisture and timing (pre-sunrise).
As many people anxiously await the Northern Tablelands and Granite Belt to get their first dusting, sadly this system doesn't look like it'll produce (based off current models). So its at least another week in waiting, but we are watching closely….