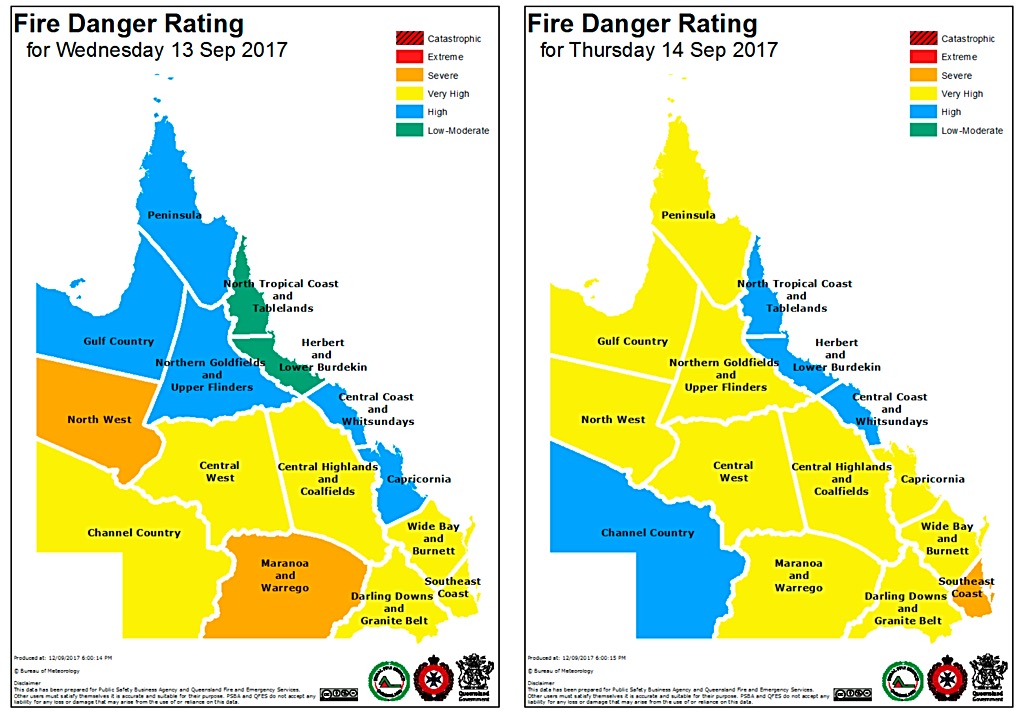 12 Sep

QLD Facing Very High To Severe Fire Dangers As Temps & Winds Increase

[wp_ad_camp_2]

Issued Tuesday 12th September 2017.

Large parts of Queensland is facing Very High – Severe fire dangers on Wednesday and Thursday as temperatures and winds increase. Above image: Fire dangers for Wednesday & Thursday via QRFS.

Strong North to North West winds will increase across the state on Wednesday ahead of a trough in the South West while pushing maximum temperatures above 30C through most districts. This combination will significantly elevate very high to severe fire dangers from the North West through Central and down into the South East and Southern inland districts.
There is a chance of some isolated gusty storms across the Southern inland on Wednesday afternoon however they will contain very little rainfall. Any storms that do develop pose an increased fire starting hazard due to lightning strikes.
Below image: HSC's NEW 2017 QLD thunderstorm forecast map. We also have a NEW higher resolution South East QLD sector thunderstorm forecast map. Both are available by becoming a premium member HERE!
Early Thursday morning a strong South to South West wind change will have moved through Southern inland, Central West and North West districts. This strong wind change extends East during the day reaching South East and Central East districts. While the change will bring much cooler conditions with it, low humidity levels and high wind strengths will continue to maintain elevated fire dangers. Severe fire dangers are forecast across the South East Coast district (Brisbane, Ipswich, Sunshine Coast & Gold Coast). Very high fire dangers are forecast through the Southern inland, Central and Northern parts of the state. There is currently a very high fire vegetation fuel load across South East and Central East districts after the rain from TC Debbie earlier this year. Please remain vigilant as we enter bush fire season. Have a safety plan in place and if you see an unattended fire call 000.
[wp_ad_camp_4]