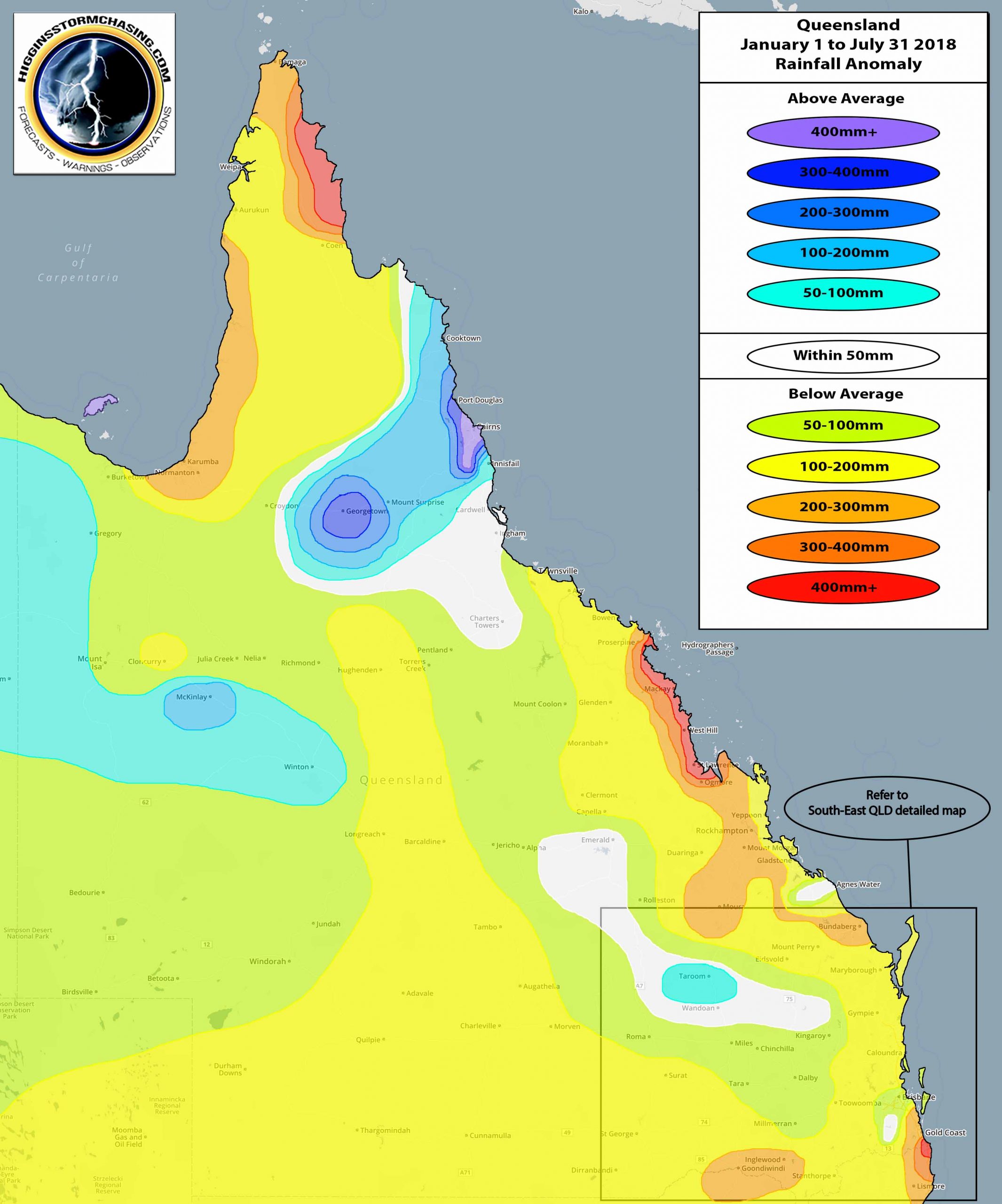 02 Aug

Queensland Drought: The miserable tale of 2 seasons
When looking at Queensland's half yearly rainfall, its so easy to explain. Everything just makes sense and fits into place… but at the same time, its amazing a slight change can alter reality so drastically. During this detailed write up, the goal is to not only explain why some areas have the rainfall anomalies that they do, but also explain how this has not only sped up or worsened the ongoing drought but also created a new drought for other areas.
[wp_ad_camp_1]
Starting in the North… The majority of the Peninsula is below average and this can be solely attributed to a lack of monsoonal activity during the peak of the Cyclone season. The majority of monsoon troughs stayed North of the Peninsula and over the Northern Gulf / Coral Sea, this ultimately reduced monsoon rain but also thunderstorm activity. Ironically Mornington Island was well above average and this is courtesy of Cyclone Nora which produced very minimal rainfall over the Western Peninsula, but camped over the Southern Gulf leading to excessive rainfall across numerous days through the Gulf Islands.
Moving into the only real above average area in Queensland, Far North QLD. From about Ingham to Cooktown, Inland to just beyond the Ranges… this area benefited from countless small scale lows and monsoonal flow generated from an extensive period during late February and March. South Johnstone, near Tully, is sitting at 4053mm for the first 6 months of 2018, a massive 1333mm above average. March alone generated more than 2300mm of rain for the region! Nearby Cairns has had more than 2100mm for 2018 so far and Tully even more.
As you move down the Coast though you can see what happens under the influence of a failed wet season. Mackay has the greatest deficiency in QLD, sitting over 600mm below average. Normally 1307mm will fall in the first 6 months of any given year, however 2018 has generated just 705mm. Some people may think thats still okay, its 700mm… however the area is a large part of the sugar cane industry, an industry that NEEDS average or above average rainfall, any less and not only is the current harvest weak, but future harvests suffer too. Given future rainfall forecasts and current deficiencies, Mackay could be on the brink of their own drought which would be detrimental to the sugar cane industry. Further South over the Capricornia and Wide Bay… its bad also, with most areas 150-300mm below average.
[wp_ad_camp_4]
In South East QLD, its amazing what a good or bad storm season can do. Most of the area is below average, however Greater Brisbane and Ipswich sit only fractionally below, while the Scenic Rim is mostly on average. This perfectly illustrates how storms acted all season, with most storm days featuring the Scenic Rim and Greater Brisbane, but rarely the Sunshine Coast or Gold Coast which sit well below average.
Then there is Inland QLD, the area has copped failed wet seasons for years, a failed 2017-18 storm season and a mind blowing hot Summer. The only exceptions to this are the Far North West where parts of the region saw flooding rainfall in March (but thats the only rain all year) and the Central Highlands where some slightly more frequent storm activity helped keep things ticking along. Southern Inland and South West QLD have seen nothing – storms were too isolated, the winter fronts havent reached QLD and if they have… they've been dry. The heatwaves made any rainfall rapidly dry up.
[wp_ad_camp_3]
Its easy to see how more than 60% of QLD is under the effects of a bad drought, however the worrying thing is… with the current deficiencies in some non-drought regions and the futuristic rainfall outlooks, that percentage is no doubt bound to rise!