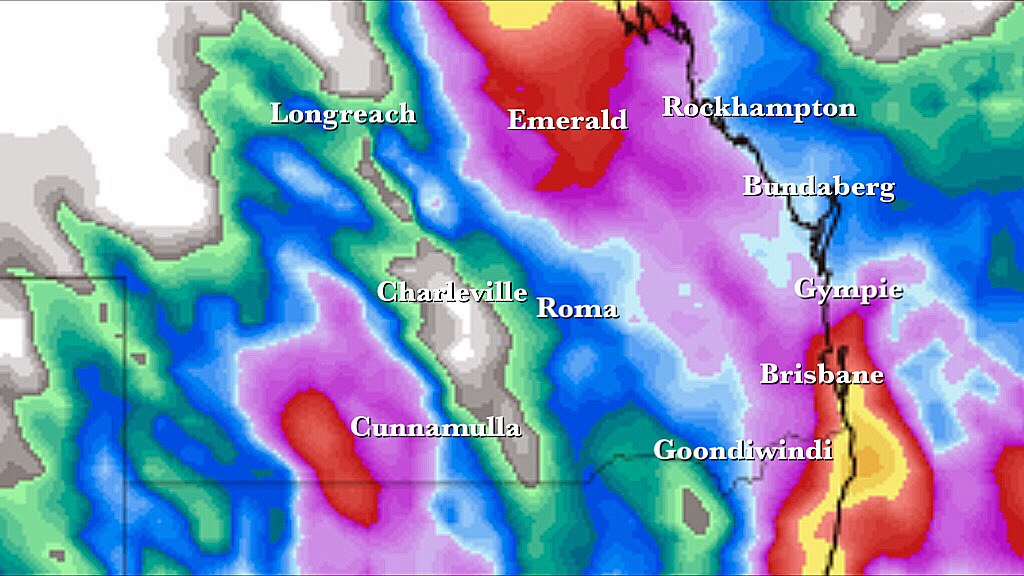 16 May

Rain And Storms Through Southern & Central QLD This Week

[wp_ad_camp_2]

While Northern and Central parts of Queensland brace for heavy rain and storms this week the Southern half of the state is also expecting some wet weather. Above image via Pivotal Weather – Rainfall forecast totals Red / Yellow = 50 to 100m, Purple 25 to 50mm, Blue up to 25mm.

Shower and storm activity is likely develop as early as Wednesday in the South West of the state due to the arrival of a strong upper trough. Birdsville could see a gusty storm and up to 10mm of rain as the trough sweeps through.

A surface trough and upper trough intensify on Thursday through Western districts. Scattered showers, storms and rain areas will develop during the day through the Central West and South West. Some storms likely severe with moderate to locally heavy falls expected during the day and night. Thargomindah, Cunnamulla and Quilpie should see some good rain activity around with up to 25 – 50mm possible. Longreach and Charleville also both have good chances of seeing evening showers and storms develop.
Meanwhile rain areas will spread South into Emerald and Rockhampton with about 25mm expected.
Onshore winds increase along the Wide bay and Burnett and South East Coast with scattered showers developing Thursday afternoon.

[wp_ad_camp_4]

Very early Friday morning a strong surface trough may develop near Gympie and the Sunshine Coast then moving South down the Coast through Brisbane, Ipswich and the Gold Coast during the day. Moderate falls of 25 – 50mm are likely across the South East Coast district with isolated locally higher totals are possible near the coast and hinterland.
Onshore winds will strengthen along the coast with scattered showers and rain areas from Rockhampton south to Gympie with totals of 10 to 25mm.
The inland trough running from Longreach down to Thargomindah will continue to generate a band of scattered showers, storms and rain areas with moderate falls. This activity will progress East during the day and evening reaching Charleville and St George. Rainfall totals up to 25mm in the South West. Scattered showers are possible through remaining Southern and Central inland where up to 10mm may fall.

During Saturday isolated showers will clear towards the Coast East from Longreach to Charleville. [wp_ad_camp_2] Forecast data is suggesting the the Darling Downs and Granite Belt and Wide bay and Burnett districts could receive the lowest rainfall totals of around 10 to 15mm. This may be due to being stuck between the inland trough and general onshore winds along the coast.

HSC Premium Membership provides detailed rainfall totals and storm forecast maps out to 4 days ahead across QLD along a week ahead outlook, long range outlook, video forecasts and email alerts.