27 Apr

Record 29th Australian Tropical Low may become a cyclone

[wp_ad_camp_2] On Thursday a strong Tropical Low located 250km North West of Darwin is intensifying and forecast to possibly become a category 2 system during the next 24 to 48 hours. This is the 29th system which sets a new record as the highest number of observed Tropical Lows in one season. The most recent record of 28 was set during the 2010 – 11 season. Above image via Weatherzone.

Currently tracking towards the West South West across the Timor Sea, the Tropical Low is forecast by global models to enter a more favorable environment for intensification during the next 24 hours. Should the system strengthen enough it will be named Francis and become the 7th Tropical Cyclone in the Australia region for 2016 – 17.

[wp_ad_camp_4]

The current forecast track map by BOM issued at 11:08 am ACST Thursday 27 April 2017 suggests the Tropical Low could become a cyclone by 10pm tonight. It is then forecast to intensify further to a possible category 2 system on Friday with destructive winds between 125 – 164 km/h. The good news is it is not forecast to impact the Australian mainland as a cyclone and continue to track West South West in open water.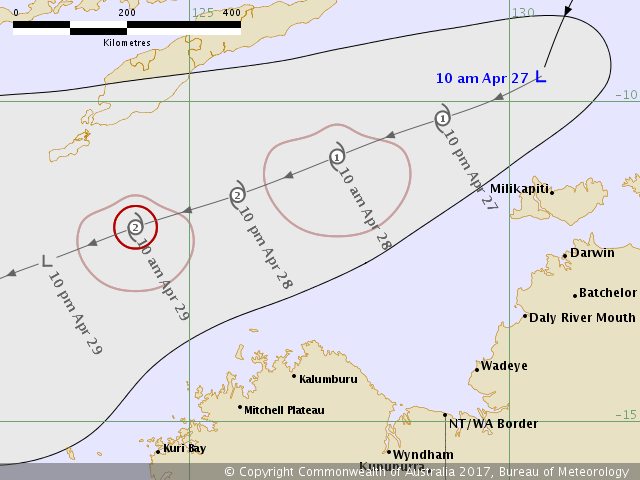 Areas of moderate rainfall have been felt on the Tiwi Islands as a direct result from the system. This rainfall has stayed just offshore from Darwin so far with the possibility of some showers and storms developing across far Northern NT during the next 24 hours.
While the current number of cyclones stands at 6 this season and well below the long term average of 11, the higher number of Tropical Lows have delivered widespread above average rainfall to large parts of Australia. A blessing in disguise to yield so much rainfall without the added damage and destruction if many more had become cyclones? There is a slight chance that 1 or 2 more tropical cyclones may develop during May however long range global data suggests nothing of concern at this stage. Below image via BOM showing the above average rainfall across WA, NT and SA from October 2016 to March 2017. This rainfall was largely due to the higher number of Tropical Lows along with 2 cyclones which crossed the coast in the Northern and Western regions.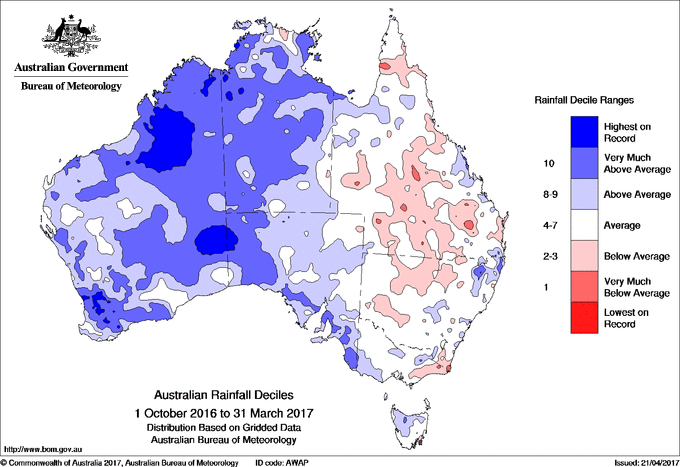 [wp_ad_camp_4]