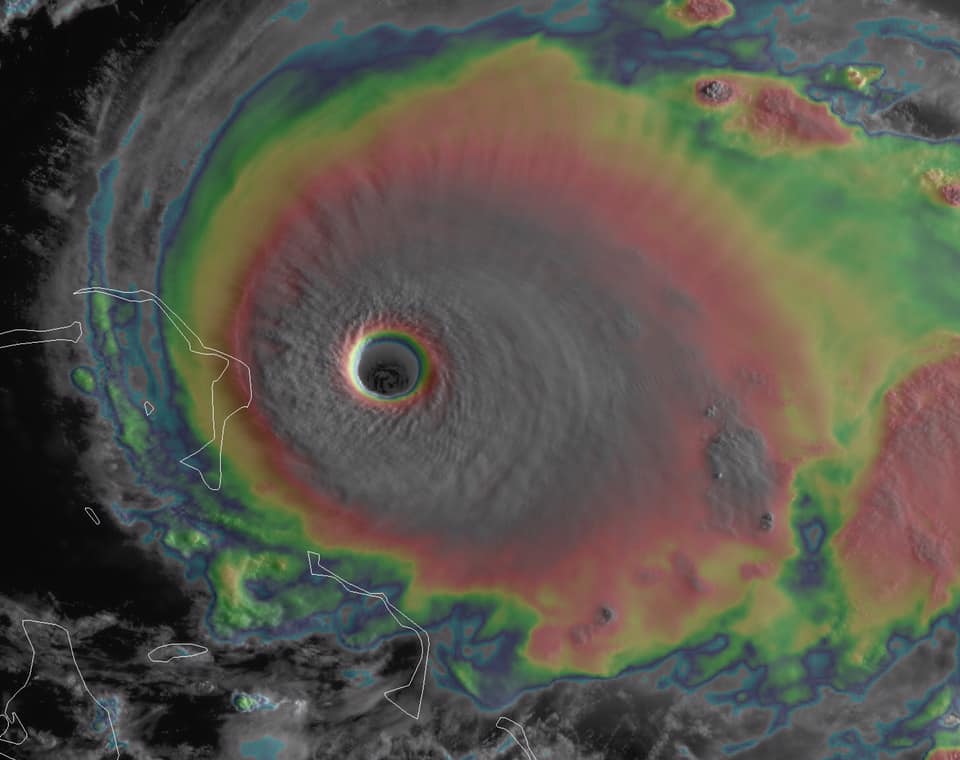 02 Sep

Record-Breaking Hurricane Dorian Devastates The Bahamas
Hurricane Dorian has entered the record books in a devastating way as it reached high-end Category 5 strength during Sunday (US time) prior to directly hitting the Northern and North West Bahamas. Above image shows colour satellite as the system was upgraded to Category 5 strength. Above image showing colour and high detail satellite imagery via the National Weather Service.
[wp_ad_camp_1]
The Bahamas have been dealt the harshest of blows as Hurricane Dorian underwent rapid intensification during early Sunday (US time). The system was already a high-end category 4 system entering Sunday with sustained winds of 150mph. However, in a very favourable environment of low vertical wind shear and warm to very warm sea surface temperatures nudging 30ºc – the system was able to significantly intensify into a full blown, high-end category 5 strength hurricane only hours before hitting the Abaco Island group as part of the Bahamas.
While its only early in the piece of this monster, we have already seen reports and vision of complete and utter destruction out of Abaco Island including Marsh Harbour with a life threatening storm surge of 18-23 feet (6-8 metres) which is swallowing the land like a wall of water. On top of that there is immense wind destruction with powerlines down, enter buildings destroyed, cars pulverised and so on. There have been reports from people walking around in the eye of the system as it passed, where they could hear people screaming from houses for help. This is NEVER a good sign in these circumstances.
[wp_ad_camp_4]
Some stats from Dorian and its phenomenal record breaking run.
• Category 5 – the first time in US history that 3 consecutive years have seen a Category 5 system make landfall (Maria / Irma 2017, Michael 2018 – that was also the first time ever that back to back years had a Category 5 landfall)
• Dorian has made it the first time ever that there have been 4 consecutive years with a Category 5 in the Atlantic (the above 3 + Matthew in 2016)
• Sustained winds of 185mph and wind gusts to 220mph
• Tied-second strongest hurricane in the Atlantic basin behind Hurricane Allen in 1980 (190mph)
• Strongest hurricane to ever impact the Northern and North West Bahamas
• Strongest hurricane to make landfall over the United States region since the Labor Day hurricane of 1935 (ironically its Labor Day today again).
• Officially 911mb, however there have been storm chasers record as low as 906mb – if this is verified (which it should be) then Dorian will have recorded the 9th lowest pressure reading from the Atlantic Basin – lower than Hurricane Maria from 2017, slightly higher than Mitch (1998) and Dean (2007).
• If that pressure is verified, then it will also be the outright 5th lowest pressure reading for a landfall in the Atlantic Basin (currently tied in 5th with the Cuba hurricane of 1924).
• A small side note too, Dorian was the first system that the Hurricane Hunters intercepted with an all-female main crew.
[wp_ad_camp_1]
What is scary, is that Dorian isn't done with yet. The system is expected to become extremely slow moving over the Northern and North West Bahamas as a category 5 strength system with winds well over 160mph sustained. Dorian is expected to veer North at some stage over the next 36-48 hours, however the timing of that shift North will be either fantastic or detrimental to the outlook for not just Florida but North & South Carolina too (timing is everything with this system).