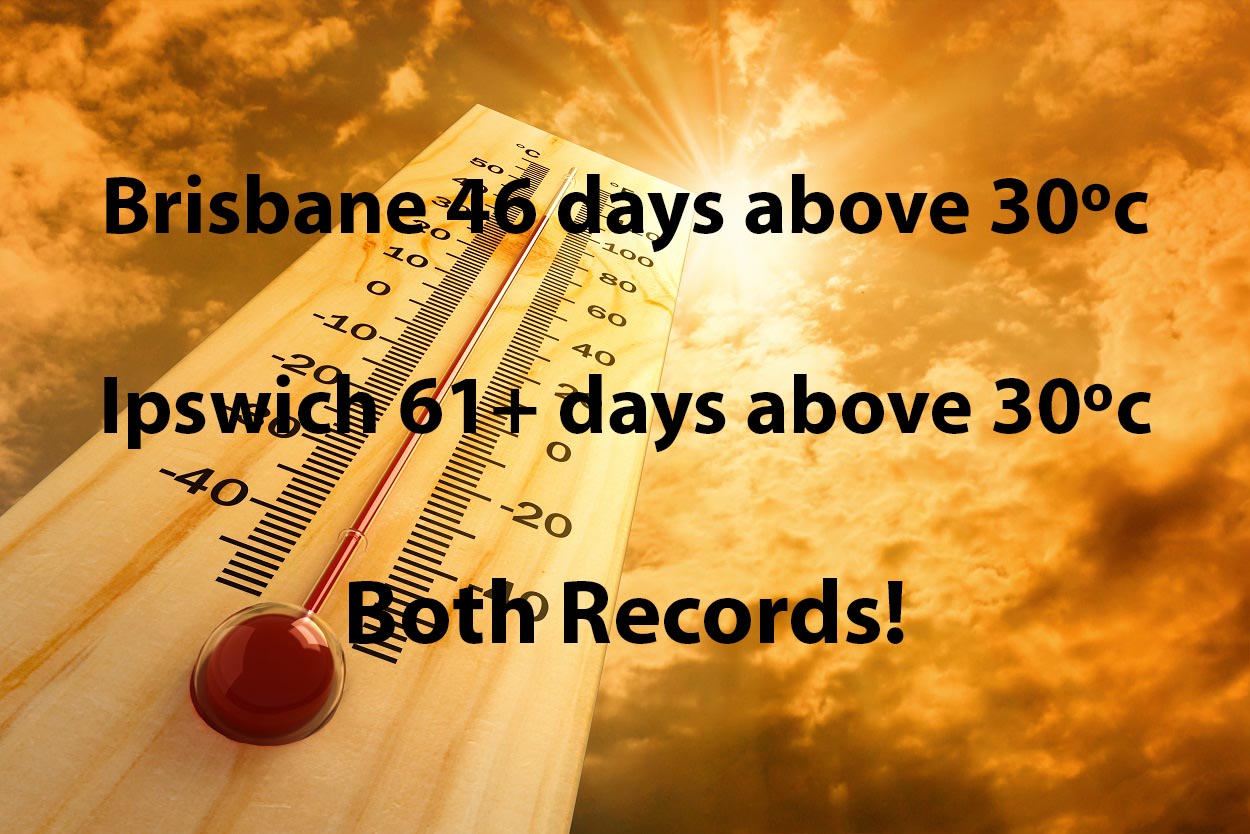 25 Feb

Record Heat Streak Ends for Brisbane – Continues for Ipswich!
Brisbane has finally ended its run of record breaking heat which has SMASHED the previous record. For those just West of the City though in Ipswich and surrounds… the record continues!
It certainly hasn't been "insanely hot" or "unbearably hot" by any means, but Brisbane has finally ended its record breaking run of 30ºc. The City reached 29.4ºc today (February 25th) which broke a run stretching from January 9th to February 24th – a total of 46 consecutive days. This obliterates the previous record of 30 consecutive days from January 27th to February 27th 2017. So you definitely cant argue that this is "normal".
What is probably the most impressive feature of this stretch of heat, is that no individual days were excessively hot. In the 46 day stretch, only 2 days exceeded 34ºc (February 12 and 13). The only feature which is where people probably started complaining about the relentlessness of that heat was the 18 straight days above 32ºc which is pushing the realms of "noticeably above average" and is also a record for Brisbane for consecutive days above 32ºc. The addition of 57 consecutive nights above 20ºc probably didn't help either (that streak ended this morning as well with 19.8ºc). During that stretch, only 2 nights were above 25ºc and only a handful above 24ºc – so nothing "excessive" just consistently relentless. This run of heat topped off a record hot January in terms of monthly average's as well.
Ipswich on the other hand has pushed the streak much further. Ipswich reached 30.2ºc today, which makes it the 61st consecutive day above 30ºc and continues on a record breaking streak that is now over 20 days above the previous record. The last time Ipswich failed to reach 30ºc was 29.8ºc on Boxing Day, so that means today has been the coldest day of 2019 so far for the area. Apart from the 41ºc scorcher a little under 2 weeks ago, there hasn't been an excessive number of days excessively above average so to speak – similar to Brisbane City, its just been relentless and consistently above 30ºc. Models are indicating Ipswich may only reach 29ºc tomorrow (Tuesday) but if it happened to make it to 30ºc, then it could be more than a week before sub-30 occurs again. Note: There are 3 blank maximum days for Ipswich on January 23, 24, 25 – When clicking on the data for those days, Ipswich either neared or exceeded 35ºc on all 3 days, well above the 30ºc requirement. So even though a true maximum wasn't obtained, the 30ºc+ threshold we know was reached.
[/fusion_text][/fusion_builder_column][/fusion_builder_row][/fusion_builder_container]