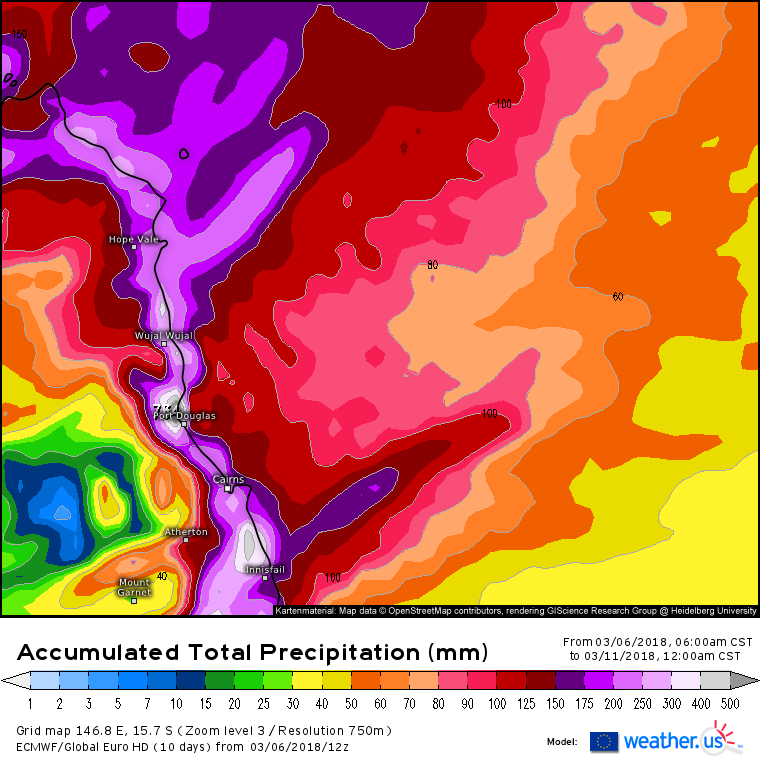 07 Mar

Risk of 500-700mm for Tropical North QLD!
Issued Wednesday March 7th 2018.

A burst of monsoon activity across the Northern Tropics of QLD is set to produce falls of 500mm+ over the course of this week, with isolated falls of as much as 700mm likely to produce flooding! Above image via weather.us
[wp_ad_camp_1]
Over the past 2 days (9am Monday to 9am Wednesday), the monsoon really kicked off (much earlier and more intense than models predicted) and this has lead to widespread falls of 200-400mm across the Cairns to Ingham region. These falls have already seen rivers and creeks around Tully push the minor flood stage and with further rain to come its likely theyll continue to rise! Davidson Creek copped 313mm in the 24hrs to 9am Wednesday and leads all with over 400mm since 9am Monday.
[wp_ad_camp_1]
Over the next 2-3 days, models are continuing to stick to the plan that was originally anticipated with falls of 100-200mm likely over Wednesday and into Thursday for Cairns to Ingham and 100-200mm (isolated higher falls) likely on both Thursday and Friday North of Cairns with lighter falls elsewhere. This should see several rivers and creeks reach minor flooding with a few reaching at least moderate flooding. A brief period of major flooding cant be ruled out depending on where the heavier falls occur.
[wp_ad_camp_1]
While this rainfall isn't uncommon during the peak of the cyclone and monsoon season (late February to early April), its still quite extraordinary that several places could easily exceed 500mm between 9am Monday (March 5th) and 9am Monday (March 12th) and some places (such as Davidson Creek who already has a huge head start) pushing the 700mm mark! A flood watch has been issued for catchment areas between Cooktown and Ingham which includes the Daintree, Johnstone and Barron river catchments.