Issued 30th January 2019. With heavy rainfall continuing across the catchment, Townsville's Ross River Dam is expected to reach 100% storage capacity later today. Above image sourced. Townsville's detailed heavy rain forecast for today is available
HERE!
Just 2 days ago the level was down to 64% but over the past 24hrs that has risen by 20%. At 7am this morning the dam was at 89.8% or 38.10m.
Now at 10:30am further fast rises up to 38.35m which is about 95% have occurred. The 100% gated spillway level is 38.55m so there is just 24cm to go until 100% full supply is reached.
By 3pm this afternoon based off current inflows, Ross River Dam will likely be at 100%. The reservoir has a current capacity of 233,187 megalitres of water and can hold up to 803,565 megalitres of water in flood mitigation. Below image via BOM at 10am Jan 30th 2019.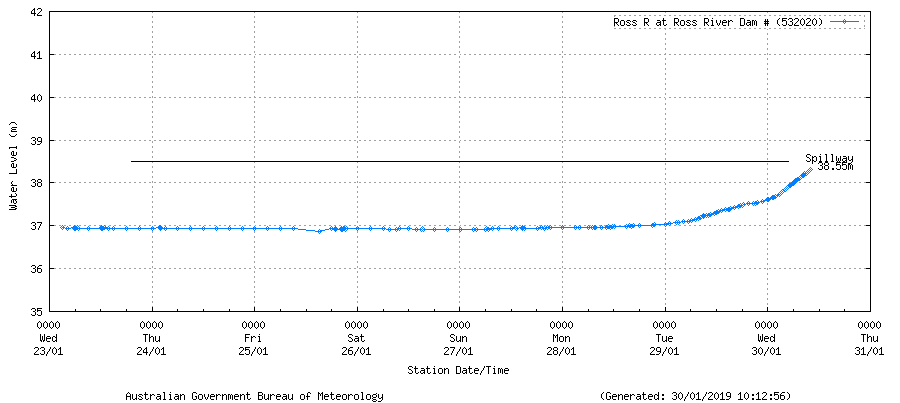 Further heavy rainfall is expected for the next week across the region with flash flooding and river flooding likely to continue. We may see many if not all of the rivers and creeks across the Townsville region reach MODERATE to MAJOR flooding. LATEST BLOG FORECAST HERE!
Currently the Haughton R at Giru and Mt Piccaninny is at Major flood level and rising. The Bohle R at Hervey Range Rd is at moderate flood level and rising.

Subscribe to HSC here for detailed forecasts and maps for Townsville!