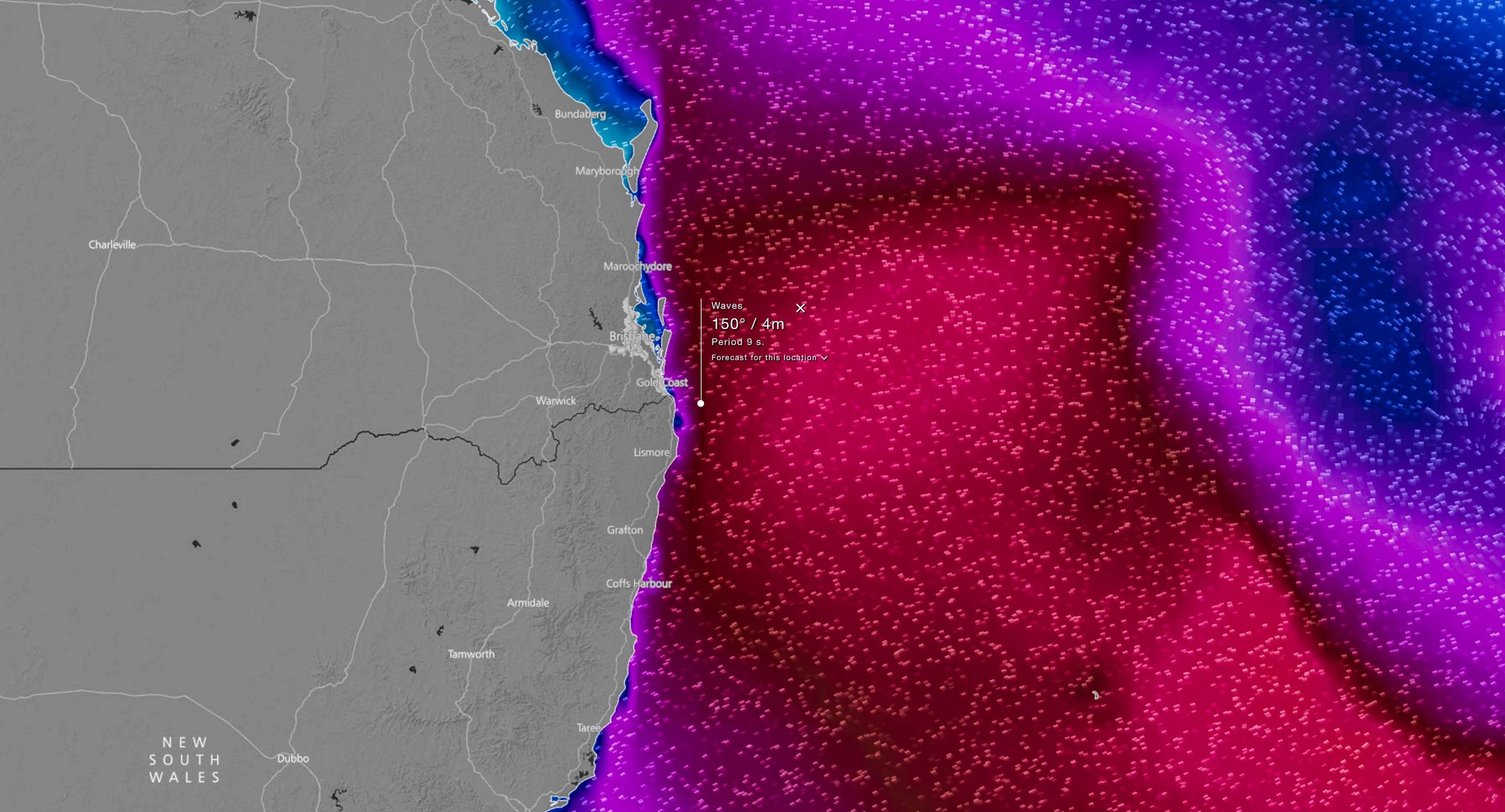 18 Jun

Rough beach conditions expected over the next 24-72hrs
The beaches from the Sunshine Coast to Port Macquarie are about to cop a bit of a lashing as strong winds and large seas caused by a low pressure system impact the region for several days. Above image – Monday wave heights via WindyTV/ECMWF model
[wp_ad_camp_3]

A low pressure system located well East of the Northern Rivers on Monday is forecast to slowly move East and away from the South-East QLD / North-Eastern NSW Coast, however the low itself is expected to morph into more a broad low pressure region on Tuesday and into Wednesday whilst keeping a slow Easterly movement in tact. This low whilst producing some isolated showers along the DIRECT Coastline between the Sunshine Coast and Port Macquarie, is also expected to generate strong winds and a potentially dangerous surf.
During Monday, the focus of the above average seas and large swell are forecast to be situated over the North-Eastern NSW region. Seas of 3-4m are likely, with offshore buoys potentially seeing waves as high as 6m. This is forecast to combine with winds of 40-60km/h with gusts of up to 75km/h to create potentially hazardous beach conditions. For South-East QLD its expected to be a bit calmer during Monday, however conditions are forecast to deteriorate as the stronger winds surge further North Monday night into Tuesday morning.
[wp_ad_camp_1]

During Tuesday, the entire region mentioned above should be under the influence of strong winds of up to 60km/h and wind gusts of up to 75km/h, along with waves of up to 4m likely and potentially up to 5 or 6m and this is likely to last into Wednesday morning where conditions should begin to ease, but still staying above normal for height and wind strength.
Whilst this isn't uncommon, especially during Winter, it could come as a little of a shock to anyone within close vicinity to the beaches as the Low itself isn't really going to make its presence known. Apart from the odd shower producing falls of less than a few mm, there should be plenty of breaks in the cloud for the sun to creep through and produce pleasant days, although the wind will likely keep the "feels like" temperature down a fair bit.
[wp_ad_camp_4]