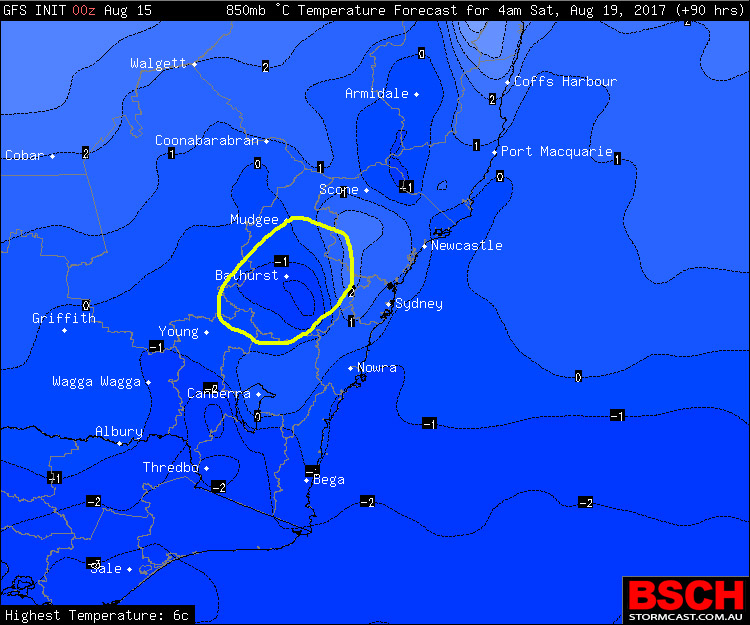 15 Aug

Second Snow Dumping to hit Central Tablelands this week!
Issued 7pm Tuesday, August 15 2017. Despite a very very slow start to the snow season for the Central Tablelands of NSW, which failed to register a snow day so far this Winter for many towns up until last week. It looks like a second reasonable dumping is on the cards at the end of this week. Above image Temperatures at 1500m ASL on Saturday Morning via BSCH
[wp_ad_camp_1]
[wp_ad_camp_3]
A strong cold front which has already produced damaging wind gusts across the Snowy Mountains and has the potential to produce destructive winds early on Wednesday, is expected to push through over the next 24hrs. Behind this cold front, strong and constant West to South-West winds are expected to feed in behind it dragging cold air up from the Bight to cover Victoria and Southern NSW. This cold air is expected to reach the Blue Mountains / Central Tablelands during Friday (with some models indicating the morning, others the evening). The coldest air (around -3ºc at 1500m ASL) is expected to push through early on Saturday morning, combining with good moisture levels to produce snowfall to around 1200m ASL through Friday evening / night into Saturday morning. Strong wind gusts of 60-75km/h are also expected during this time around the Blue Mountains.
[wp_ad_camp_3]

Models have been holding around 5-10cm for the Oberon to Lithgow region, similar to what was experienced last week. While lighter falls are also expected further inland around Orange and further South towards Crookwell. There is also the potential for a light dusting on the Barrington Tops and even further North around Walcha early on Saturday with the colder air extending up towards the QLD border (but also drying out).