Issued 9am 26th June 2019. Parts of the South East QLD Coast have been drenched with up to 135mm in 24hrs. Scattered showers and rain areas with locally moderate falls to continue today! Above image: 9am radar via Weatherzone.com
We had forecast 10 to 25mm for coastal areas in the South East on Tuesday however the system has delivered much heavier falls earlier than expected. An upper low of cold air is over South East QLD and it is being fed by a deep onshore South East wind flow. When you get 2 systems come together like this the result is over scattered showers and rain areas especially along the coast.
The below image from BOM shows the 24hr rainfall totals from 9am Tuesday to 9am Wednesday across South East QLD. Red dots = 100mm + with 6 stations recording over 100mm. Bells Creek topped the count with 135mm, Pelican Waters 100mm, Yandina 101mm and Coolum West 109mm. A majority of locations across the Sunshine Coast have recorded 50 to 100mm with rain increasing on Wednesday morning. The Gold Coast, Coolangatta and the Tweed Coast have also recorded some moderate falls. Coomera Shores 51mm, Coolangatta 61mm, Tweed Heads 56mm, Byron Bay 79mm and Ballina 51mm. Ballina also recorded 20mm Monday and 34mm Tuesday with their 3 day total nearing 100mm. Across the greater Brisbane area 10-25mm has been recored so far with more to come.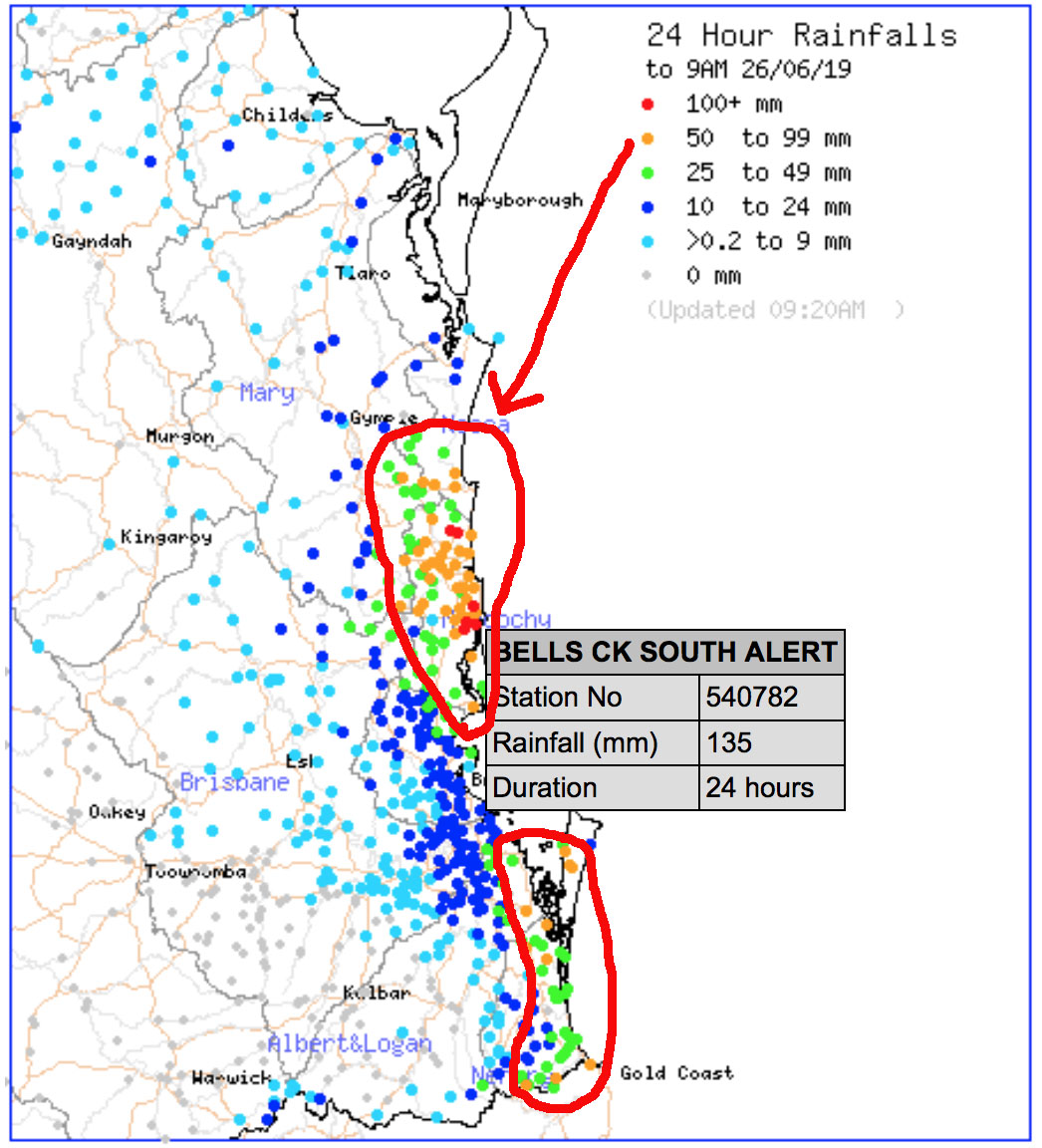 The wet weather is set to continue during Wednesday as the upper low and onshore flow reach maximum intensity. Rain areas with moderate to locally heavy fall are likely across the South East Coast especially near the coast from Fraser Island south to Coolangatta. Some locations could see another 100mm over the next 24hrs.
Scattered showers and light rain areas are also expected across the Wide Bay and Burnett, through inland parts of the South East Coast and also extending further inland across the Darling Downs and Granite Belt. Totals in these Northern and inland areas will however be much lighter with up to 10mm possible. Below image showing the upper low with cold air and clockwise rotating winds over SEQLD via Windy.com