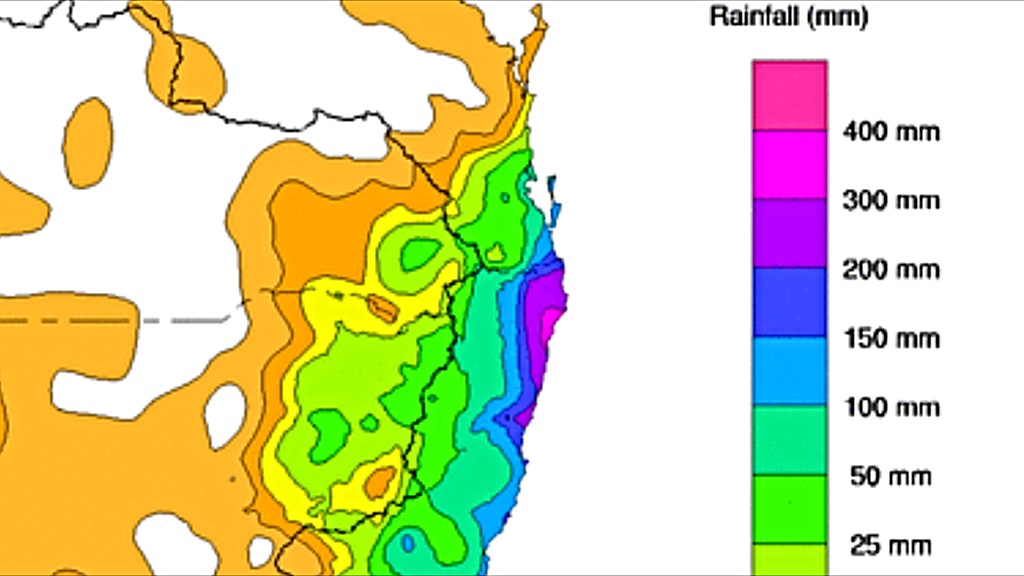 15 Jun

SEQLD Coast & Northern Rivers NSW Cop A June Drenching
[wp_ad_camp_2]

Posted at 11am 15th June 2017.

Parts of Brisbane, Gold Coast and the Northern Rivers of NSW have received a June drenching with up to 300mm in some locations. Widespread falls of 100 to 200mm have been recorded this week with isolated totals of 200 to 300mm. Above image 7 day rainfall totals to 14th June 2017 via BOM.

It all came from two low pressures systems which formed over the weekend. A cold cored upper low tracked North through inland NSW then East across Southern QLD. This upper low induced a surface low just off the SEQLD coast which produced very strong South East winds and heavy rain.

Our HSC forecasts suggested 100 to 200mm was possible from the Sunshine Coast south to Yamba (mainly from Brisbane south) along with winds of 50 to 70km hr and gusts to 90kmm hr. The heavy rainfall forecast from Brisbane to the Sunshine Coast was always very dependent on the "exact" location of the surface low once it developed… Subscribe here for HSC rainfall and storms forecast maps across SEQLD & NENSW! [wp_ad_camp_4] So how did it pan out?


The Northern Rivers received up to 295mm at Yamba, 280mm at Lismore, 265mm at Ballina, 223mm at Casino with widespread falls of 100 to 200mm across the district. Cape Byron recorded wind gusts up to 89km hr. This caused some rivers rises and flash flooding.

Across the Gold Coast region Upper Springbrook picked up 323mm, Clearview 190mm, Molendinar 186mm, Pacific Pines 160mm and the Gold Coast Seaway 123mm. Widespread falls of 100 to 200mm were recorded across the Gold Coast without causing any issues.

Further north Brisbane city recorded 79mm though many other suburbs around the CBD got almost double this. Brighton and Deception Bay 150mm, Mt Cotton 134mm, Caboolture 119mm. The Sunshine Coast picked up general falls of 25 to 50mm with a few isolated falls of 50 to 100mm.
On the islands Point Lookout recorded 224mm and South Stradbroke 177mm.

Wind gusts of 87km hr were recorded at Cape Moreton, 80km hr at Double Island Point, 87km hr on the Gold Coast, with widespread wind gusts between 45 and 65km hr across the South East.

On Monday and Tuesday the very heavy falls of over 200mm remained just 50km offshore from Brisbane due to a convergence on the Southern side of the low. Had the low been positioned slightly further West and North by 100km this very heavy rain would have impacted both Brisbane and the Sunshine Coast leading to flash flooding. These types systems have a very definitive point of location where rainfall of over 200mm in 24hrs can occur and a majority of the time its on the Southern side. Occasionally we also see very heavy stationary rain areas develop on the near Western side however the two lows didn't quiet line up perfectly for this to occur over land…

[wp_ad_camp_4]

Global models GFS and EC produced very accurate forecast positions for the lows. Ensemble rainfall forecast model data from BOM PME and OCF also offered reasonable confidence given the final outcome. Below images 24hr doppler radar rainfall totals on Monday and Tuesday showing over 200mm just East of Brisbane via BOM.