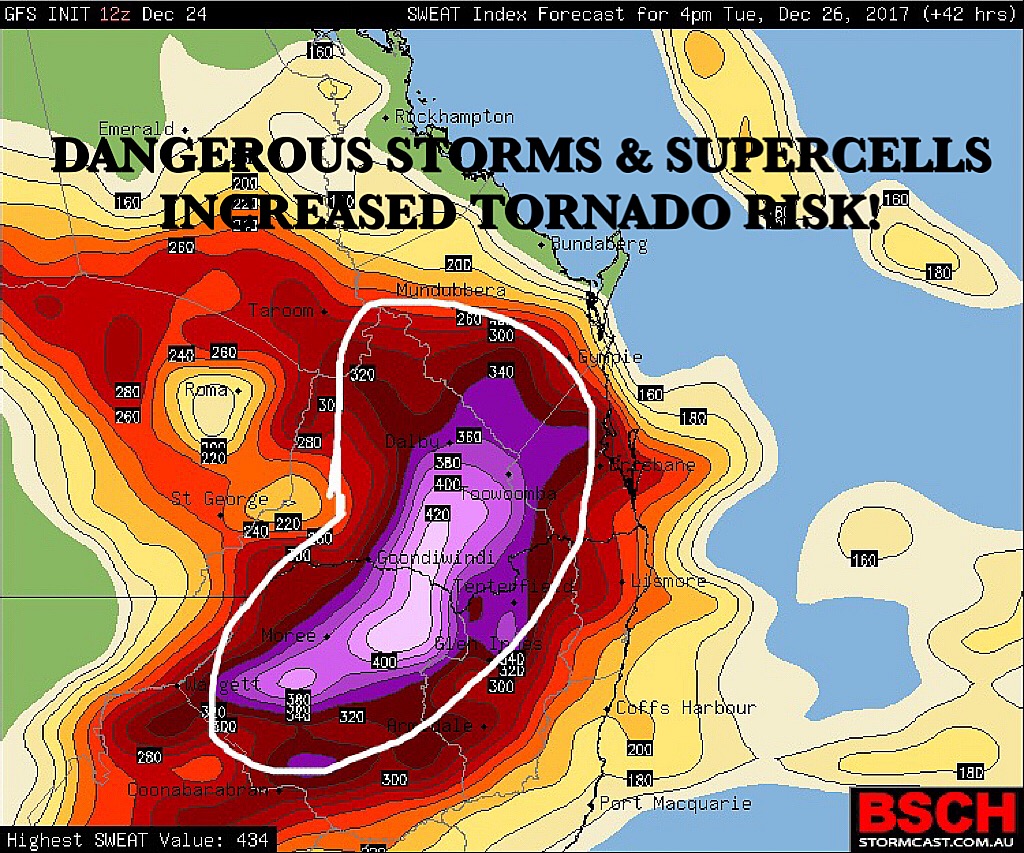 25 Dec

SEQLD & NSW Severe Storms, Supercells, Tornado Risk Boxing Day!

[wp_ad_camp_2]
Issued 25th December 2017.

A dangerous thunderstorm day is expected across South East and Southern inland QLD and Northern NSW on Boxing Day. Severe Storms, Supercells and Dangerous Storms are very likely along with an increased risk of Tornados! Above image: SWEAT (Severe Weather Threat Index) via GFS.
A very strong surface trough and surface low combination is forecast along with the addition of an upper trough overhead. A steep temperature and humidity gradient along the dry line is expected with 38C to the West and 28C to the East. There is significantly strong turning in the wind profile along the sharp low level boundary. A strong rear inflow jet is also forecast between 4pm and 10pm across the Darling Downs which will further aid to severe thunderstorm development, forward Easterly travel speed and increase the risk of damaging to destructive winds.
This volatile weather combination greatly increases the risk of dangerous Supercell thunderstorms which can produce Tornados. These rotating storms are likely to contain Giant Hail over 5cm in diameter, Destructive Winds over 125km hr, Extremely Heavy Rain and Frequent Lightning.
[wp_ad_camp_4]
Severe storms are also very likely to develop with Large Hail, Damaging Winds, Heavy Rain and Very Frequent Lightning.
Areas at highest risk in QLD include: inland parts of the South East Coast, Darling Downs and Granite Belt, Maranoa, Western parts of the Wide Bay and Burnett and Southern Parts of the Central Highlands.



Areas at highest risk in NSW include: North West Slopes and Plains, Northern Tablelands, inland parts of the Northern Rivers and Mid North Coast.
[wp_ad_camp_4]
Stay safe everyone and keep a very close eye n the sky, radar and warnings!