Above image: © Higgins Storm Chasing – Queensland maximum temperature forecast
Virtually the entire State of Queensland and the Northern half of New South Wales (North of Newcastle to Broken Hill) are forecast experience heatwave conditions from this Thursday onward. Very hot and potentially dangerous temperatures will abruptly start the Summer season which could last for up to a week! This forecast will also greatly increase fire danger ratings to severe and possibly extreme for large areas. There is a heightened health risk to humans, pets, livestock and wildlife during this weather event.
A near stationary low pressure trough is forecast to be located over inland Queensland from Thursday until at least Monday, possibly longer. This will create a stagnant air mass with very hot and dry Northerly and Westerly winds feeding in over Northern New South Wales and most of Queensland. This will lead to Severe – Extreme heatwave conditions across Central and Southern Queensland districts extending into Northern New South Wales. Heatwave conditions are forecast for at least 85% of Queensland this weekend!
On each given day between Thursday and Monday virtually all of inland Queensland and Northern inland New South Wales districts have forecast maximum temperatures of between 38 – 42c. South West and Central West Queensland districts may see maximum temperatures as high as 42 – 45c. Along and within 15kms of the Queensland / Northern New South Wales coastline, maximum temperatures will also be hot but slightly less than inland areas with most going for 31 – 35c. A strong note with these temperatures is the significant increase as soon as you are located just inland away from the beach front.
These very high temperatures are not uncommon on occasions during the Summer months however the prolonged nature of this weather event is what's leading to the Severe – Extreme heatwave conditions being forecast. Highest ever recorded December temperatures may not necessarily occur, although some towns are forecast to go very close to breaking and setting new long standing records.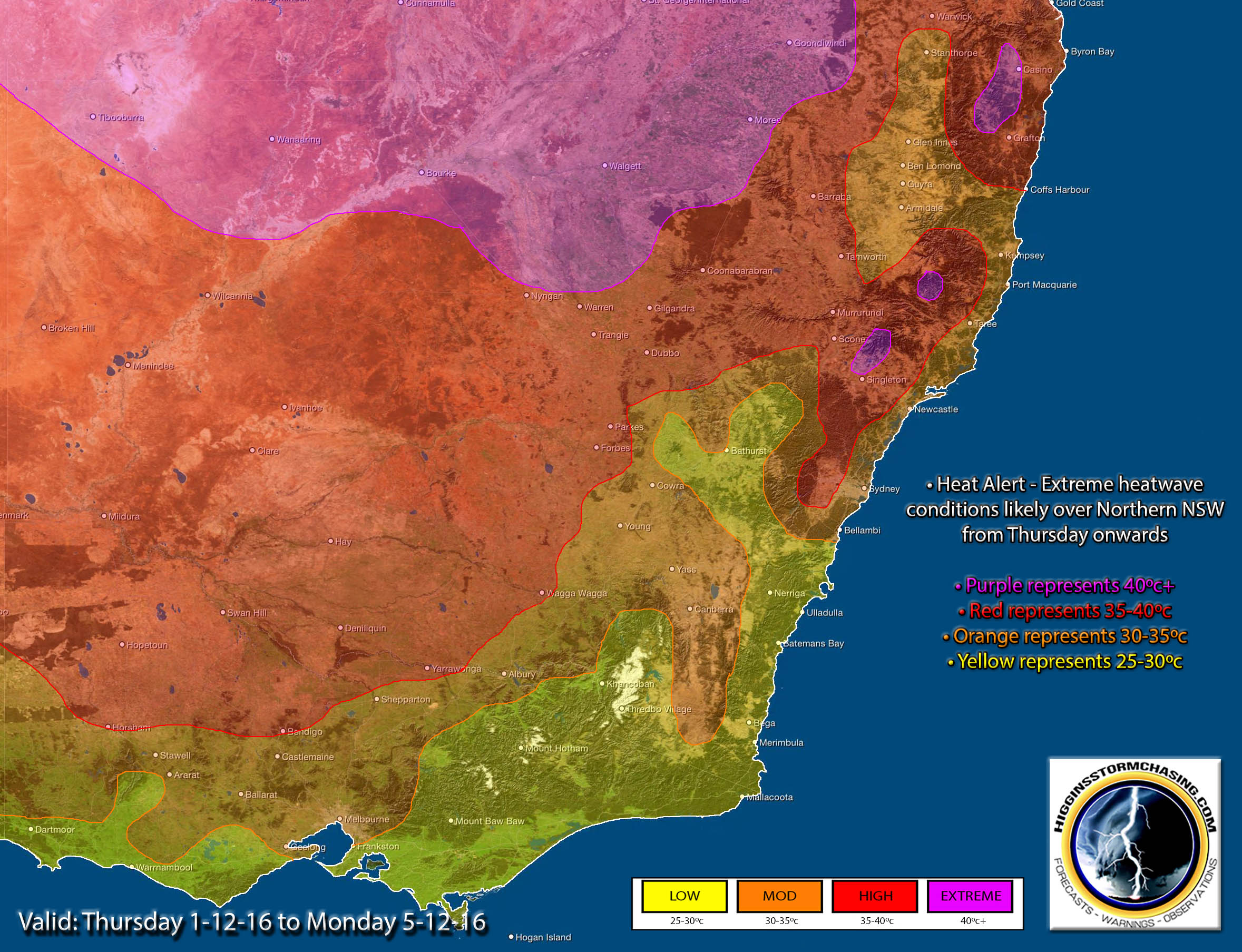 Above image: © Higgins Storm Chasing – New South Wales maximum temperature forecast