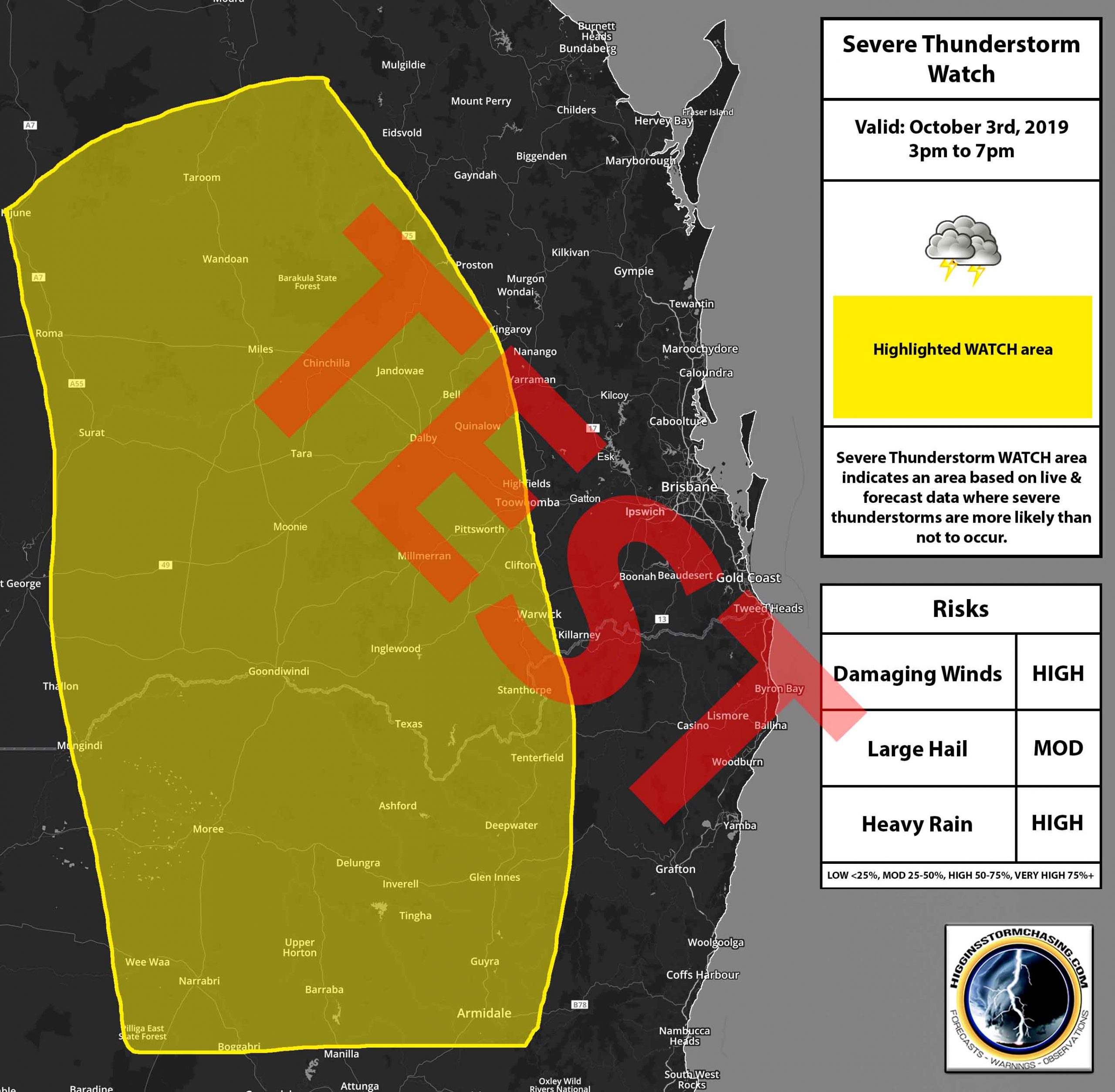 19 Jun

Severe Thunderstorm Watch #A [TEST]
THIS IS A TEST POST ONLY – NEW HSC PUBLIC SEVERE THUNDERSTORM WATCH ALERT PRODUCT!
[wp_ad_camp_3]
Severe Thunderstorm Watch for inland parts of South East QLD and North East NSW!
Issued: 11:45am EST October 3rd, 2018
Valid: 3pm to 7pm, October 3rd, 2018.
Current Weather Situation: A surface trough has developed between Miles, Goondiwindi & Narrabri over Southern QLD and Northern NSW. This trough has enabled cumulus clouds to develop according to satellite imagery over the Darling Downs and North East parts of NSW with increased heating and moisture still expected over the next several hours. Thunderstorms are expected to develop further West from the 'WATCH' area, however with increased instability over the highlighted areas, these storms should increase in strength and become severe within the 'WATCH' area during the afternoon and evening. Damaging winds, heavy rain and large hail are all possible.
Severe Thunderstorm Risks:
Damaging Winds =

HIGH


Large Hail =

MODERATE


Heavy Rain =

HIGH
Districts that may be affected include:

Darling Downs, Granite Belt, North West Slopes & Plains, Northern Tablelands.
---
[wp_ad_camp_4]
A severe thunderstorm watch specifically uses live weather data observations coupled with pre existing forecast data only.
For more information on what a 'Severe Thunderstorm Watch' means please

Click here. Further severe thunderstorm watch areas are possible for locations further East as thunderstorms progress and the potential for severe thunderstorms is more confident than currently indicated. Individual severe thunderstorm WARNINGS will be issued in addition to the thunderstorm watch area once thunderstorms have reached severe criteria.
Please ensure to continually check our website, email alerts, facebook page and facebook group for live updates and warnings which will include radar images and visual content.
Disclaimer: This severe thunderstorm watch is 100% issued and endorsed by "Higgins Storm Chasing". It is in no way a reflection of other businesses, brands, government departments or otherwise. It is based solely on our opinion and is issued as a method of providing advanced public warning about the "potential" for severe weather. Our thunderstorm watch maps and text content is strictly NOT for media use without permission. [wp_ad_camp_4]