17 Sep

Severe Thunderstorm Watch SEQLD & NENSW September 17th 2019
Issued 2:45pm September 17th 2019

– We have issued a severe thunderstorm watch for parts of South East QLD & North East NSW including the following districts: Eastern Darling Downs, Granite Belt, Scenic Rim, Lockyer & Brisbane Valley's, Gold Coast Hinterland, Northern Tablelands and interior parts of the Northern Rivers and Mid North Coast.
[wp_ad_camp_1]
TO BECOME A HIGGINS STORM CHASING PREMIUM MEMBER – CLICK HERE!
Scattered thunderstorms are developing around elevated terrain across the Eastern Darling Downs, Northern Tablelands, Border Ranges, Scenic Rim and Granite Belt areas. While the overall chance of storms becoming severe is 'LOW' to borderline 'MODERATE' – any storms that can become even remotely intense will have a chance of producing at least strong winds if not taking it a step further and producing damaging winds. This threat is largely due to dry air leading to thunderstorms becoming high based along with the risk of microbursts. A microburst has already been reported from Warwick where a strong gust of 61km/h has occurred, while activity further West which is not actually thunderstorm has produced an 89km/h gust at Moree.
While the Coastline of both NENSW and SEQLD is NOT included in this 'WATCH'. That doesn't mean severe storms aren't expected for these areas. Just the immediate threat remains further Inland. Storms are expected to push towards the Coast and later on, if we feel that any threat for damaging winds may reside over Coastal areas then a seperate 'WATCH' may be issued or this one may be expanded. Activity for the current region of focus is for 3pm to 9pm locally, after that models have most activity offshore or non-severe.
[wp_ad_camp_2]
… and just like that it was done.
Storms played out as expected, maybe even a little better in terms of coverage hour, however they were always expected to be fast moving, short lived and rather lack lustre for rainfall unless you got really lucky like a few isolated suburbs over North Brisbane and the Gold Coast.
The sky lit up with this beautiful crawler over Pacific Fair, Gold Coast this evening. This awesome shot was captured by Pete Costello and sent into H.S.C. *Not for media use, content available for licensing*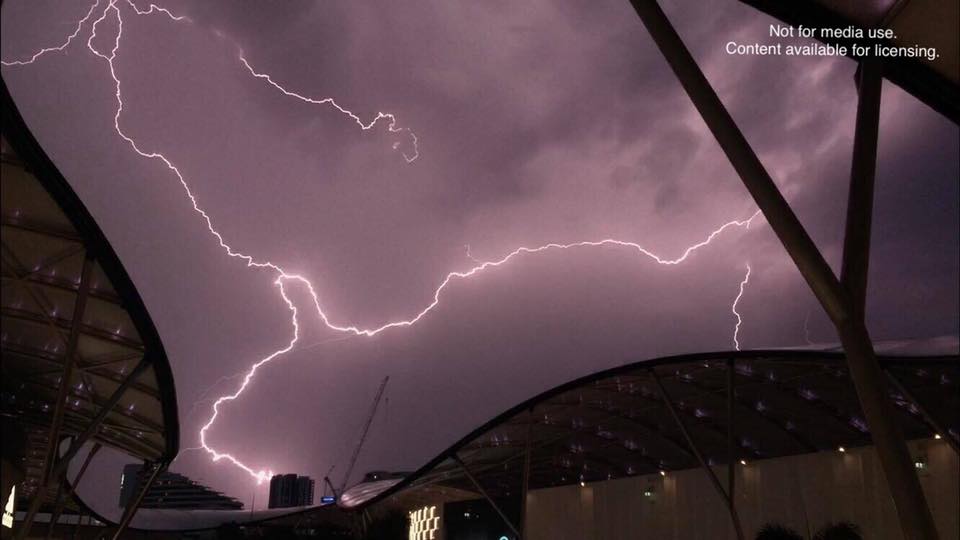 5:20PM SEQLD – Fast moving storms are moving East across the Brisbane Valley and Lockyer Valley regions towards Ipswich, Brisbane, North Brisbane and possibly Caboolture. These storms are producing minimal rainfall and gusty winds.
Gusty storm coming into the Gold Coast now. Unfortunately not a lot of rain with it though!
[wp_ad_camp_4]
A wall of dust from dry storms near Cambooya on the Darling Downs this afternoon. Image credit by H.S.C contributor Kimberley Wood.
*Not for media use without permission*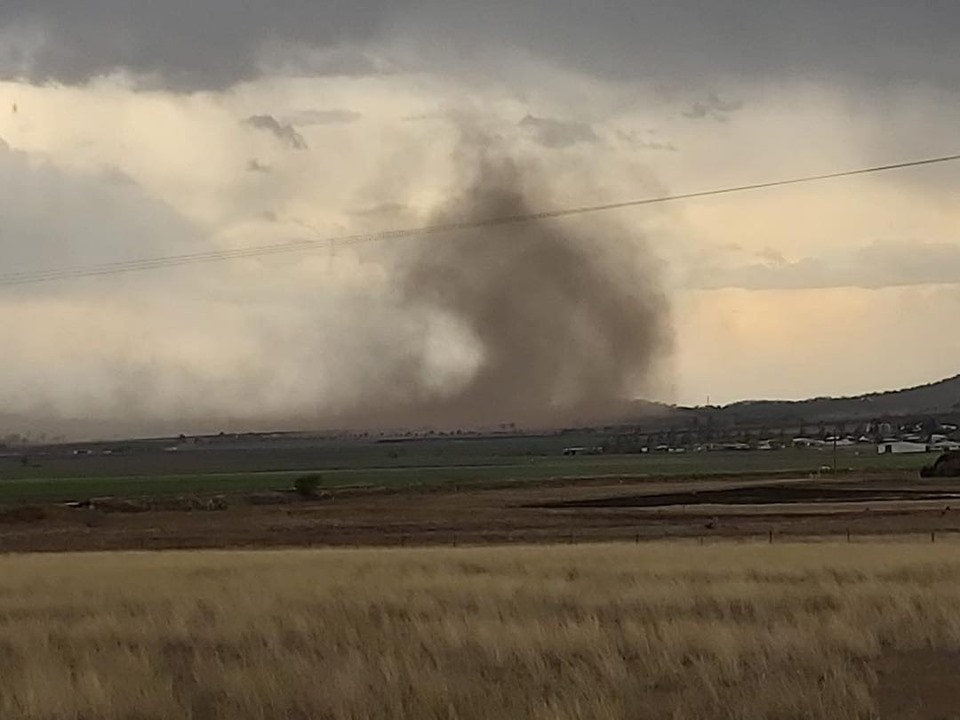 3:50PM SEQLD UPDATE: The Scenic Rim is under a lightning bomb ATM. Let's hope no bush fires are started or there is enough rain to put them out again. This storm is moving East towards the Gold Coast.
2:30pm SEQLD update: High based showers and storms are starting to develop across the Eastern Downs and inland South East Coast near the ranges. This activity is moving South East and is likely to contain strong to possibly damaging winds. A wind roar with dust has been reported from Warwick just after 2pm.
2PM DUST ALERT for Southern inland QLD & Northern inland NSW! Strong winds and dry microbursts are causing thick dust in the red shaded areas. Dry microbursts are also kicking up areas of local dust in the yellow shaded areas. Dust will move East and North East this afternoon.