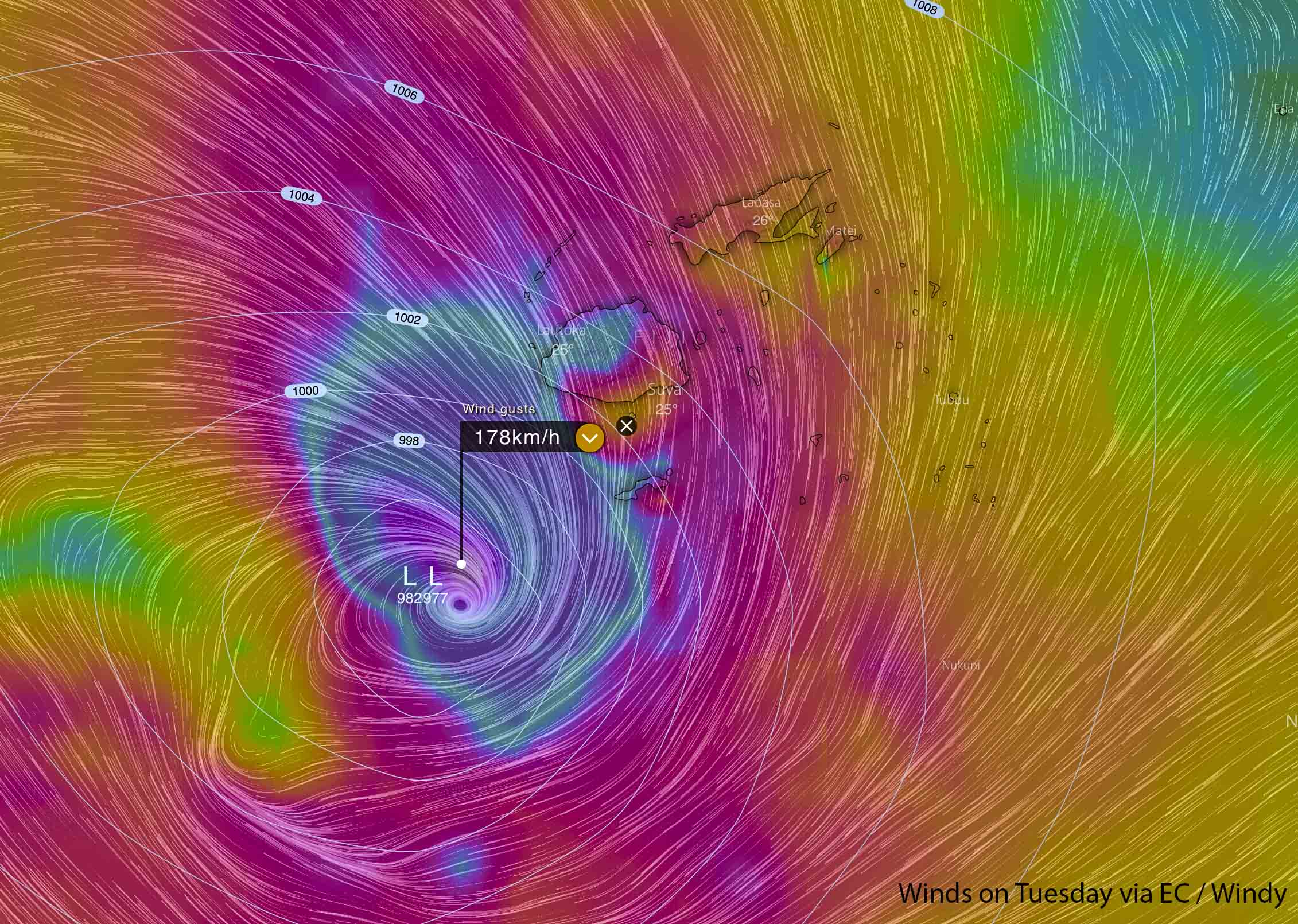 07 Apr

Severe Tropical Cyclone to impact Fiji
Models are coming into agreement that Fiji is likely to receive severe impacts from a severe tropical cyclone over the next few days! Above image via Windy.
[wp_ad_camp_1]
Over the past 24hrs, a tropical low located to the East of Vanuatu has become more consolidated and is now expected to strengthen into a tropical cyclone overnight tonight (Saturday into Sunday) and become named as Tropical Cyclone Kala. Due to this likely occurrence, JTWC have already issued a tropical cyclone formation alert along with the Fiji Metservice doing the same, whilst keeping the same as a high risk over the next 3 days for development. The monsoon flow over the region has already produced falls of 50mm+ across the North of Viti Levu during Saturday.
[wp_ad_camp_1]
During Sunday, Monday and Tuesday… after meandering around the waters East of Vanuatu for a day, Tropical Cyclone Kala is expected to track quickly towards the East to South East and approach Fiji. The majority of models are in agreement that as the system bypasses Fiji to the South, its likely to be upgraded to a Severe Tropical Cyclone (Category 3) with winds in excess of 165km/h. Thankfully, as stated above, the system at this stage isn't expected to DIRECTLY hit Fiji… but severe impacts are still expected. There are some islands however, South of the main Islands of Fiji could could sustain a direct hit if the track remains as is.
[wp_ad_camp_3]
Conditions should rapidly deteriorate from Monday night and across Tuesday as the system bypasses to the South. Kala is expected to take an almost identical path to the recent Cyclone Josie, and the fast movement of the system should see conditions improve on Wednesday. So realistically its about a 24-36hr period of poor conditions. Strong winds are likely to lash the Islands of Fiji with damaging to possibly locally destructive winds (depending on how close Kala gets) likely over the Southern beaches of Viti Levu and offshore Islands to the South. Heavy rain with widespread falls of 100-200mm is likely across all of the Islands with isolated much higher falls possible. The rainfall should be the main threat, with flooding likely, especially across areas that have only recently been impacted by catastrophic flooding caused by Josie.
During Wednesday and Thursday, the system is expected to impact Tonga also with strong winds and heavy rain that could cause some areas of flooding, but like Josie… Kala is expected to turn South before reaching Tonga, so no direct impact is expected.