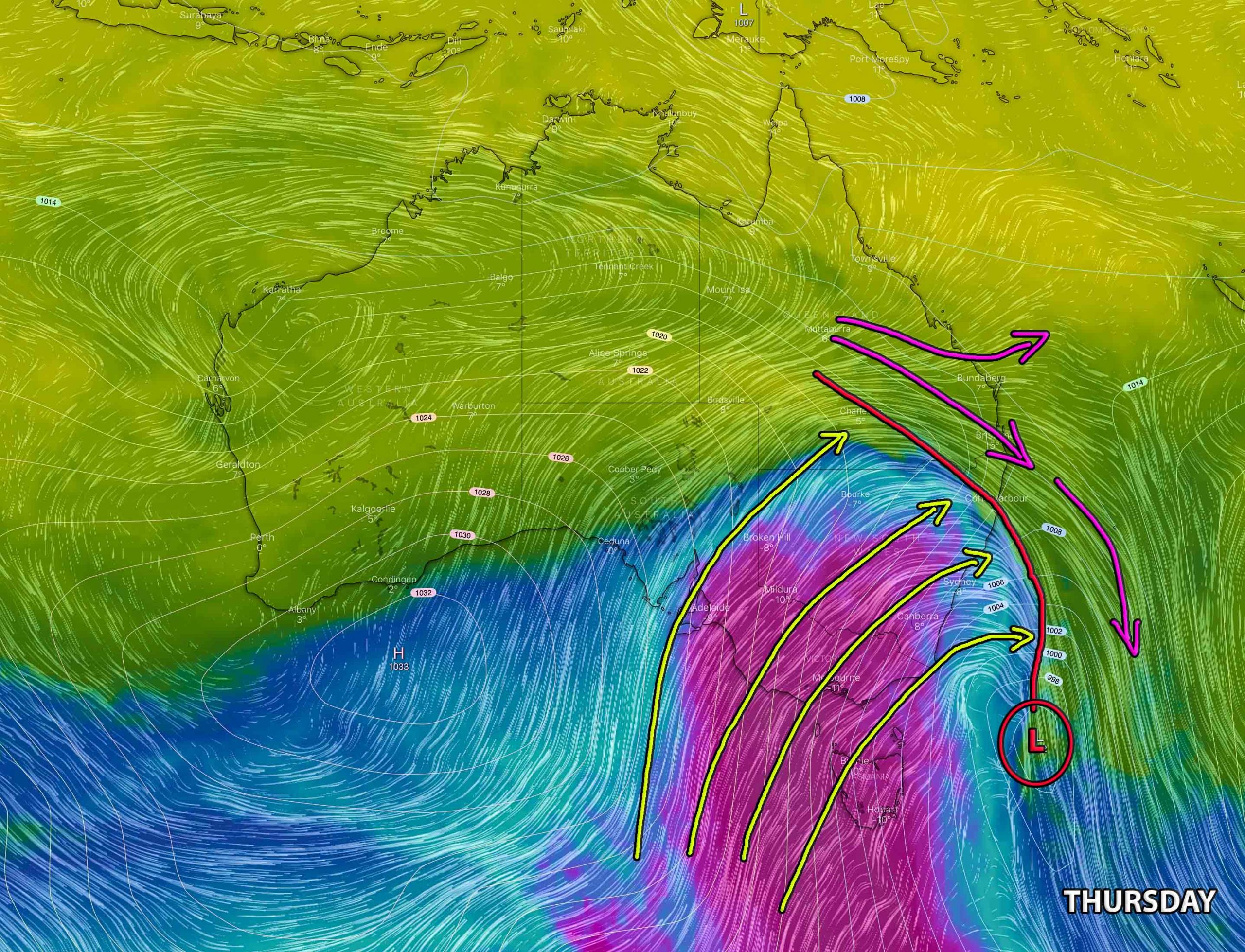 25 Apr

Severe Weather LIKELY Across Eastern AUS to Finish April
This system is expected to be largely be focused over Wednesday (April 29) and Thursday (April 30) before lingering to a lesser degree into Friday and the weekend (May 1 to 3). This system will be impacting Tasmania, Victoria, New South Wales, ACT & Queensland to large extents and South Australia + the Northern Territory to lesser extents. Damaging winds, rapid temperature drops, severe storms with damaging winds & hail, heavy rain and snow will all feature. Dust will also be a feature with the front specifically.
[wp_ad_camp_1]
These maps are temperatures at 700mb (about 3km about the surface) with surface-based wind stream lines. This combination is great for showcasing this upcoming system as you can definitively see the cold front (marked by the red line) with a massive cold pool surging in behind it. Ahead of the cold front, marked in the purple lines, is a warm North to North Westerly breeze which will create fine and sunny conditions with above to well above average temperatures for this time of year – behind the cold front though, marked in yellow – you can see cold South Westerly winds which will combine with moisture to produce showers, rain periods, snow, severe weather (associated mostly with the cold front) and a MASSIVE drop in temperatures.
[wp_ad_camp_2]
The most notable severe weather threat from this system will be widespread thunderstorms across Victoria, the ACT, NSW & Southern Inland QLD on Wednesday with storms pushing into North East NSW, Northern NSW & South East QLD on Thursday. During Wednesday, across Northern VIC, Southern & Central Inland NSW and possibly into Northern NSW – there will be strong wind shear – both with speed and direction – that will interact with these storms. This will create an increased risk of supercells and tornadoes across these areas (but more concisely focused over Southern & Central Inland NSW). Regardless of this threat, due to this mid level jet – most storms within the purple shaded area will be either moving fast and/or warned for damaging winds with microbursts being a possibility too. Hail will also feature in storms due to cold air aloft. These storms will move into South Eastern QLD & North Eastern NSW during Thursday where some cells may become severe fro damaging winds – but the overall threat will be lower than Wednesday due to some weakening with the mid level jet. There is a question mark at this stage due to the timing of the front, whether or not storms will reach the Coast in South East QLD.
[wp_ad_camp_4]

Snow totals have been slashed big time from the previous post. However I believe that models just don't have a good grasp on the snow yet as we often see totals exceed what models say (more often than we see them struggle with the timing of the coldest air and precipitation interacting). However, snow is still expected on the Snowy Mountains, Southern NSW Tablelands and Tasmanian Highlands with good falls expected over Thursday, Friday and Saturday. The Central Tablelands are expecting some snow flurries on Thursday evening into Friday morning as well, and possibly a brief stint on Saturday morning with a narrow window of opportunity pending moisture.
The Northern Tablelands are more unlikely than likely to see snow at this stage. Some very marginal precipitation is possible on global model data, but the timing looks off. You can see on Friday morning, the 850mb temps (around 1km above the ground) are sitting at 0ºc which is prefect… but the moisture profile is dry, like Sahara Desert dry… it could be more just bitterly cold rather than snow.
One of the promising things will be that this system looks to deliver widespread good rain across NSW with heavier falls over the Snowy Mountains and Central Tablelands, as well as some widespread moderate to heavy falls across the majority of VIC. Most of these areas have already seen an average to well above average month (April) in terms of rainfall, so to see 50-100mm and localised higher falls of up to 150mm around the Snowy Mountains is very promising as a follow up system. Most of this rain will come with the front on Wednesday and Thursday, but some follow up showers, mostly over VIC with the South Westerly flow are expected into the weekend. Unfortunately for Southern QLD and Northern NSW, while some rainfall is expected and it should impact most people – its on the lighter side of things due to the speed of the system and the distance from the moisture source (being the Bight).
When we say impacts, this can sometimes mean 'just' temperatures, it doesn't have to mean all. QLD is expected to see a MASSIVE temperature plummet between Wednesday, Thursday and Friday with temperatures dropping between 8 and 12ºc across these 3 days (for some it will be in just a 24hr period). For NSW, you only need to see the difference between Wednesday and Friday to know its going to be a massive drop. Some places are going for up to a 15ºc difference between the 2 days with locations sitting at around 25ºc on Wednesday and not even reaching the teens or even double digits on Friday. To add to this, the wind chill factor could lead to places like Orange with a maximum of 4ºc on Friday seeing a feels like temperature of -5 to -2ºc for most of the day. Even places closer to 10-14ºc may feel as cold as 0ºc thanks to the winds and this will include the Darling Downs and Granite Belt. The temps in SEQLD will drop into the low 20's which is certainly warmer than the rest – but the winds will again make it feel more like 10-14ºc.