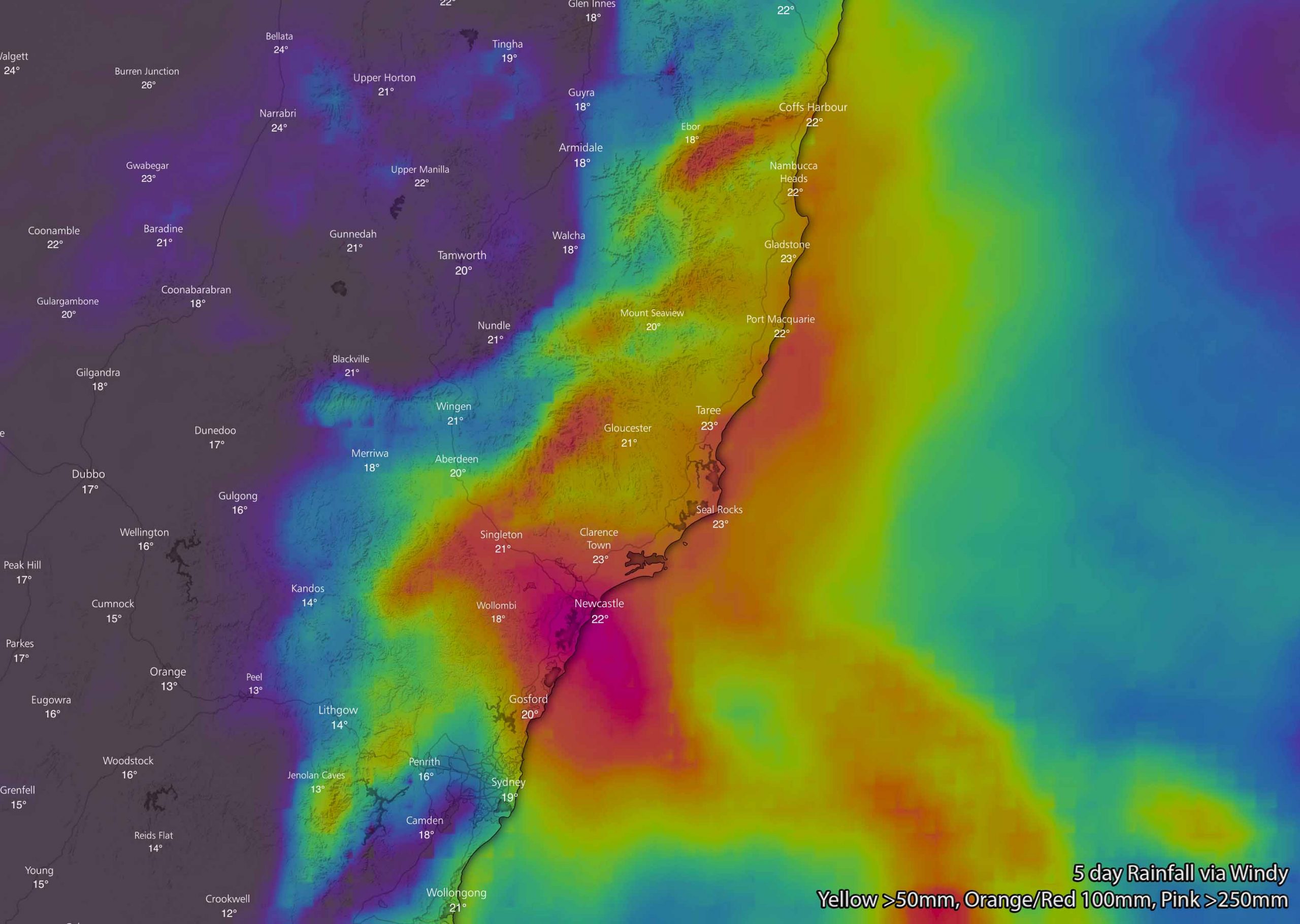 20 Mar

Severe Weather set to lash the Hunter & Mid North Coast
The Hunter and Mid North Coast are set to be impacted by a weather event over the next 3 days, bringing heavy rain with falls of 100-200mm+ and storms (some severe). Above image – forecast 5 day rainfall totals by Windy (EC).
[wp_ad_camp_1]


Its been a while since anywhere in NSW got some decent rain, but it looks like the Hunter and Mid North Coast are about to break that trend over the next several days. A weak surface trough is forecast to develop along the Ranges during Tuesday which is likely to draw in increased moisture and combine with a weak upper level trough to generate strong instability. This should trigger some isolated to scattered storms across Inland regions which will slow track towards the Coast.
[wp_ad_camp_3]
Its from late Tuesday into early Thursday (including all of Wednesday), that rainfall totals accumulate. The storms from Tuesday appear as though theyll develop into a slow moving rain area overnight and bring some reasonable falls to mostly the Hunter. Its then on Wednesday that a low pressure system develops off the Coast and increases the convergence over the region leading to heavy rain areas developing with embedded storms. This could lead to falls of 50-100mm becoming widespread on Wednesday and isolated falls of 100mm+ likely also. The system then shifts North on Thursday where another 50-100mm is possible over the Mid North Coast, although conditions should begin to ease as the day progresses across the Hunter.
[wp_ad_camp_1]
Overall, falls of 100-200mm are being forecast by all global models across the Hunter with isolated heavier falls of 200mm+ being possible. A further 100-200mm seems possible across the Mid North Coast also. The heaviest falls are likely to closer to the Coast it seems, and should result in areas of flash flooding along with river and creek rises.