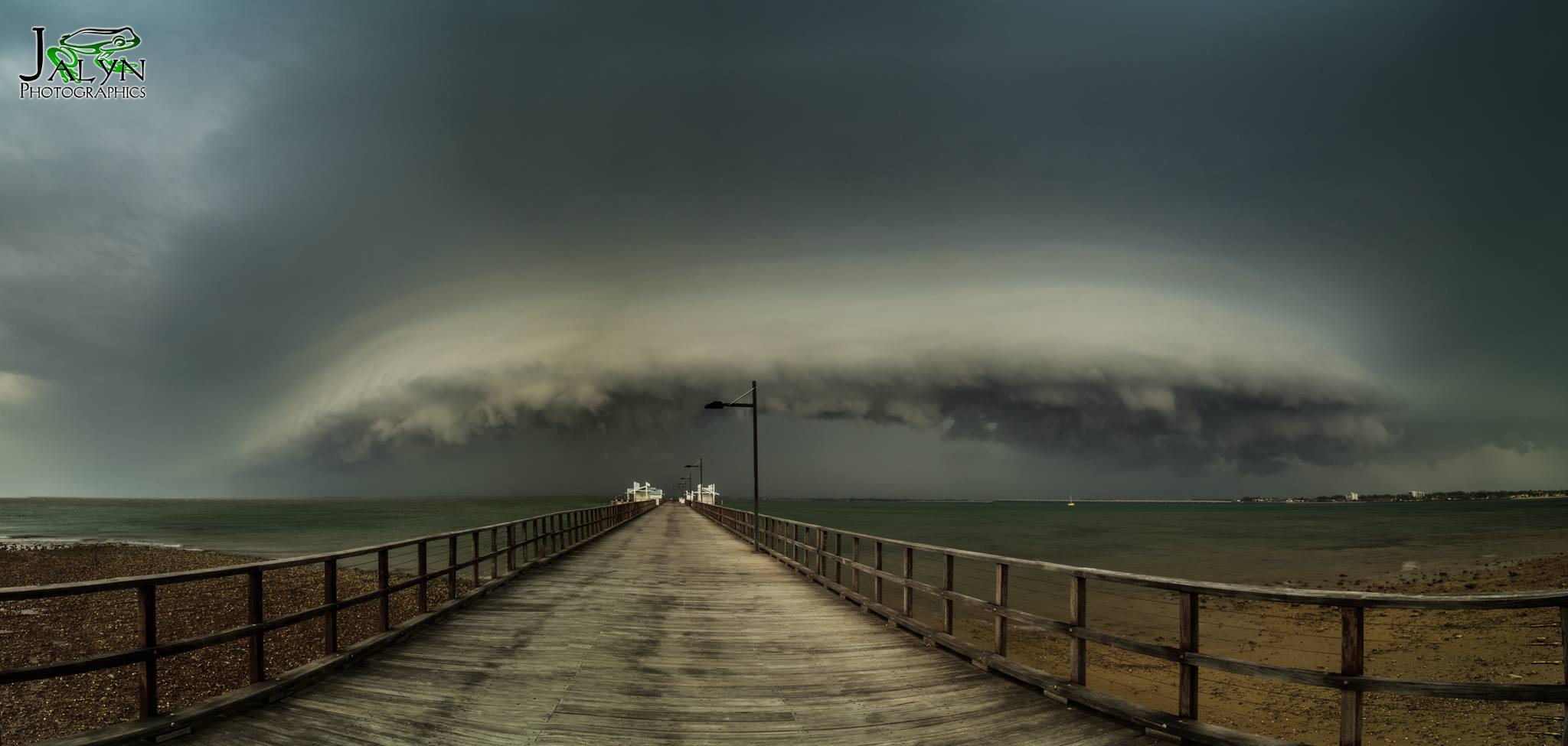 18 Oct

Shelf Cloud ignites the SEQ Storm Season

South-East QLD and Brisbane in particular has felt the first proper storm of the Season as a front stretching over 300km long brought severe weather causing injuries. Above image from Woody Point via HSC Photographer Jason

Forecast models were painting a fairly consistent picture between them, indicating that most likely a line of strong to severe thunderstorms was going to develop across the Darling Downs and Coalfields, spreading into the Wide Bay and South-East region later before clearing the Coast prior to sunset for most regions. This was one of those times where what the models said… happened. 

By the early afternoon, a gust front had become established across the Central and Western Darling Downs between Inverell (Northern NSW) and to the East of Roma. By 3pm this line was now located between Chinchilla and Stanthorpe and had become severe warned for damaging wind gusts. Soon after, Dalby recorded 89km/h winds, Oakey then followed with 76km/h, Wellcamp maxed the official gusts at 93km/h and Toowoomba saw 72km/h. Unfortunately, a man in his 40's was injured near Toowoomba after a tree branch fell on him. Its understood that he has notable chest injuries but is in a stable condition

By 5:40pm while the line was stretching all the way from Murgon to Casino (300km), it contained a severe core 130km long which barrelled straight into Ipswich, Brisbane and the Bayside producing 89km/h winds in the Bayside and 78km/h at the Airport. More than 12,000 people lost power also with widespread falls of 10-20mm observed across Brisbane Metro, Scenic Rim, Granite Belt and Gold Coast Hinterland. The most prominent feature however was the structure with an intense shelf cloud swallowing all underneath it.

The front cleared the Coast prior to sunset however it remained active through inland parts of the Wide Bay and Capricornia until around 8pm when most lightning stopped. Heavy rain however went on to hit Bundaberg, Calliope and Gladstone with reasonable falls noted also. Given this area was only under a chance of storms it seems to be a fairly reasonable outcome based on predictions with only the area between Bundaberg and the Sunshine Coast failing to fire.