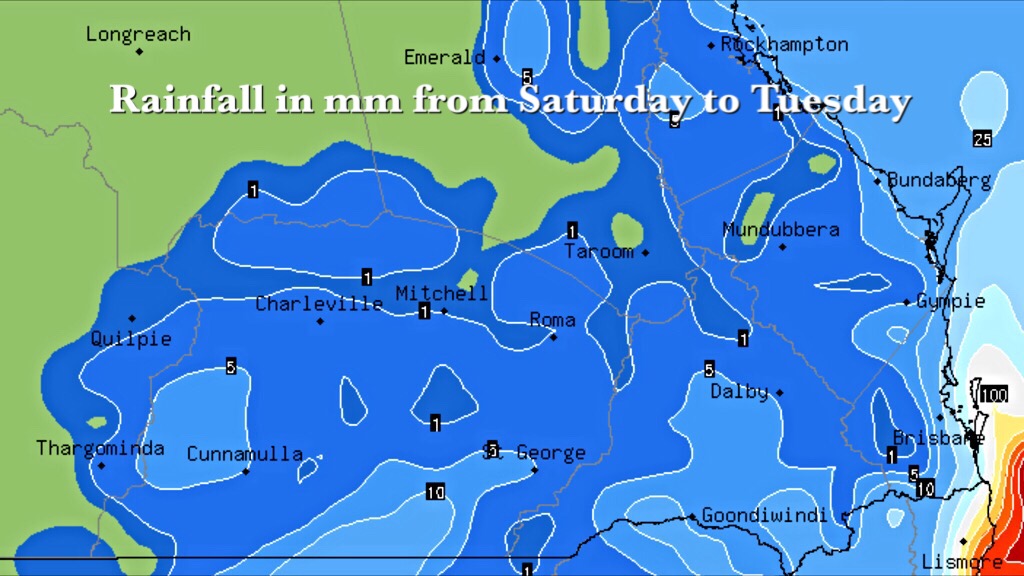 09 Jun

Showers & Rain For South East QLD Saturday To Tuesday
[wp_ad_camp_2]

Forecast issued 9th June 2017. An upper low though Southern Queensland will mix with a moist onshore wind flow to generate showers, isolated storms and some rain areas this weekend into early next week. Despite some rumors circulating of a 200mm "Winter Deluge" across the South East, this is not true with the best falls up to 100mm possible South of Brisbane around the Gold Coast region. Above rainfall image via GFS / BSCH. HSC QLD & NSW subscribers your detailed daily rain and storm forecast maps for this system are available by

logging in here!

Not a subscriber?

Join here!

North East NSW is set for a 100 to 200mm drenching from this system that forecast can be found here.

[wp_ad_camp_4] On Saturday a cold cored upper low moves North from NSW to be located in South West QLD. This low will mix with a moist onshore flow across Southern QLD to produce isolated afternoon showers and storms through the Southern inland. Along the South East coast we are likely to see an increase in shower activity late in the afternoon and early evening however the better falls will be South of Brisbane around the Gold Coast. 24 hour totals to 9am Sunday should see the Gold Coast pick up 25mm but locations further North and inland will struggle to see 10mm.

Sunday is a very similar forecast scenario as Saturday due to the very slow moving upper low and onshore flow. Again 24 hour totals to 9am Monday will see the Gold Coast pick up between 15 and 25mm with lighter falls up to 10mm across the rest of the South East and Southern inland.

During Monday the upper low is forecast to shift slowly East across the South East while increasing instability slightly. The biggest variable in model data at this stage which will change potential rainfall totals is the exact wind direction with height. At this stage scattered showers and isolated storms are likely across the South East with falls between 10 and 25mm. These higher falls are again more likely to be from Brisbane South to the Gold Coast.

[wp_ad_camp_4] The upper low is forecast to move offshore on Tuesday while directing stronger South East winds onshore leading to coastal showers.

Any shift further North in the wind convergence over NENSW will result in increased rainfall across the South East Coast however a majority of global models keep the heavy falls South of the border.
Subscribe to Higgins Storm Chasing for detailed rainfall and storm forecast maps, text and alerts across QLD, NSW, ACT & VIC here!