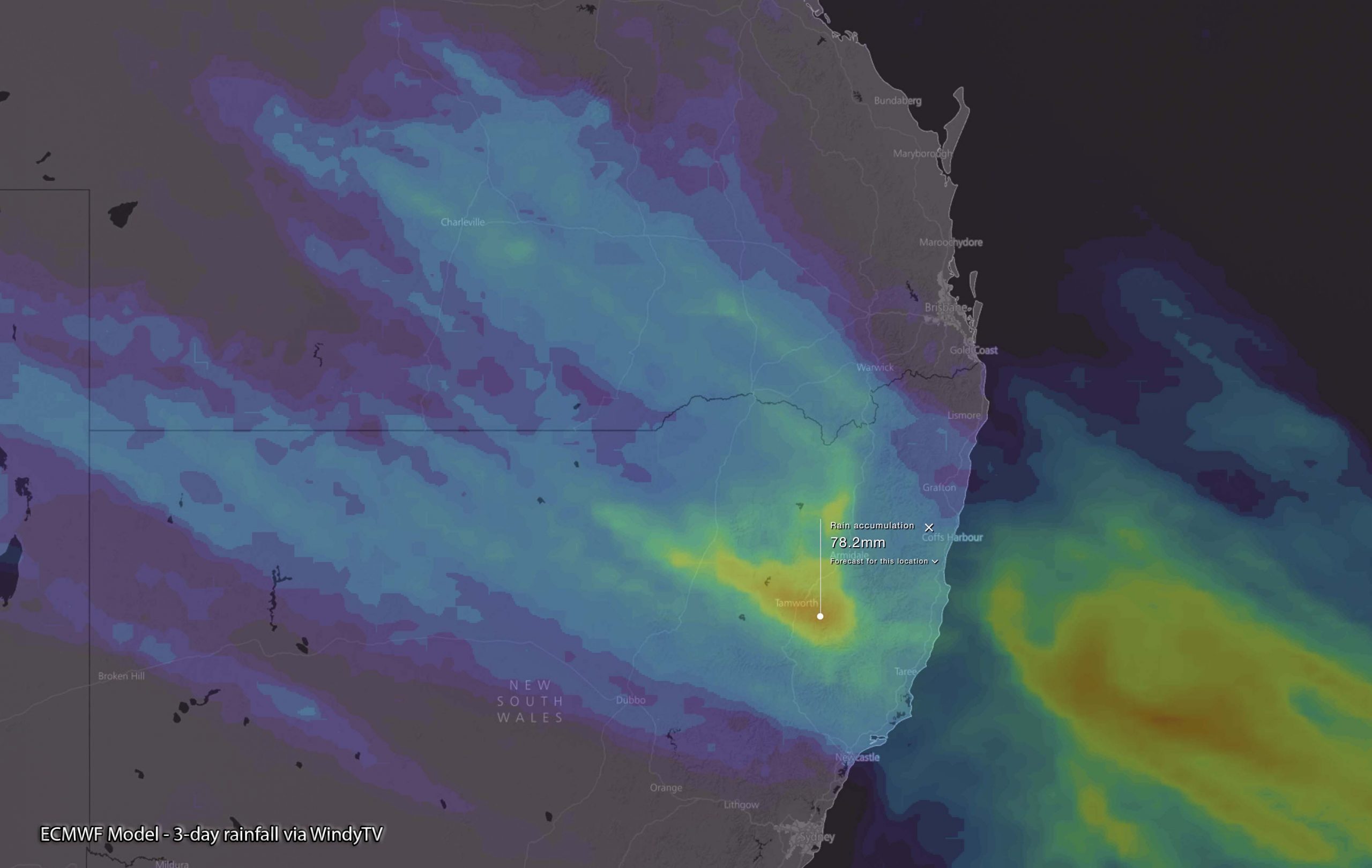 28 Jun

Showers and Storms expected to impact Northern NSW & Southern QLD
A band of showers and thunderstorms are likely to impact large parts of Southern and possibly Central Inland QLD along with Northern Inland and North-Eastern NSW, possibly spreading into South-Eastern QLD between Wednesday and Friday. This band of activity is expected to produce good off-season rainfall for areas that are needing it. Above image via WindyTV showing 3-day rainfall totals across the region.
[wp_ad_camp_1]

Models are indicating that a surface trough is likely to develop and become established between Port Macquarie, Moree, St George and Windorah during Wednesday. This surface trough is expected to draw in high levels of moisture from the Coral Sea / Pacific Ocean on an Easterly moisture fetch, while also drawing in high levels of moisture from the South-West (Great Australian Bight). The combination of increased moisture and upper level support from an upper trough over NSW is expected to lead to an areas of instability developing around the system leading to isolated thunderstorms during Wednesday afternoon over Northern NSW and Southern Inland QLD, while a band of showers and rain periods are more likely. This band of showers and storms is expected to produce falls of 25-50mm across Northern parts of NSW and isolated higher totals not being ruled out, while across Southern Inland QLD falls of up to 15mm are possible.
During Thursday, the system is expected to shift towards the East and continue to impact the Darling Downs, Northern Rivers, Mid North Coast, Northern Tablelands, Warrego and Maranoa along with parts of the North-West Slopes and Plains and Central Inland QLD. The entire system is expected to intensify leading to more prolonged rain areas and potentially more scattered thunderstorms. While storms will remain hit and miss, the rain areas are what we will focus on as a large area of 25-50mm is possible from Taroom to Coolangatta, down to Port Macquarie and back inland towards Moree and Charleville.
[wp_ad_camp_4]
During Friday morning, the system is expected to sweep through South-East QLD giving overnight showers and rain so rainfall totals are expected to be on the light side in South-East QLD (up to 15mm possible), and these should continue across the Northern Rivers and Mid North Coast (again with light totals) while clearing inland regions. Overall across the 3 days, falls of 50-75mm are possible across some areas over the Northern Tablelands, Northern Rivers, Darling Downs and while some have benefited this year from good rainfall, others in these districts haven't, so we are hoping maybe this can be the system to lift some hopes.
[wp_ad_camp_3]