Issued 30th May 2019. Have you ever heard of the Southern Annular Mode also known as the Antarctic Oscillation? Well right now and for the next 2 weeks it is in full negative swing! Brace yourselves for much more freezing, cold, windy weather and snow across South East Australia. The cold weather and frosts will also reach well into Queensland! Above image via Hotham Alpine Resort.
Over the past week we have seen 2 big cold fronts across South Eastern Australia produce the best snow falls this early in the season in 19 years with up to 65cms across the Alps. We also had snow to low levels across Tasmania, Victoria, the ACT and Central Tablelands of NSW. It is not over yet, in fact its only just the start of much more to come during June.
The negative phase of the SAM is associated with a northward shift in the belt of strong westerly winds. In autumn and winter, this can cause more Winter storms, low pressure systems, polar air masses, increased rainfall and snowfall for southern Australia. A SAM event can be identified by observing the pattern of westerly wind flow and pressure to the south of Australia. Over the past 2 weeks it has been steadily trending into negative values. Below image showing the current low pressures over SE Aust and the very strong negative SAM bulge of low pressure regions extending Northwards away from the South Pole. These regions move clockwise around the South Pole.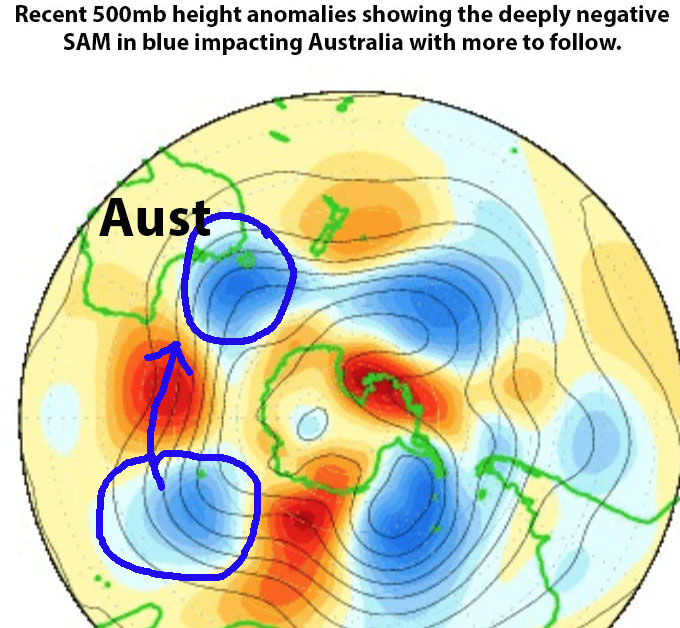 The forecasting range for SAM is relatively short at only 2 weeks ahead. This is far enough to gauge a trending pattern beyond that so it can give an indication of values for about a month ahead. Currently models are suggesting that we will stay in a negative SAM for at least the next 2 weeks maybe longer. This will allow for an increase of deep low pressure systems to impact Australia. Below image showing the SAM / AAO past observations (black line) and 2 week forecast via CPC. Circled in blue is the negative anomalies.


So what can we possibly expect? More strong cold fronts and upper cold lows, more snow, more rain, more strong winds with blizzards on the Alps, increasing frosts with some severe frosts and the list goes on. In general a big start to the snow season with snow reaching further north into NSW and possibly even Southern QLD. Average to possibly above average rain across South East SA, Tasmania and Victoria. Widespread frosts some severe across NSW and QLD with cold days.
The next significant cold front is forecast to hit South East Australia from late this Sunday through until Tuesday. Damaging winds, rain, very cold conditions a big Alpine snow dump with snow extending further North into NSW is expected. That will be followed by frosts. Some places could be looking at 1 meter of snow depth by the first week June which is extraordinary. IF it continues long enough record breaking snow and record cold temperatures may occur.
There will be short breaks in between the freezing weather when high pressure systems slowly move through however the deep lows and cold fronts will return in quick succession. We cover detailed snow forecasts and maps for VIC, ACT, NSW and QLD on our premium weather service here> https://higginsstormchasing.com/higgins-storm-chasing-membership/