Issued 7th August 2019. A perfect forecast opportunity exists to experience SNOW on the Northern Tablelands of NSW this weekend with snow also possible in QLD on the Granite Belt! Above image: Torah Higgins enjoying the snow at Ben Lomond Northern NSW in early June this year. HSC Thomas will be chasing and reporting this snow event in Northern NSW.
Forecast data is confidently predicting snow falls to occur on the Northern Tablelands of NSW late this Saturday into Sunday night. The places most likely to receive the best settled snow is at Guyra and Ben Lomond with between 5 and 10cms expected. Further South at Walcha and Hanging Rock near Tamworth they are forecast to get 10-15cms. Snow is also likely at Nundle, Uralla, Armidale, Glen Innes and Deepwater in NSW. Snow is also a good chance but may not settle on the ground at Tenterfield (Mt Mackenzie), Wallangarra, Ballendean, Stanthorpe, Applethorpe and Eukey in QLD. Below image snow forecast via Windy.com

With all these regions suffering from extreme drought and hardship the tourism is most welcome! Its not very far to drive to experience a white wonderland with the family from anywhere in South East Queensland. Accommodation will be in high demand at Guyra but places like Glen Innes and Tenterfield offer many options which are just a short drive away from the best snow. You can also try Dunmore Trout Waters not far from Ben Lomond. Please PRESERVE ALL WATER USAGE take bottled water or buy it locally. Below image is the best travel option to Ben Lomond NSW for the best snow opportunity.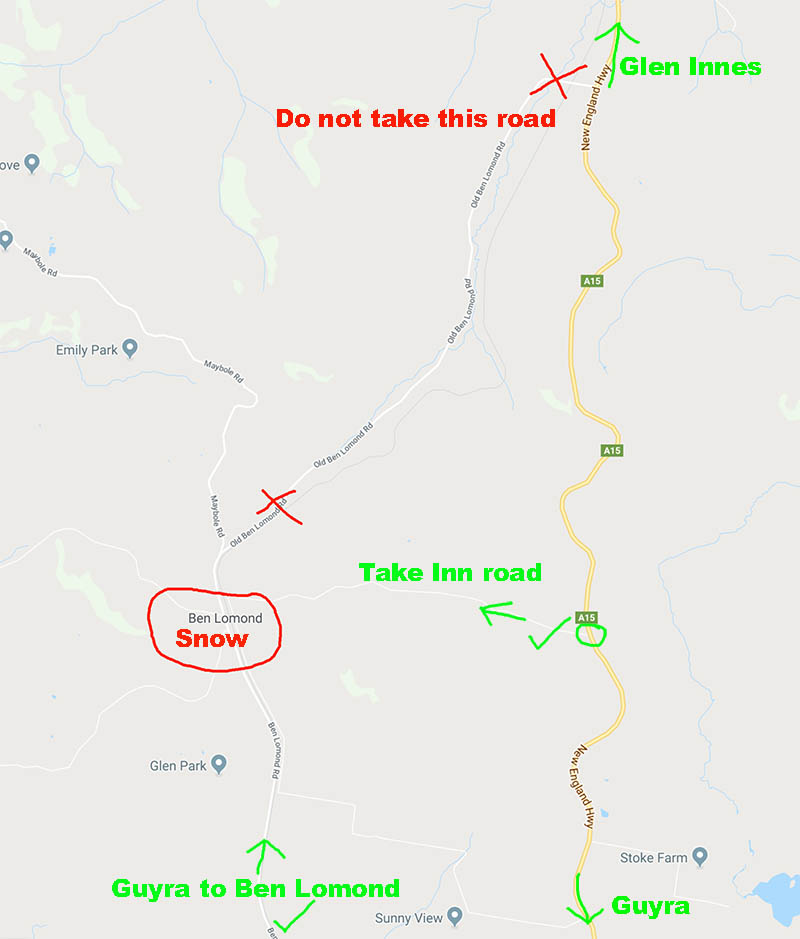 The current snow window of opportunity is very specific… Saturday late afternoon until Sunday night in NSW and Saturday night or Sunday early morning on the Granite Belt. Below image the chances of precipitation from Saturday 9am to Sunday 9am via OCF/BSCH