Issued June 1st 2019. The "Slamming SAM (Southern Annular Mode)" we recently discussed is going to have a hand in producing snow falls to low levels across Victoria, the ACT, NSW and possibly Southern QLD on Monday and Tuesday. A -30C mid to upper level polar airmass will push Northwards across South East Australia on Monday while a low develops just off the NSW coast. Snow will fall across the Alps, Act and NSW Central Tablelands however we will focus this snow forecast potential for the Granite Belt in QLD and the Northern Tablelands of NSW. Above image: ECMWF forecast showing snow or sleet for the Granite Belt and snow across the Northern Tablelands on Monday night into early Tuesday morning via Windy.com
For snow to occur in Southern QLD and Northern NSW some key atmospheric ingredients need to be forecast and then met. Firstly a very cold airmass of -2C or below at 5000ft needs to be forecast. From around 6pm on Monday evening through until 10am Tuesday morning both the GFS and ECMWF models are forecasting temperature thresholds to be cold enough for snow over Northern NSW and Southern QLD. Below image: Forecast 850mb or 5000ft temperatures.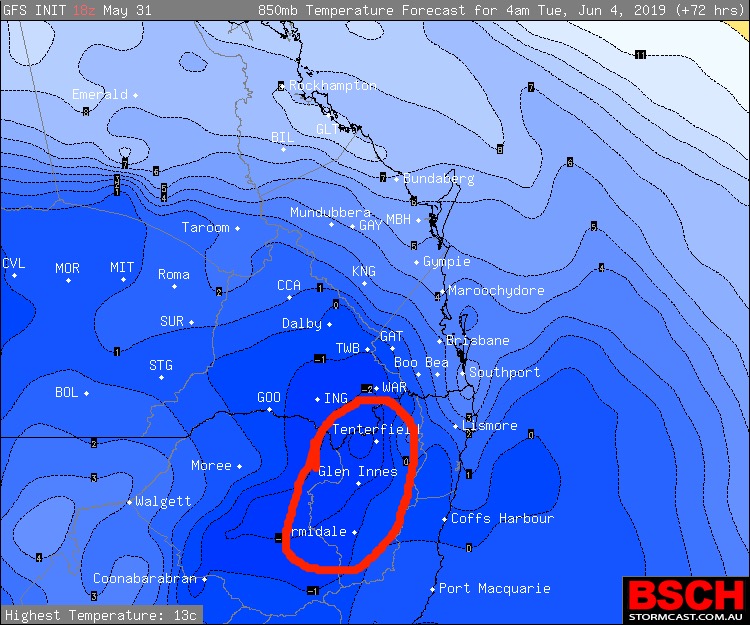 Secondly and most importantly precipitation must occur while the very cold airmass is present. This is normally the hardest ingredient to achieve to produce snow because by the time the very cold air reaches this far North is often very dry. Every 1mm of rain in the right conditions = 1cm of snow. Currently 80 to 100% of models are forecasting precipitation across Northern Tablelands and Granite Belt from 9am Monday to 9am Tuesday. A majority of this precipitation is forecast to fall during the coldest snow window of opportunity. Below image: OCF precipitation forecast via BSCH
Regardless of the snow it will be freezing cold across Southern QLD and Northern NSW on Monday and Tuesday. In fact it could easily be one of the coldest Winter days experienced during the past 5 years. South Westerly winds will be gusting between 55 and 75kms hour. The wind chill factor will take up to 10C off the forecast maximums and remain in the single digits across Southern inland QLD and Northern inland NSW. The cold air mass will allow for widespread frosts to develop across both regions from Tuesday morning onwards.