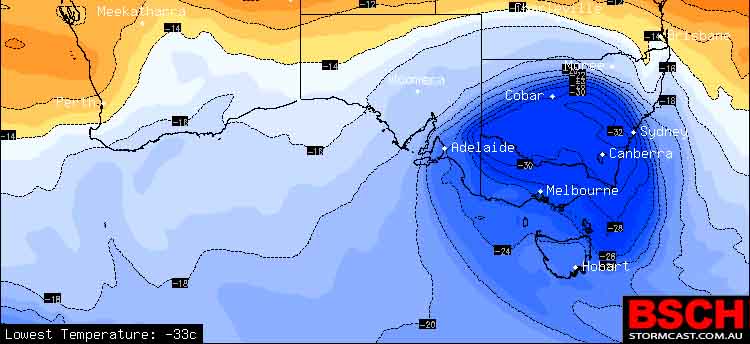 10 May

South East AUS Low – Rolling Updates, May 2018
[wp_ad_camp_3]
FINAL UPDATE 10am 13/5/18 – ALL SEVERE WEATHER WARNINGS FROM THE SYSTEM HAVE NOW BEEN CANCELLED.
The deep low pressure system is located well off the NSW coast though is it still causing some strong winds and showers to the Central NSW coast. The low is forecast to move South East towards New Zealand during Sunday and Monday with showers being maintained along the NSW coast. This severe weather system has delivered widespread rain to South East Aust (some record breaking rain and flooding in South East Tasmania), damaging and destructive winds from 90 to 135km hr across large parts of South East Aust, large dangerous surf, very cold temperatures, snow to low levels in Victoria, snow on the NSW Central Tablelands with blizzards on the Alps.
We hope everyone has remained safe during this unusual May weather pattern. Our thoughts are with those who suffered damage and losses in South East Tasmania due to severe flooding. Thank you for following Higgins Storm Chasing we hope you have valued our accurate forecasts, warning, updates and coverage of the system. For a full run down of the Super Low please read our detailed blog below.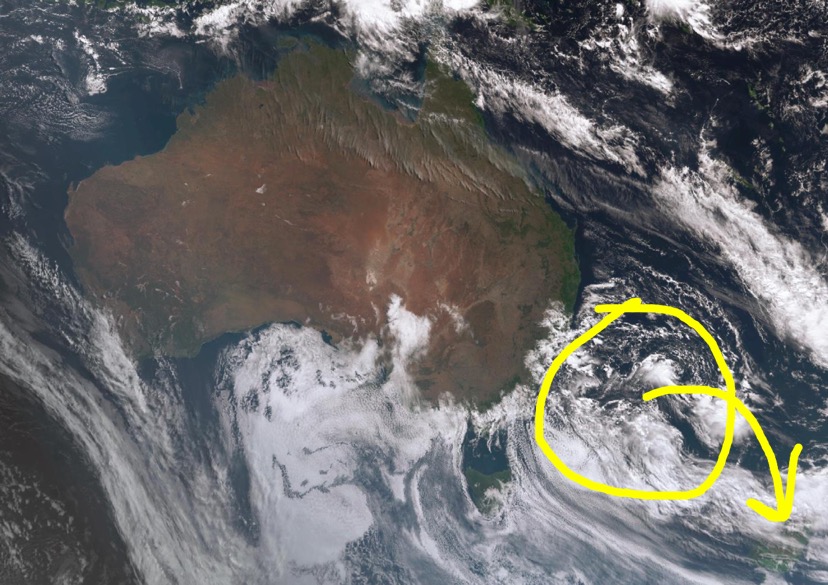 ---
UPDATE:

6:10PM 12/5/18 The low is now centred around 480km East of Sydney and moving away from the Coast. Scattered showers and light to moderate rain areas are continuing across the NSW South and Central Coastal areas with Merimbula on the NSW South Coast leading all on 27mm since 9am. Strong to damaging winds of 75km/h+ are still lashing the NSW South Coast. Conditions have improved across nearly the entirety of VIC now, however damaging winds and very cold temperatures are still being observed across the Alpine areas.
---
UPDATE:

1pm 12/5/18 Some big wind gusts have been observed over the Snowy Mountains and Alps in the past 12-18hrs as the Low rips damaging Southerly winds up the NSW Coast and across Eastern VIC.
• Mount Hotham 143km/h (twice) (gusts to over 120km/h for 11hrs straight)
• Falls Creek 130km/h

• Mount William 122km/h (yesterday)
• Montague Island 115km/h
• Green Cape 113km/h
• Mount Ginini 113km/h
• Thredbo 111km/h
• Mount Buller 106km/h
• Cape Otway 100km/h
• Gabo Island 100km/h
[wp_ad_camp_4]
These kinds of winds were no doubt creating blizzard conditions across the peaks of the Snowy Mountains and Victorian Alps overnight. While good falls of 50-100mm have been observed over Eastern VIC as forecast. Further good falls today should push totals above the 100mm for a few locations as forecast for the event.
---
UPDATE:

As of midday 12/5/18 Snow had been reported overnight Friday into Saturday across the Barrington Tops where a light dusting was observed. Heavy snow had also been documented over the Brindabella Ranges as the Namadgi National Park turned white!

Snow reported across the Barrington Tops via Scone.com.au

Heavy snow obscured across the Brindabella Ranges, ACT via Timothy Dean
---
UPDATE:

8:30am 12/5/18 The centre of the low which has been the cause of all the severe weather over TAS is now located about 250km East of Wollongong on the NSW Illawarra Coast. The system is continuing to move in a general North to North East direction and allowing rain areas to stream along the NSW Coast South of Sydney. Some pockets of moderate falls are occurring and this has lead to isolated falls of 25-40mm being recorded so far. The swell is expected to increase across this morning as the strong winds continue to lash the Coast.
[wp_ad_camp_2]
---
UPDATE:

9pm 11/5/18
Rain areas are easing across the Eastern half of Victoria. These rain areas are expected to continue throughout the night across Eastern VIC where locally heavy falls are possible. The centre of the dominating surface low is situated well East of Bass Strait over the open Tasman Sea waters and is expected to move slowly North leading to an increased swell across the NSW South and Central Coast's as well as Eastern Coastal parts of VIC during the night and into tomorrow morning. Rain is still falling as snow over Alpine areas such as the Victoria Alps and Snowy Mountains, while flurries cant be ruled out over the highest peaks of the Central Tablelands.
---
UPDATE:

6pm 11/5/18 Rain areas are continuing across Central and Eastern VIC with good falls of 10-25mm so far along with scattered falls North and East of Greater Melbourne of 25mm+ and isolated falls of up to 50mm since 9am. Rain is continuing to fall as snow across the Alpine regions with some scattered showers pushing in over Southern and Central Inland NSW. Temperatures are remaining freezing across both Victoria and Southern NSW. Canberra has recorded its coldest day this early in the year since 1970, registering a maximum temperature of just 9.0ºc. Bathurst could only warm to 7.2ºc, Orange 5.9ºc. Mount Hotham couldn't even warm above freezing with -0.4ºc so far today as a maximum while Thredbo's -2.2ºc max so far is the coldest for the year, the wind chill has been brutal with it feeling colder than -10ºc all day.



Snow covering tabletops across Perisher today via
Perisher Mid Centre
---
UPDATE:

12pm 11/5/18 The current satellite image from BOM below shows the deep low between North East Tasmania and South East Victoria. The system is forecast to move North East offshore from the NSW during Saturday before moving South East and away on Sunday. Rain areas are continuing across Central Victoria including Melbourne and the North East quarter of Tasmania. Heavy rain and flooding has now eased from the Hobart area and is not forecast to return. Snow is continuing to fall across Alpine regions and high elevations above 900 meters in Central / Southern NSW including the ACT. Scattered showers and strong winds are continuing across Adelaide. Strong winds are remaining in place for the next 24 hrs across SA, VIC, NSW, ACT and Tasmania with fresh cool South West winds now also extending across most of QLD. Heavy rain is still expected to develop across far Eastern VIC and far Eastern NSW during Friday night into Saturday morning. Strong Southerly winds will extend along much of the NSW coast on Saturday.

---
UPDATE:

As of 9am 11/5/18, Melbourne City had recorded a daily maximum (from 9am Thursday to 9am Friday) of just 12.8ºc, this is the coldest temperature for Melbourne this early in the year since 1970!
---
UPDATE:

6:35am 11/5/18 rain areas had eased across Tasmania with scattered showers persisting out of the South East now. These showers were allowing rainfall totals to continue accumulating with Mt Wellington up to a staggering 224mm and Grove 156mm – both all time new daily records for ANY month. Hobart was sitting on 128mm which was nearly 3x the previous May record and 4th wettest day in history. Snow was also being reported as settling across the NSW Central Tablelands with new reports overnight out of Oberon and Blayney.
[wp_ad_camp_1]


UPDATE: 1:50am 11/5/18
Rain areas are continuing across South East TAS including Hobart a record breaking 106mm has occurred in the City and 151mm over Mt Wellington. These rain areas are expected to linger throughout the night and into Saturday morning.
Across VIC, scattered showers which may contain small hail are moving into Greater Melbourne. These showers have produced up to 40mm over Southg West VIC so far and should increase rainfall totals over the East during the next 36-48hrs. Isolated showers (falling as snow) are being observed on radar over the NSW Central Tablelands, Southern Tablelands, Brindabella Ranges and Snowy Mountains / VIC Alps.
---
UPDATE:

12:25am 11/5/18 Severe thunderstorms have eased across the Hobart region however continued heavy rain is still occurring. The City (Hobart) has officially surpassed 100mm since 9am, making it the first time ever in May this has occurred and only the 5th time in history for Hobart City. Mt Wellington is pushing towards 150mm since 9am and almost doubled the previous May record. Major and rapid flash flooding was being observed across Hobart leading to several cars being washed away and streets turning into rivers. Power remained out to at least 10,000 people possibly more with rain areas still impacting the region.

Video of flooding going through the Corridors of the University of Tasmania via The Mercury
---
UPDATE:

11:20pm 10/5/18
Severe thunderstorms were lashing South Eastern parts of Tasmania including Greater Hobart. Heavy rain in the vicinity of 60mm in an hour had been recorded over Mt Wellington and 44mm in 1 hour at Hobart. Totals since 9am had exceeded 94mm in Hobart and 136mm at Wellington – both obliterating the previous May daily record. Extensive and rapid flash flooding had been observed across the City of Hobart leading to several car incidents along with more than 15,000 people without power.
Across the VIC Alps and Snowy Mountains, heavy snow was continued to be observed with Thredbo sitting on a nation low of -5ºc with wind chill making it feel closer to -14ºc. Falls Creek has brought out the snow plows to clear some of the snow already. While the Brindabella Ranges in the ACT were white from snow. Snow flurries were starting to be observed over the NSW Central Tablelands at Arkell (near Blayney) with flurries likely occurring around the Jenolan Caves and Oberon.

Rapid flash flooding in New Town, Hobart via The Mercury

Snow falling over the Brindabella Ranges via SnowSearch Australia
UPDATE:

10:15pm 10/5/18 Hobart on 56.8mm has just broken the 136 year May daily rainfall record as heavy thunderstorms impact the city. The 177 year rainfall record at the Botanical Gardens site is also very likely to be broken tonight. A convergence line is feeding in from the East with further heavy falls expected for most of tonight, the city may even reach 100mm by morning! Heavy snow is impacted the Great Lakes with power surges (see video below). We had forecast this record potential earlier today HERE.
---
UPDATE:

9pm 10/5/18
Winds and rain increasing further across South East Tasmania with the deep low circulation near the East Coast. Maria Island has recorded 81mm to 9pm which has set a new May daily rainfall record surpassing 77mm in 2012. Hobart is over halfway to setting a new May daily rainfall record with 27mm so far.
Damaging winds of 89km hr at Hobart airport and a whopping 132km hr at Mt Wellington. Heavy snow is falling across the Central highlands. Blizzard conditions now impacting the Alps with 87km hr winds and heavy snow falling. Snow has also been recorded at Mt Beauty in Victoria which is at just 366 meters! Orange in NSW is now down to 1C with snow showers coming in from the west. Damaging winds to 100km hr have been observed along the South Australia South East Coast. Below image showing rain, storms, snow and damaging winds impacting South East Tasmania via Weatherzone.com.au

Video from Great Lake Hotel in the Tasmanian Central Highlands of heavy snow coming down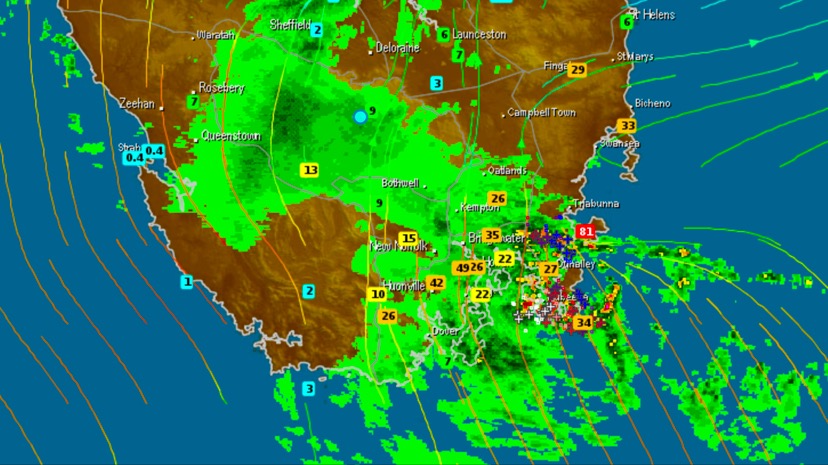 Snow being observed at 366m ASL at Mt Beauty in North East VIC

Above video shows heavy snow coming down at Mt Hotham via Hotham Alpine Resort as of 6pm 10/5/18
---
UPDATE:

5:30pm 10/5/18 Very cold temperatures of 10C or below and feels like temps of 5c or below being oberseved across all of Victoria, Southern inland NSW, ACT, South East SA and Tasmania. A band of rain is heading towards the Brindabella Ranges in NSW/ACT which is likley to produce overnight snow due to -2C temperatures. The same band of rain is likely to cause heavy snow across the Alps tonight. Rainfall is increasing across Eastern Tasmania with some offshore thunderstorms observed. Winds increasing across South East Tasmania with Hobart recording 80km hr and Mt Wellington recording 104km hr. Some storms have developed just offshore near Newcastle and Southern NSW these are moving away from the coast.


---
UPDATE:

3:30pm 10/5/18
The upper low cold pool of air is now positioned firmly over Victoria and Southern NSW moving North to North East, there are two low level circulations one in Bass Straight and one North East of Hobart. The system is producing scattered showers across VIC, some briefly moderate and some that may contain small hail. Snow is falling across the VIC Alps and may fall over the Dandenong Ranges over the next few hours if it hasn't started already. Snow is being reported from the Great Lakes in Tasmania.
We have already seen good snowfall being reported across the Victorian Alpine resorts and Snowy Mountains with several locations, mostly over the South West of VIC reporting small hail with showers earlier in the day. As of 3:30pm, mostly light falls had occurred across VIC although falls of 25-40mm have been observed across South East and Eastern Tasmania as a result of a Tasman Low impacting the region over the course of today. Damaging winds have so far been observed only briefly over elevated parts of Tasmania and Victoria.
---